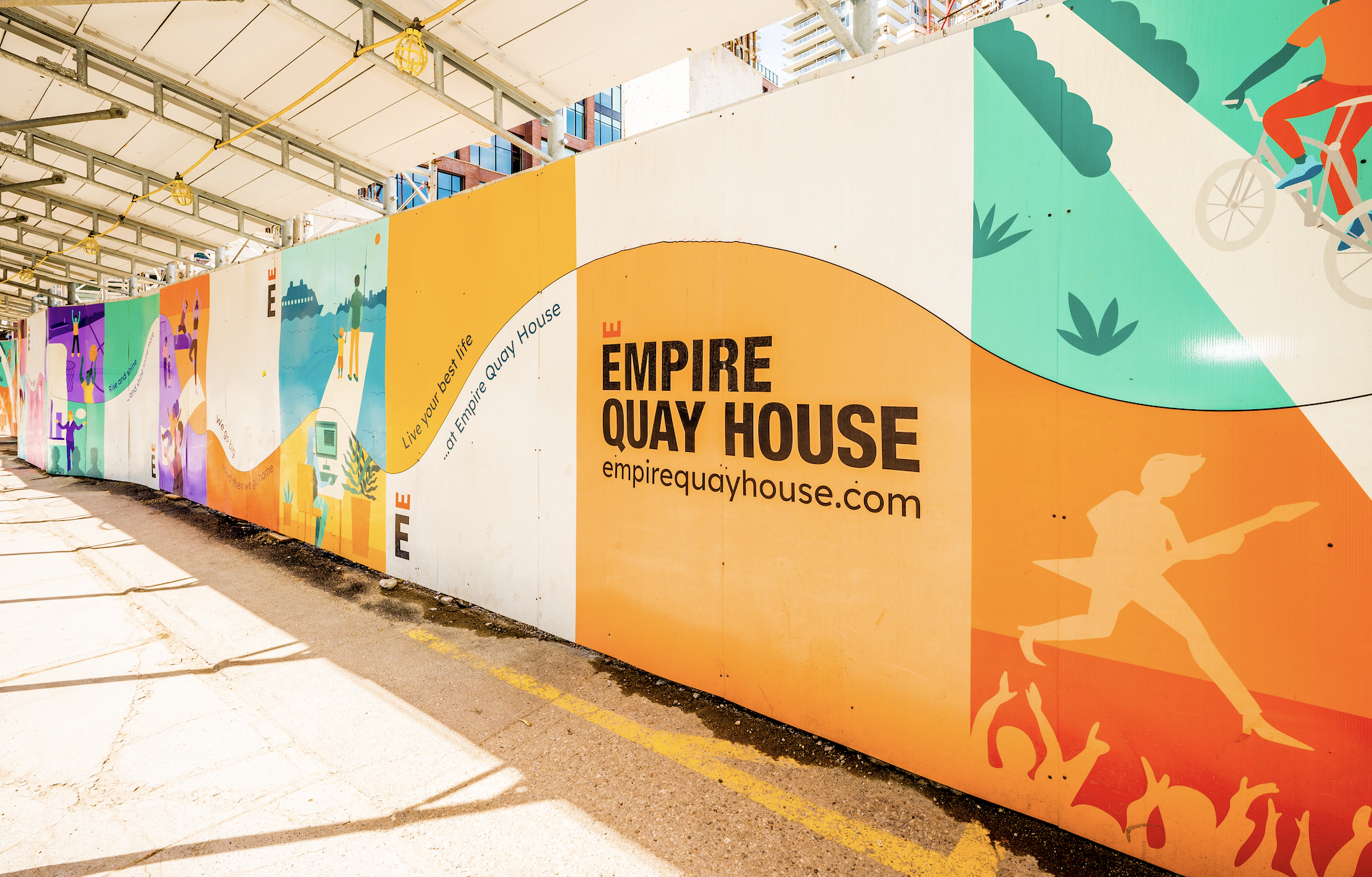 Empire Communities Collaborates with George Brown College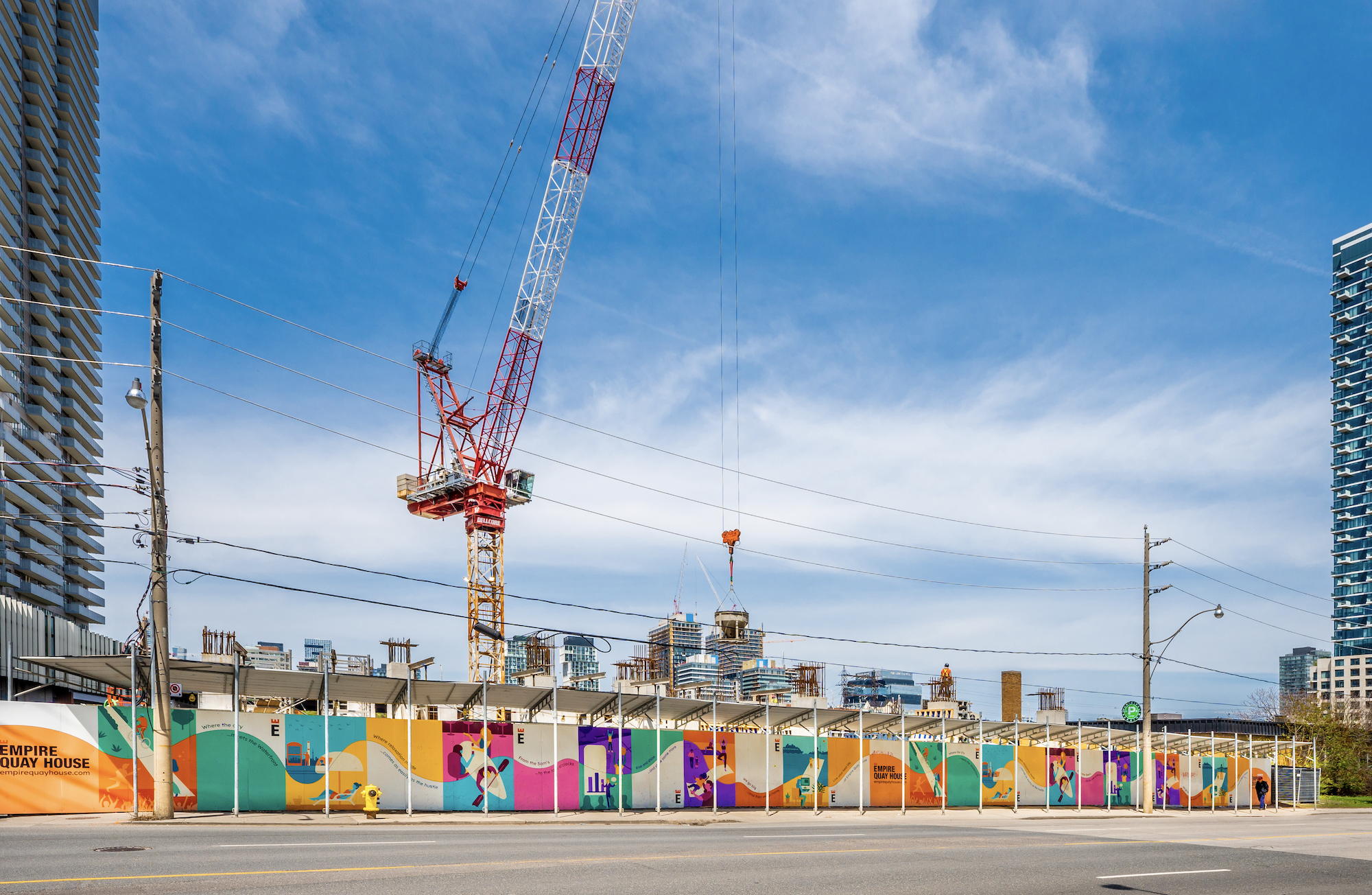 VAUGHAN, ONTARIO, May 16, 2023 (GLOBE NEWSWIRE) — Empire Communities, one of North America's largest privately held homebuilders, is pleased to share its vibrant new construction hoarding at Empire Quay House in collaboration with George Brown College.
The 18 panels surrounding the condominium development on Toronto's eastern waterfront were developed by a group of graphic design students at the college to energize the area at Queens Quay East. Empire gave GBC student designers creative freedom to imagine concepts and provided an outlet for artistic expression. The team consisting of Christina Kim, Natalie Franke and Kristie Jones landed on transformation as the design theme for the hoarding, inspired by the project's tagline, "where the city and the waterfront meet."
"The design plays on the waterfront and waves, using the waves to transform from one activity to another, says Kim. "For example, taking a streetcar transforms into an outing at Sugar Beach, or a community basketball court transforms into a scene of someone working in an office building."
"Working with Empire Communities has been one of the best experiences for the students," says Lori Endes, Professor and Special Project and Labs Coordinator at the George Brown School of Design. "They were highly communicative and generous and trusted the students' vision, giving them an opportunity to practice what they do."
Empire Quay House is a 21-storey condominium community now under construction on Toronto's eastern waterfront. As one of the last remaining developable lands to enjoy such a prime location by Lake Ontario, the development will give residents easy access to jobs, education, and area innovation, as well as the downtown core and major attractions.
"Empire's collaboration with George Brown has been a wonderful opportunity for us to bring public art into the lives of Torontonians right on the street, as we celebrate creativity and the vibrant culture of this Toronto waterfront community," says Josie Arcella, Senior Marketing Director at Empire Communities. "We thank these talented students and faculty for letting us work hand in hand to bring this vision to life for Quay House."
Learn more about the partnership by watching the video here.  For more information on Quay House, visit EmpireQuayHouse.com.
EMPIRE COMMUNITIES
Empire Communities is a residential builder/developer involved in all sectors of the new home building industry, including both low‐rise and high‐rise built forms. Celebrating 30 years of building inspiring new places to live, Empire has an established tradition of creating prestigious award‐winning new homes, communities and amenities and has earned a reputation for outstanding attention to detail and customer service. Since its inception in 1993, Empire has built over 32,000 new homes and condos. Today, Empire is one of North America's largest privately held integrated residential homebuilders, with current communities in Toronto, Southwestern Ontario, Texas, Georgia, Tennessee, and the Carolinas.
-30-
Empire Quay House Construction Hoarding