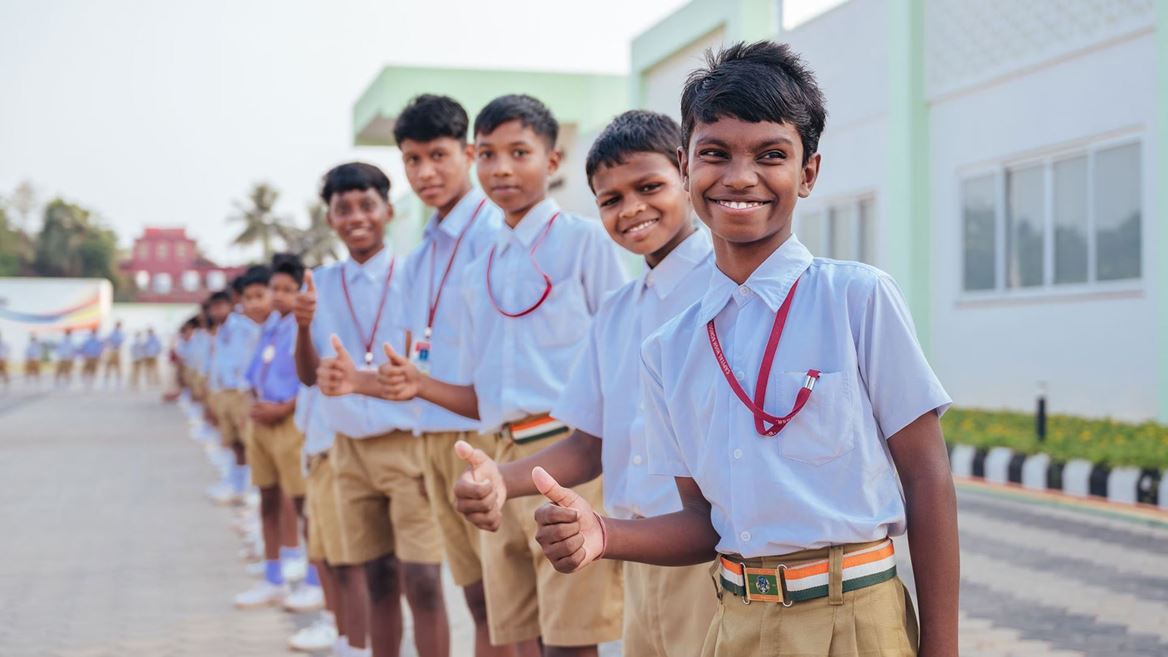 "Every child in India has something to gain from sport and the Olympic Movement"
06 Apr 2023 – As the world marks the International Day of Sport for Development and Peace (IDSDP) on 6 April, the International Olympic Committee (IOC) is highlighting how athletes and the whole Olympic Movement actively contribute to a peaceful, healthier, more equal, inclusive and sustainable society through sport, 365 days a year.
Here, Olympic gold medallist Abhinav Bindra – a member of the IOC Athletes' Commission – reflects on how his career as a sport shooter led him to a lifelong commitment to the Olympic values, and how he is now sharing those values with schoolchildren in India through the Olympic Values Education Programme (OVEP).
When my two-decade-long sporting career came to a close with a fourth-place finish at the Olympic Games Rio 2016 – as I missed bronze by a whisker – what could have been a moment of crushing disappointment was in fact one filled with immense gratitude. Rivals, team-mates, coaches, people from all parts of the world came up to me immediately after and thanked and congratulated me on my career, for competing hard, and for always being fair.
The respect and friendship that came my way made that fourth-place finish very, very easy to swallow. I realised then that, although I would no longer be a competitive shooter, sport and the Olympic values would never leave me. The Olympics stand for a lifelong commitment to fair play, honesty and integrity, and are a testament to the fact that sport can, indeed, help make the world a better place for everyone.
My strong belief is that being an Olympian requires you to commit to the Olympic values and pass on the benefits to as many young girls and boys as you can. It is with this mission in mind that the Abhinav Bindra Foundation launched OVEP in India, in partnership with the IOC and the School & Mass Education Department of the Government of Odisha, a year ago. As the anniversary approaches, all of us involved in delivering OVEP to nearly 50,000 children in 90 government schools in the state of Odisha find ourselves filled with joy and optimism.
The results and the feedback have been inspirational. Physical activity is up by 50 per cent across these schools. A government primary school with low attendance witnessed an increase in student numbers by 12 per cent just three months after the introduction of OVEP's vibrant and novel sessions.
We've had boys come up to us and candidly say that they didn't know girls could play so well. When a mixed-gender, inter-school OVEP tournament was held, about 60 per cent of the team captains were girls – certainly not the norm in India. In one school, OVEP brought a differently abled student onto the football field, and today he represents his district and says he wants to spread the Olympic values wherever he goes.
We began the programme in April 2022, when a team from the IOC's Olympic Foundation for Culture and Heritage "trained the trainers", equipping more than 150 physical education teachers with the tools necessary to deliver the programme. This was done to build capacity, and also to ensure that the programme would not be a one-off delivered by "experts" who would log in the numbers and vanish. Along with ensuring an increase in physical activity and physical literacy, with these "master trainers" sport became the medium through which lessons around inclusivity and respect were turned into real-life experience for children and teachers. The weekly PE class became something novel and fun. 
OVEP comes with a few basic must-dos: no matter what sport is played, every student – regardless of gender or physical ability – must be involved. OVEP schools take part in major team sports like football and hockey, and also indigenous sports like kabaddi, kho-kho, pithu, laghori and even cricket. The fundamental principles are inclusivity, activity and collaboration, with scoring, winning and losing being secondary. For example, in co-educational schools, girls must be part of every team. In OVEP football, a solo glory goal counts for nothing; goals can be scored only if a minimum number of players are involved in moving the ball forward.
OVEP has already taught us how the smallest of changes and the simplest of ideas carried out consistently can have the deepest impact. Schoolchildren, by the thousands, have been receptive, enthusiastic and full of ideas, and demonstrate to us every week the power of sport at work. After such results, we cannot and will not stop. We will scale up in this upcoming second year and take OVEP to 250 schools, hoping to impact more than 150,000 schoolchildren.
You may still harbour doubts as to whether a school sports programme being delivered in Odisha can relate to the Olympics. Yes, it can, and it does. I believe every child in India has something to gain from sport and the Olympic Movement. The more we develop as a sporting nation, with sport in our systems, the greater the pool of talent we will have to generate future Olympians.
Moreover, imprinting the essence of Olympism in young minds is invaluable. Instilling the idea of embracing diversity in skills, identities, cultures and backgrounds through sport would be priceless in the Indian context. Finding common ground through sport – with physical and mental teamwork, camaraderie, partnership, and experiencing highs and lows together – is the ultimate goal.
What is a vibrant, diverse, noisy, busy schoolyard but the echo of the spirit that permeates through every Olympic Games and touches the heart of every athlete who competes in them? No individual is too big to fit into an Olympic Village; no idea is too small not to be given a chance. The Olympics always show us that our world will be what we make of it.
The Olympic Values Education Programme (OVEP) has been inspiring students and teachers across the world through sports education since 2005. OVEP's free resources and activities teach students how to put the Olympic values into action inside and outside the classroom, helping them engage with their communities, build confidence and make healthy lifestyle choices as they transition into adulthood.
OVEP was also launched in Senegal in January 2023. The roll-out was part of the first Dakar 2026 initiatives in May 2022, with 60 future OVEP implementers taking part in a training course to help them develop their own educational programmes around the Olympic values. Since then, 70 more teachers from all over Senegal have been trained, and thanks to the weekly classes, 1.5 million children are due to benefit from this education before the Youth Olympic Games.
OVEP also contributes to the IOC's Olympism365 strategy, which is designed to connect people with the Olympic values – everywhere, every day. Aligning with the priority area of sport, education and livelihoods, OVEP helps strengthen the role sport and Olympism can play in developing people's transferable skills and increasing access to education, employment and entrepreneurial opportunities.