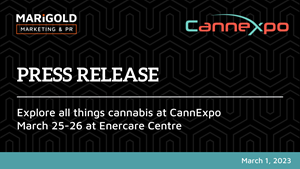 Explore all things cannabis at CannExpo March 25-26 at
Toronto, Ontario, March 02, 2023 (GLOBE NEWSWIRE) — CannExpo Toronto, a consumer and retail cannabis show taking place March 24-26th, 2023 at the Enercare Centre, will feature three full days of exhibits and events for cannabis consumers, licensed retailers and budtenders. Visitors can discover new products and cutting edge technology, plus purchase accessories, hardware and services. Exhibitors include popular cannabis brands such as Slow Ride Bakery, Shatterizer and Weed Me Inc., Licensed Retail Stores including Canada's first cannabis store owned by a Woman of Colour; GreenPort, craft growers, accessories, cannabis crafts, organic hemp products and more.
The Ontario Cannabis Store will also be in attendance to promote their new education hub for Ontarians, Cannabis Made Clear. Cannabis Made Clear provides unbiased, non-judgemental education on a range of key cannabis-related topics including responsible use, health effects, the value of buying legal cannabis, and how to have these important conversations with young people.
Cannexpo is also excited to host ten Access Grants winners at the show, sponsored by the Ontario Cannabis Store. These grants aim to increase the presence and participation of Black, Indigenous and people of colour-owned retailers and licensed producers at CannExpo.
Cannabis has been legal in Canada for four years now and there is still so much stigma associated with it," said Kathryn Reilly, CEO of CannExpo. "CannExpo aims to debunk the stigma and myths around cannabis through education, exhibitions and networking, and an upscale and fun show for consumers, budtenders and retailers."
Educational topics include; diversity in the industry, women in cannabis, cannabis safety and parenting, medical cannabis, questions to ask your budtender, psychedelics advocacy, and more. Talks will be taking place on the event stage and in sesh rooms for all levels of cannabis consumer to participate and learn.
Roll up to the main stage to enjoy a jam packed line up of panels, competitions and celebs including The Disciplined Stoners, High Ladies Podcast, Ika Washington, and Cody VanGogh – a celebrity joint-rolling expert. Competitions include "So You Think You Can Cook With Cannabis" with celebrity chef judges Jordan Wagman, Vito Blaze and The Ganja Mama. The competition will run all weekend long and include three categories; Best Infused Baker, Best Mixologist, and Best Chef.
A highlight of the event will be The Cannabis Community and Influencer Awards Ceremony, taking place on Friday March 24th. Fan-nominated cannabis influencers are competing in a variety of categories designed to celebrate success and inclusion, and bring light to those less known in the industry. At the Ceremony CannExpo will be awarding a special Lifetime Achievement award to Abi Roach, known around the world for being a driving force in cannabis advocacy, pioneering the cannabis industry in Canada, breaking ground and making history fighting for legalization.
The Tether Budtender & Retail Gathering on Sunday, March 26th from 2-3:30pm is an exclusive event during CannExpo for Budtenders and Licensed Retailers, celebrating the finale of Tether's 2023 Budtender Appreciation Week. At this exclusive event there will be the opportunity for budtender sampling, networking, and gifting. The event is open to currently employed Cansell certified budtenders, retail buyers, and licensed owner/operators. Registration is $25.00 and includes Sunday admission to CannExpo! 
There's still time for brands to get in on the fun! A limited amount of booth space and sponsorship opportunities are still available plus additional ways for exhibitors to maximize their participation. Exhibiting and Sponsoring information is available at cannexpo.ca.
Don't miss your chance to attend this premiere event; registration is open now for consumers, retailers, and budtenders! One day passes are $20, three day weekend passes are $45. Get your tickets now at cannexpo.ca and we hope to see you there!