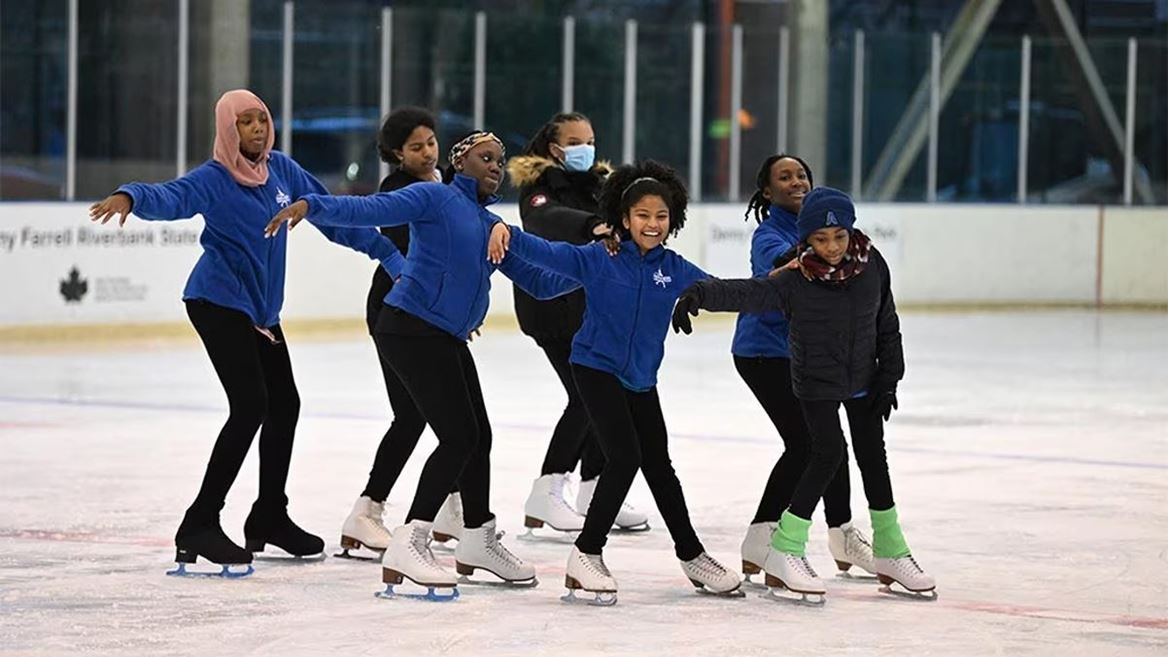 Figure Skating in Harlem receives IOC Women and Sport Trophy 2021 for the Americas
10 Mar 2023 – Figure Skating in Harlem, a not-for-profit organisation located in New York City, providing girls with innovative year-round health, education and fitness programmes was officially presented with the IOC Women and Sport Award 2021 Trophy for the Americas. The ceremony took place during a side event co-hosted by the International Olympic Committee (IOC) alongside the 67th Session of the Commission on the Status of Women (CSW), which is currently taking place at the UN headquarters in New York.
While handing over the trophy to Sharon Cohen, founder and CEO of Figure Skating in Harlem, Lydia Nsekera, IOC Member and Chair of the Gender Equality and Diversity Commission said: "I am really pleased to finally be able to award in person the IOC Women and Sport Award 2021 for the Americas to Figure Skating in Harlem in recognition of its transformative and impactful work. Due to the pandemic, we were unfortunately not in a position to do this before. Thank you, Sharon and your team, for your commitment and ability to transform young girls' lives through sport".
Figure Skating in Harlem combines the power of education with access to the artistic discipline of figure skating to help girls of colour thrive and reach their fullest potential. Its mission is to help girls gain the academic, social and leadership skills needed to transform their lives.
With three programmes designed to offer holistic support, Figure Skating in Harlem has equipped hundreds of girls with the tools they need to make positive choices for their futures and improve the overall quality of their lives.
At the heart of its success in transforming its young students' lives has been figure skating. The confidence, resilience and determination that come with setting and reaching goals on the ice are the cornerstone of the Figure Skating in Harlem's model. In 2017, the NGO began a new chapter of its incredible journey by expanding its reach to Detroit. An increasing number of girls of colour continue to see their lives transformed by the selfless contributions of Figure Skating in Harlem.
The IOC Women and Sport Awards are given to women, men or organisations who have made remarkable contributions to the development, encouragement and reinforcement of women and girls' participation in sport.
The winners of the IOC Women and Sport Awards 2021 were:
World winner: Hashimoto Seiko (Japan)
Winner for Africa: Natsiraishe Maritsa (Zimbabwe)
Winner for the Americas: Figure Skating in Harlem (USA)
Winner for Asia: Zhang Xia (China)
Winner for Europe: Kari Fasting (Norway)
Winner for Oceania: Tracey Holmes (Australia)