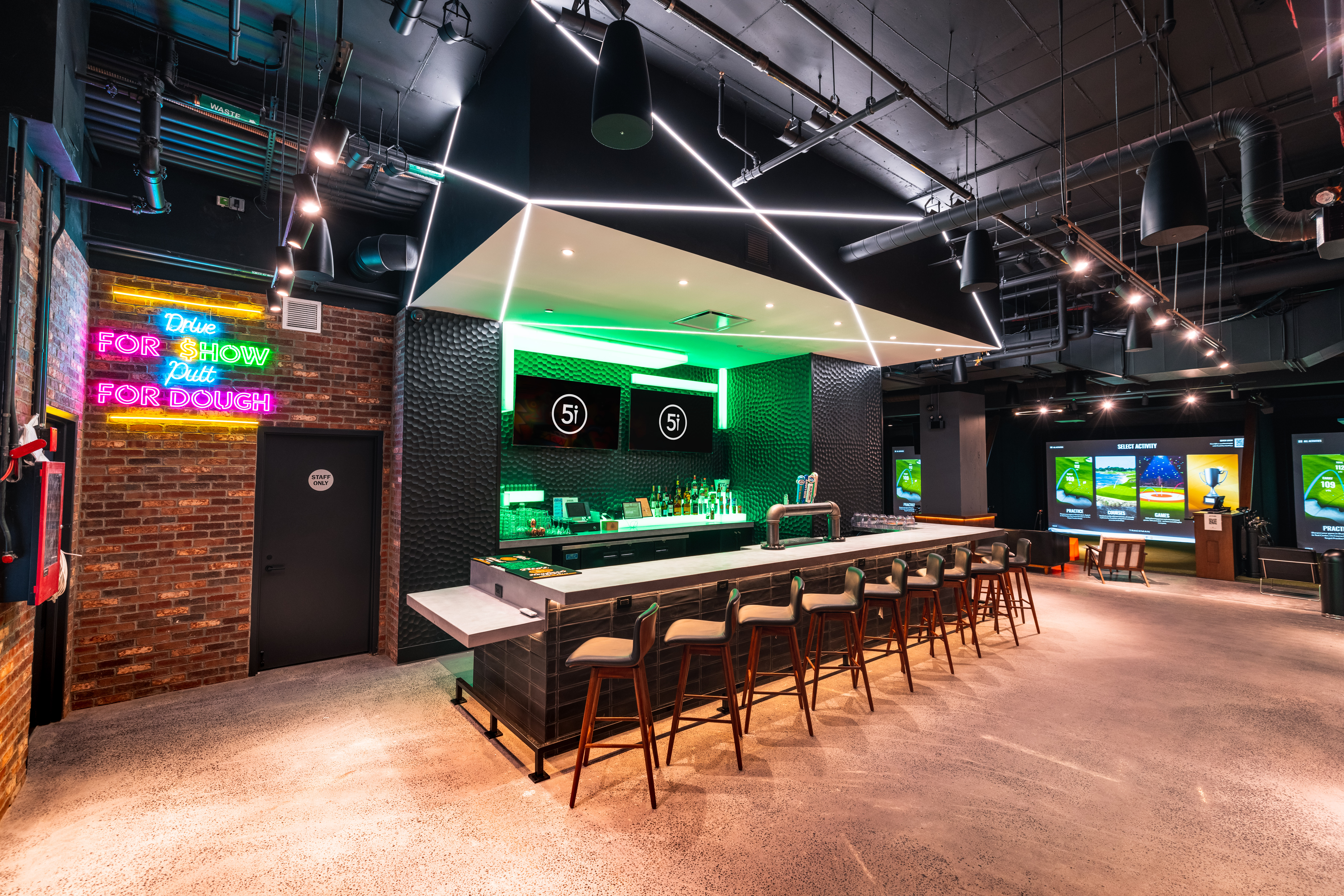 Five Iron Golf's Newest NYC Location Opens on Upper East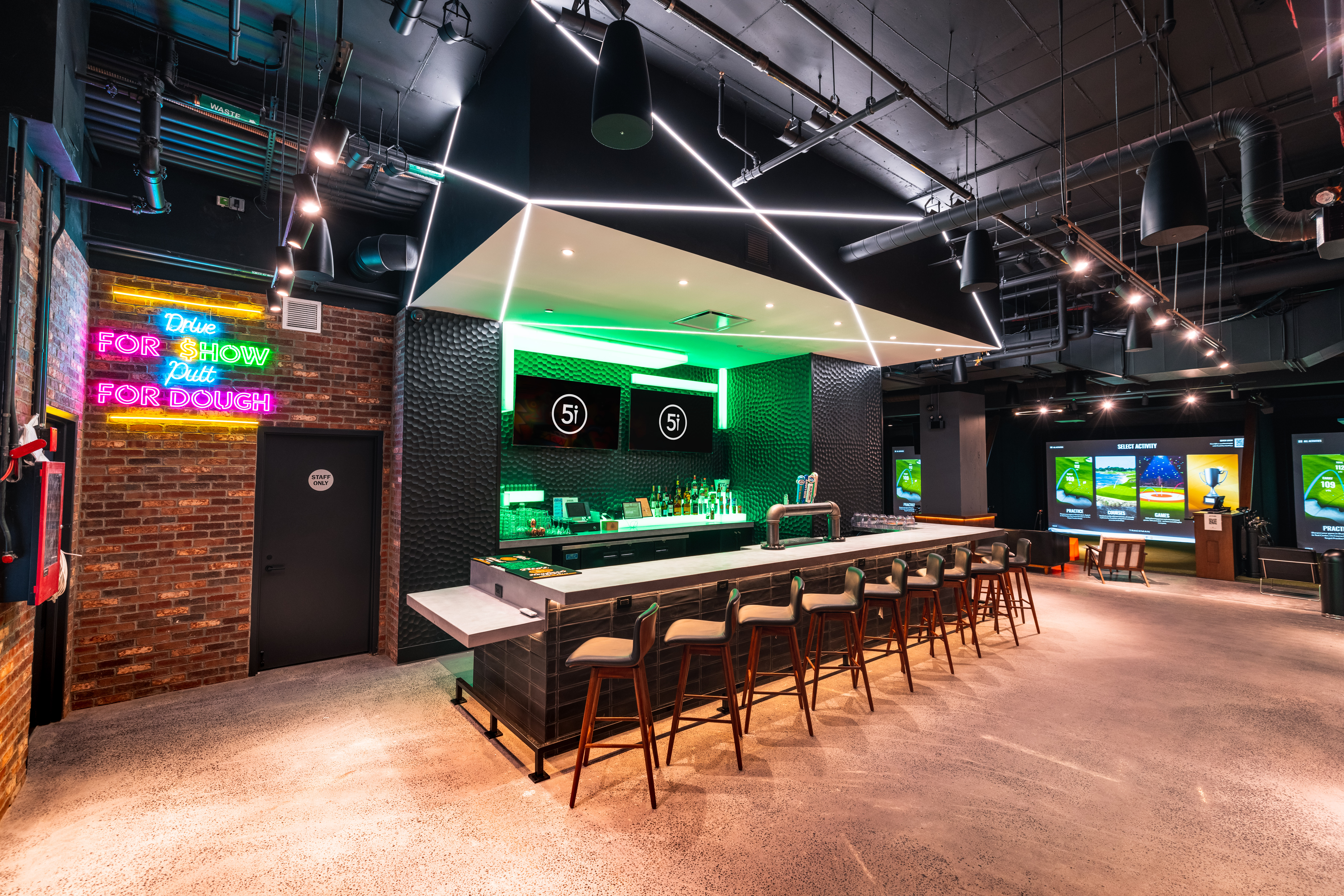 New York, New York, April 06, 2023 (GLOBE NEWSWIRE) — Five Iron Golf, the nation's leading urban golf and entertainment experience, officially teed off on Thursday, April 6 with the opening of the company's seventeenth location and the fifth for the New York Metropolitan area. The newest Five Iron Golf is located on the Upper East Side (UES) and promises to bring a new energy to the Uptown neighborhood, featuring 10 custom-built TrackMan golf simulators in a 10,600 square-foot space. 
Five Iron's golf simulators offer the ability to practice and play in spite of gridlocked traffic or inconvenient course hours, leveraging TOUR-level technology and multiple high-speed cameras to capture every angle of the golf swing. By offering players of all skill levels the chance to tee off at Pebble Beach, St. Andrews and nearly 200 other world-renowned courses seven days a week, Five Iron Golf brings an unprecedented level of access to golf to uptown enthusiasts. With premium amenities such as bag storage, locker rooms complete with showers, and towel service, Five Iron Golf UES is the newest attraction that's open to all regardless of handicap.
"We are excited to officially open our doors on the Upper East Side to serve those who live, work and socialize north of midtown," said Kieran Blake, General Manager. "Five Iron truly has something for everyone. For the avid player, we offer cutting-edge technology, certified instructors, the nation's largest indoor golf league, and more, regardless of how much or how well you play. For the entertainment seeker, we are a true "eater-tainment" experience. Our full-service bar with local beer on tap and other classics, curated food menu, widescreen TVs, and custom neon signs and art, make for the perfect venue whether it be for a post-work happy hour or your next party." 
The dynamic entertainment space features Five Iron Golf's signature design aesthetic, rooted in creating a multisensory experience blending neon lights, modern lounge furniture and local graffiti artists throughout the space, defining an immersive modern golf environment. The competitive nature of Five Iron Golf extends beyond the simulators with classic games like shuffleboard and Pac-Man, fan favorites for all visitors. 
Opening just in time for The Masters, guests are welcome to catch all the weekend coverage and play while enjoying Augusta National-inspired selections like drink and food specials. Bringing the 19th hole to this Uptown location, locals and visitors alike are welcome to tee up good times with late night weekend deals, happy hour meet-ups and the ability to host private and corporate events. 
The newest Five Iron Golf is located at 1681 3rd Avenue. Prior to opening its doors, Five Iron Golf UES sold out its Founding Memberships, officially welcoming over 250 members when doors opened.
Media may set up a time to capture b-roll of the space as well as arrange interviews with representatives from Five Iron Golf for additional information. To schedule an interview with a representative from Five Iron Golf, capture b-roll or for more information, contact Danielle Kindelmann at danielle@fiveirongolf.com. Pictures of Five Iron Golf Upper East Side can be found here and booking is available at fiveirongolf.com/upper-east-side/.
 About Five Iron Golf
Five Iron Golf is the nation's leading urban golf experience, combining golf, technology and entertainment to inspire community and help the masses to get their swing on in a re-imagined, high-tech, inclusive environment. The 5i way is about access to play, practice, and party, bringing out the golfer in everyone through unforgettable experiences. From early morning to late night, each location features industry-leading golf simulators available for rentals by the half hour, golf instructors available for private or group lessons, a full bar, food menu, and event space. Membership options are available but not required to reserve a simulator, play in Five Iron's golf leagues, host an event, book a lesson or schedule a club fitting in locations powered by PGA TOUR Superstore. Five Iron Golf originated in New York City in 2017 and has expanded to Chicago, Baltimore, Las Vegas, Philadelphia, Pittsburgh, Washington, D.C., and Seattle with new locations coming to Detroit, Cincinnati and more by the end of 2023. More information on Five Iron Golf is available at fiveirongolf.com.