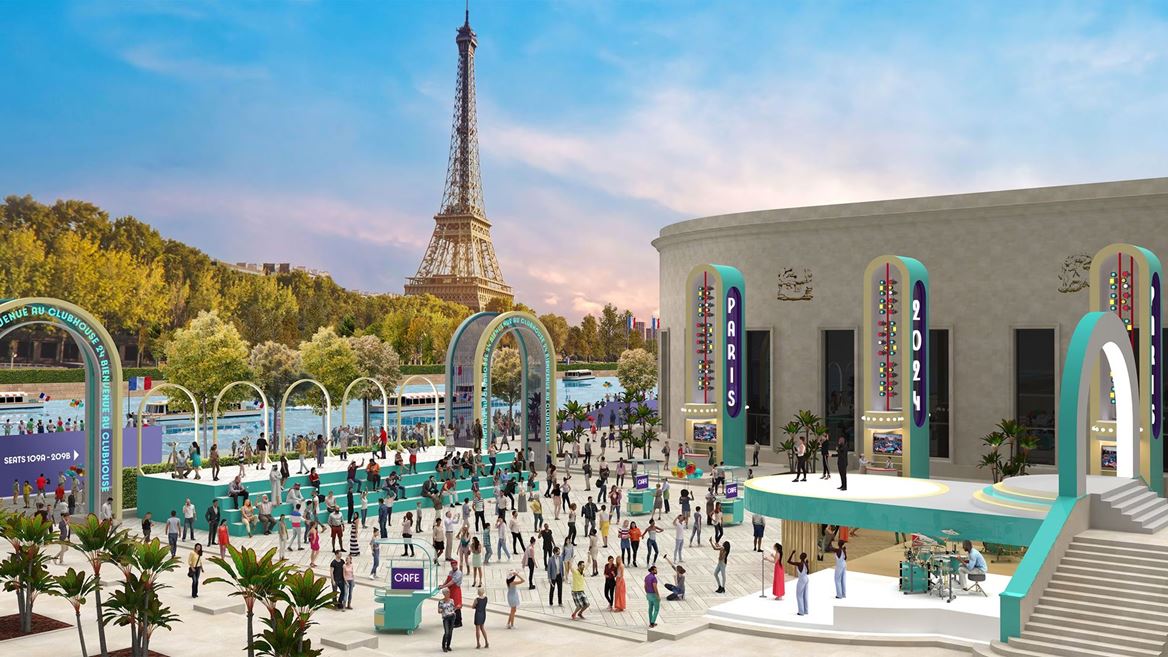 For a once−in−a−lifetime experience, Olympic fans can now access special hospitality packages for the Paris 2024 Opening Ceremony
17 May 2023 – The Olympic Games Paris 2024 are set to kick off with a truly extraordinary Opening Ceremony, and Olympic fans from around the world now have the opportunity to enjoy this unforgettable event in the exceptional setting of the French capital. Paris promises to live up to its reputation as the City of Lights, once again highlighting its innovation with an unparalleled Opening Ceremony on the River Seine.
Through a range of official hospitality packages, both corporate clients and members of the public can access outstanding seating, dining and entertainment offerings, ensuring an unrivalled experience for what is set to be an unprecedented Opening Ceremony.
It marks the first time in Olympic history that the Summer Games Opening Ceremony will take place outside a stadium, with hundreds of thousands of spectators expected to line the River Seine to welcome the athletes from across the world. Access to the Ceremony will be a combination of free viewing and paid ticketing and, with over 100 boats taking part, the Ceremony is sure to be a fascinating and spine-tingling spectacle of emotion, set against the backdrop of Paris.
For those sports fans and enthusiasts looking for a once-in-a-lifetime way to enjoy the Ceremony, the official hospitality packages are now available on the dedicated Paris 2024 hospitality website. On Location, the official hospitality provider for the Olympic and Paralympic Games, has designed the packages to enhance the event and provide a truly unforgettable hospitality experience, allowing guests to witness the action from iconic Paris landmarks.
"We are thrilled to offer our guests an unparalleled hospitality experience at the Olympic Games Paris 2024 Opening Ceremony," said Paul Caine, President of On Location and IMG Events. "We look forward to welcoming our guests to the world's greatest celebration of athletic excellence and international unity."
In addition to the Opening Ceremony packages, corporate and public hospitality packages for the Games competitions and Closing Ceremony are also available. These packages provide guests from around the world with the chance to embrace the thrill of the Olympic Games through extraordinary hospitality experiences in private or shared spaces. Whether it is rewarding employees, strengthening client relationships, or creating lasting memories in one of the world's most beautiful cities, these packages offer a truly unique Olympic experience.
On Location is the exclusive global hospitality provider for the Olympic and Paralympic Games Paris 2024, Milano Cortina 2026 and LA28. Its appointment in 2021 was part of the Olympic Agenda 2020+5 reforms aimed at introducing long-term, turnkey solutions for the benefit of Organising Committees, helping to simplify the delivery complexity of the Games. Through On Location, fans and stakeholders now have access to unique ticket-inclusive travel and hospitality experiences through one, official, exclusive hospitality provider.