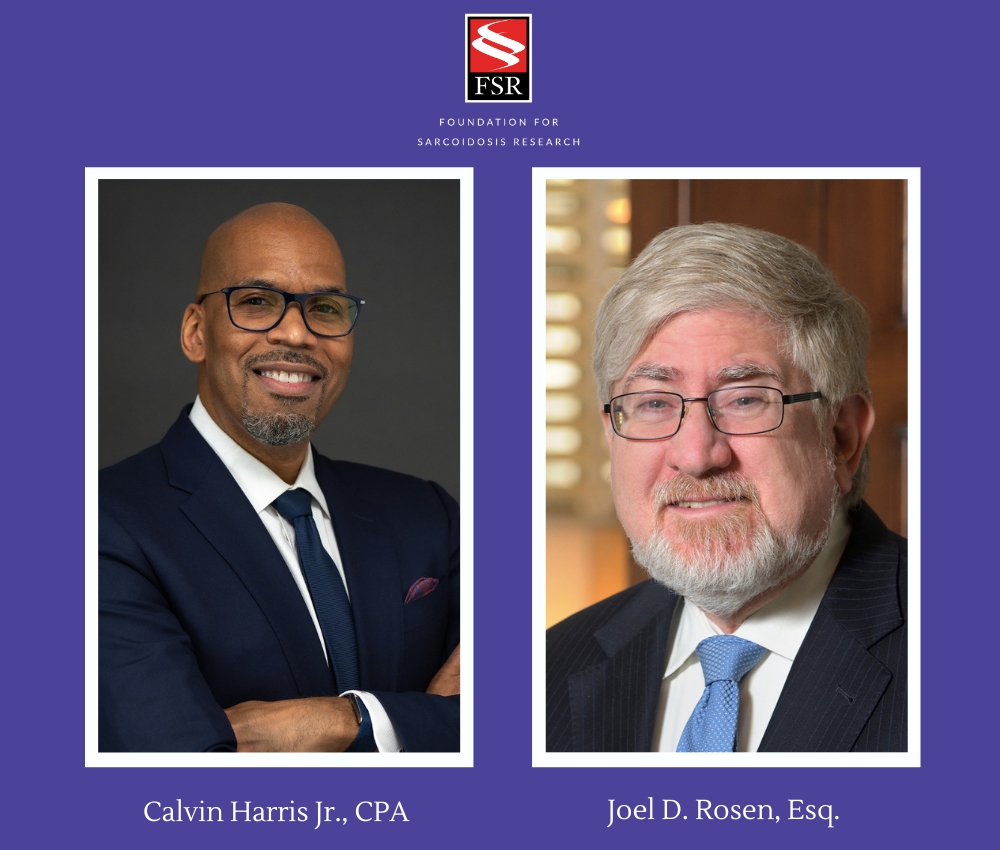 Foundation for Sarcoidosis Research Appoints Two New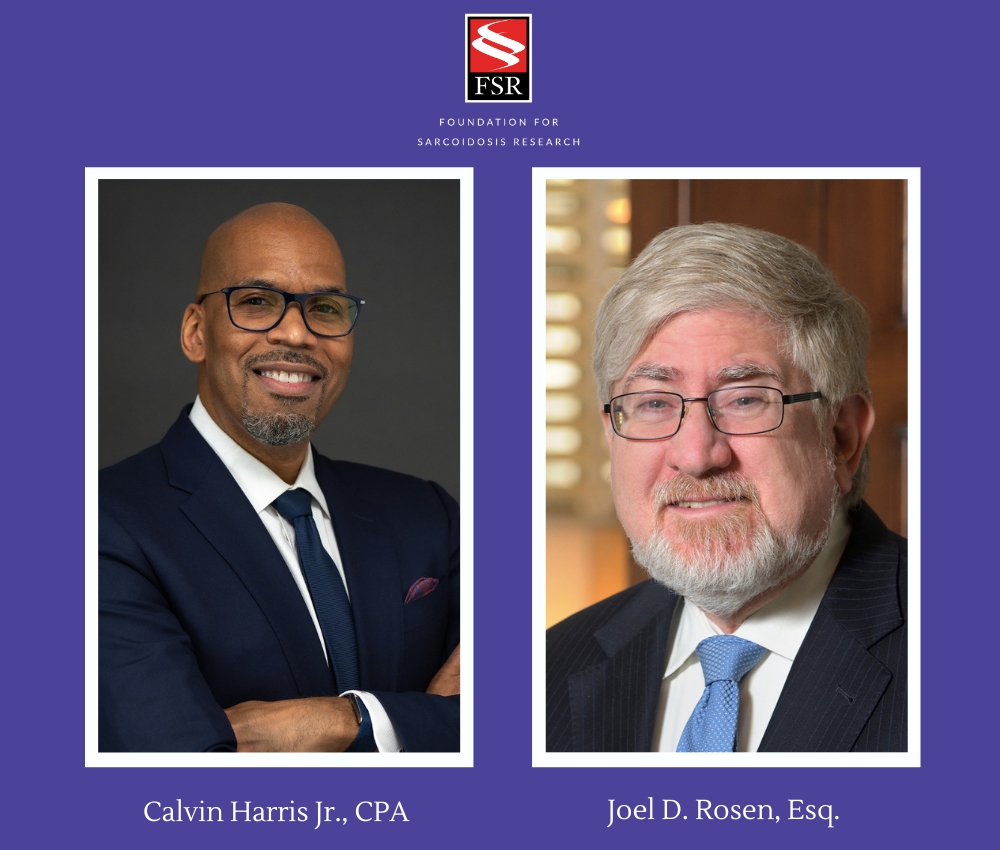 CHICAGO, July 13, 2023 (GLOBE NEWSWIRE) — The Foundation for Sarcoidosis Research (FSR) is pleased to announce the appointment of Calvin Harris Jr., CPA and Joel D. Rosen, Esq. to the FSR Board of Directors.
"We are thrilled to welcome Calvin and Joel to the FSR Board of Directors," said Dr. Louise Perkins, FSR Board President. "Calvin and Joel bring extraordinary passion, leadership and professional experience that will be an asset to both the Board and FSR towards our mission of improving the lives of those impacted by sarcoidosis and pursuit of a cure."
Calvin Harris joins the FSR Board with extensive finance and accounting experience. He is the Chief Executive Officer of the New York State Society of CPAs, the oldest membership organization in the certified public accounting profession. Harris was diagnosed with sarcoidosis in 2014, but despite his disease, strives to live a life in service of others.
Harris is an active member of the FSR community. He serves on the FSR Patient Advisory Committee, and the FSR Ignore No More: ACTe Now Advisory Committee and was a presenter at the recent FSR Crystal Gala Awards.
Harris writes a twice-monthly column for Sarcoidosis News, called "Run Your Own Race." The title is inspired by his newfound love of running, something his first pulmonary sarcoidosis doctor said was impossible for him, yet current doctors encouraged. He hopes his column reminds other sarcoidosis patients that their journey is their own race to run. Harris grew up in Maryland, near Washington, DC, and now lives in Brooklyn, New York.
"As a sarcoidosis patient who has personally benefited from FSR, I am excited and honored to join the Board of Directors. The work FSR does is so important to so many, and through the work of FSR, I hope that one day sarcoidosis will be no more," says Harris.
Joel D. Rosen, Esq, is a managing partner and corporate lawyer at High Swartz located in Norristown, PA, with over 30 years of experience. Rosen's practice areas include franchise law, business, commercial law, employment law, trademark/copyright law, and commercial leasing.
Rosen counsels numerous businesses with corporate and commercial transactions, including formation, mergers & acquisitions, licensing, sales, and financing projects. His corporate client base spans a broad spectrum of industries including biotechnology, franchises, weight-loss, food and restaurants, consumer products, media and entertainment, software, technology, and nonprofit organizations. Rosen has received many professional accolades including being selected to Pennsylvania Super Lawyers, 2017-present, and as a Five-Star Attorney – Suburban Life Magazine, 2022-present.
Rosen has extensive board experience and presently serves on the Board of Directors of several nonprofit organizations, including The Hepatitis B Foundation – where he has served as Chairman of the Board since 2008, The Pennsylvania Biotechnology Center, The Baruch S. Blumberg Institute, and the Montgomery Bar Foundation.
Rosen serves on FSR's Development Committee and played a significant role in securing support for FSR's Inaugural Sarcoidosis Crystal Awards Gala which took place in Washington, DC this spring.
When asked why he was interested in serving on FSR's Board of Directors, Rosen commented, "Einstein said 'In the middle of difficulty lies opportunity.'  Being diagnosed with sarcoidosis was certainly difficult, but joining FSR's Board provides me with an opportunity to make a difference in fighting this disease."
FSR's Board of Directors is comprised of leaders from the business, medical, and patient communities. The Board is responsible for the strategic direction of the foundation. Together with the organization's Scientific Advisory Board (SAB), comprised of international sarcoidosis experts, they help advance FSR's mission by providing strategic advice on its scientific and research programs.
About Sarcoidosis
Sarcoidosis is a rare inflammatory disease characterized by the formation of granulomas—tiny clumps of inflammatory cells—in one or more organs of the body. Despite increasing advances in research, sarcoidosis remains difficult to diagnose with limited treatment options and no known cure.
About the Foundation for Sarcoidosis Research (FSR)
The Foundation for Sarcoidosis Research (FSR) is the leading international organization dedicated to finding a cure for sarcoidosis and improving care for sarcoidosis patients through research, education, and support. Since its establishment in 2000, FSR has fostered over $6 million in sarcoidosis-specific research efforts. For more information and to join our community, visit www.stopsarcoidosis.org.
Contact:
Cathi Davis
312-341-0500 ext. 106
cathi@stopsarcoidosis.org
A photo accompanying this announcement is available at https://www.globenewswire.com/NewsRoom/AttachmentNg/ef7ebaeb-ee56-4390-bb1a-421ed71ccdb1