GAC MOTOR's Latest Sportscar Model EMPOW55 Gets an Explosive Showing at the Guangzhou International Automobile Exhibition, Paving the Way For an Industry Breakthrough
GUANGZHOU, China, Nov. 27, 2020 /PRNewswire/ — Recently, the 18th Guangzhou International Automobile Exhibition was lavishly conducted, as the grand finale of all large-scale car shows in 2020. The eight major brands under the GAC Group brought along about 70 exhibition cars, displaying their latest products and technology. From this impressive lineup, a star stood out and truly caught the eye – the EMPOW55 sports car, belonging to GAC Group's own brand, GAC Motor.
At this edition of the Guangzhou International Automobile Exhibition, GAC MOTOR's latest sports car model, the EMPOW55, made its debut appearance to amazing effect. The refreshing "war machine" exterior produced a powerful visual attack on the senses, making it the exciting focal point of the car show. The model will be released in 2021, with hopes that it will make its way into the international market soon after.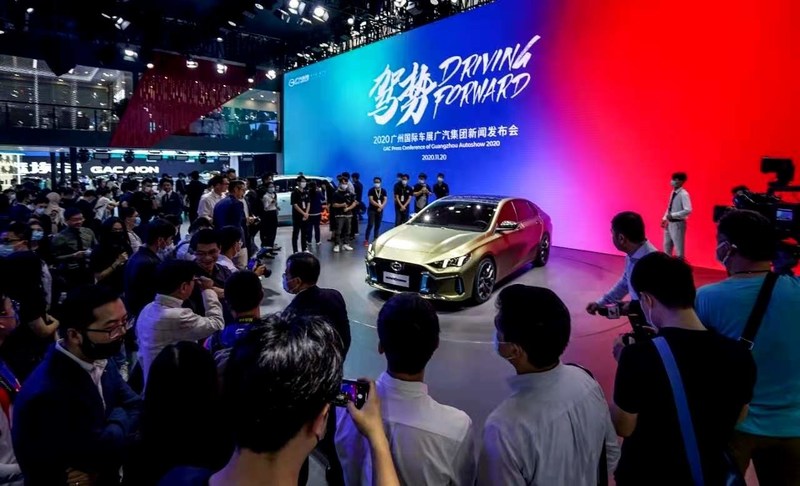 With a low centre of gravity, short front overhang, wide track, long wheelbase and a wide body, the EMPOW55 adopts the low impact posture of a sports car. Boasting an ultra-low wind resistance of 0.26 compared to similar models, it has achieved perfection in both form and function. The Mecha grille and double-sided blade air curtain create an indelible image. Coupled with the exotic 4-exhaust engine, 18-inch vertical tail racing wheels and high-performance rear deflector, it breathes new life into the "war machine" persona. The new design term "light plastic surface" was coined for the sharp-edged and sporty EMPOW55. With its extremely low visual centre of gravity, tall and strong tail, thick and powerful shoulders, as well as full LED headlights and wing-spread phantom taillights, it defines the perfect embodiment of speed and beauty.
The Guangzhou International Automobile Exhibition has fully exhibited GAC Group's extensive product development, technology breakthroughs and future-ready results. GAC Group's progressive research and design capabilities continue to lead the industry, breaking new grounds. This explains the rapid growth of its brand, GAC MOTOR, globally. In the days to come, with GAC Group's leading technology, research and manufacturing systems, GAC MOTOR will continue to upgrade its technology, quality and service quality, bringing a better mobile experience to its users the world over.
SOURCE GAC MOTOR
CONTACT: Mia Cheng, +86-185-2025-9585
(This News has not been edited by the Life Care team, it is published directly from the agency feed.)
Friends if you like this post, please hit the like button below and share this post with your family, friends and colleagues for more news, articles and updates. Like our Facebook Page, Subscribe Our YouTube Channel And Follow Us On Twitter.