Galaxy Arena AI Metaverse Making History with First Ever
ATHENS, GREECE, Feb. 13, 2023 (GLOBE NEWSWIRE) — Galaxy Arena, an AI-based metaverse entertainment hub offering a unique and immersive virtual reality experience to users worldwide, is all set to host a "Phygital" fight for the first time in the history of combat sports, featuring Roy Jones Jr VS NDO Champ.
The Galaxy Arena features three major aspects – the Galaxy Arena entertainment venue, gym and fitness center, and Galaxy Tower – each designed to deliver a one-of-a-kind journey through the metaverse.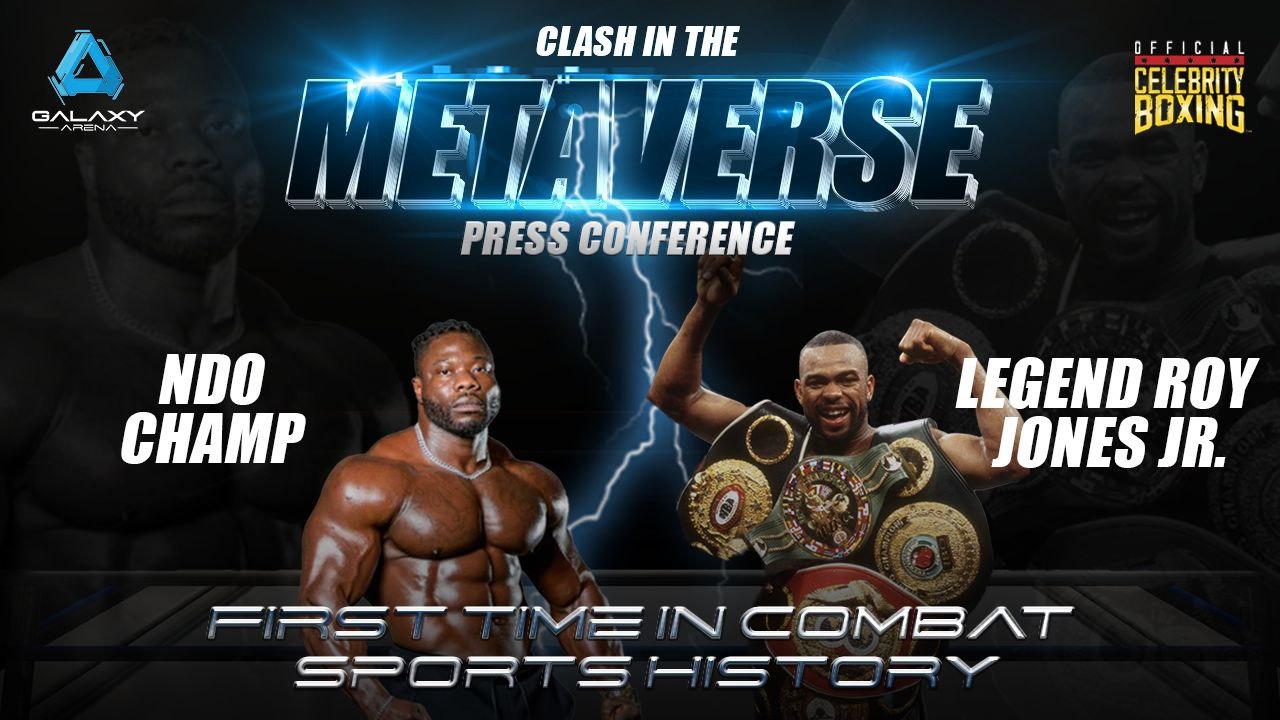 Roy Jones Jr. VS NDO Champ
A Deep Dive into Galaxy Arena Ecosystem
The Galaxy Arena Entertainment Venue: a cutting-edge virtual metaverse arena that can host a diverse range of events using the latest streaming and video capture technologies.
The Galaxy Gym: a state-of-the-art virtual reality metaverse that lets you connect with your favorite athletes from all over the world through interactive health and fitness mini-games. It is the first-ever Move to Earn game in VR.
The Galaxy Tower: a financial hub with a trading floor-style lobby that provides users access to various financial instruments and investment options. It is supported by a website that integrates these features through APIs from partners. You can participate in IDO/IEO/STAKE/TRADE from partner platforms all in one place. The rest of the tower is dedicated to the Sky Lounge social nightclub and celestial casino, featuring a collection of 20,000 unique NFT units divided into luxury suites, lounges, office spaces, and digital real estate.
Furthermore, Galaxy Arena was developed by a passionate and experienced team of crypto enthusiasts and investors, with the goal of transforming the live entertainment and fitness worlds. Utilizing the latest advancements in hyper-realistic graphics and motion-capture technology, the platform is set to become a leading state-of-the-art X-to-Earn metaverse hub.
"Our mission is to create an immersive VR experience that will usher in the web3 era," says Jimmy Hurricane, Founder of Galaxy Arena. "We're proud to offer a unique platform where users can play, move, learn, dance, sing, and participate to earn all under one roof."
Galaxy Arena is powered by the Essence ($ESNC) token and built on the BNB network, offering a decentralized virtual reality experience to users. The platform has already attracted significant support, with more than $1M USD raised in the private sale alone.
Consequently, the Galaxy Arena team is comprised of experienced professionals from various sectors, including metaverse technology, VR/AR implementation, coding and programming using blockchain algorithms, statistical analysis, and data analysis. With a solid base, real token utilities, user cases, and a massive revenue stream, Galaxy Arena is poised to become the leading X-to-Earn metaverse hub.
About the Company – Galaxy Arena
Galaxy Arena is a decentralized virtual reality platform that offers a unique and immersive experience to users worldwide. The platform features three sectors – the Galaxy Arena entertainment venue, gym and fitness center, and Galaxy Tower – each designed to deliver a one-of-a-kind journey through the metaverse.
Furthermore, potential investors and metaverse enthusiasts interested in Galaxy Arena can visit the project's official website, or check out their social platforms to get more details.
Website | Telegram  | Twitter | Discord | Medium  | Instagram | YouTube | Pitch Deck
Disclosure:
This press release may contain forward-looking statements. Forward-looking statements describe future expectations, plans, results, or strategies (including product offerings, regulatory plans and business plans) and may change without notice. You are cautioned that such statements are subject to a multitude of risks and uncertainties that could cause future circumstances, events, or results to differ materially from those projected in the forward-looking statements, including the risks that actual results may differ materially from those projected in the forward-looking statements