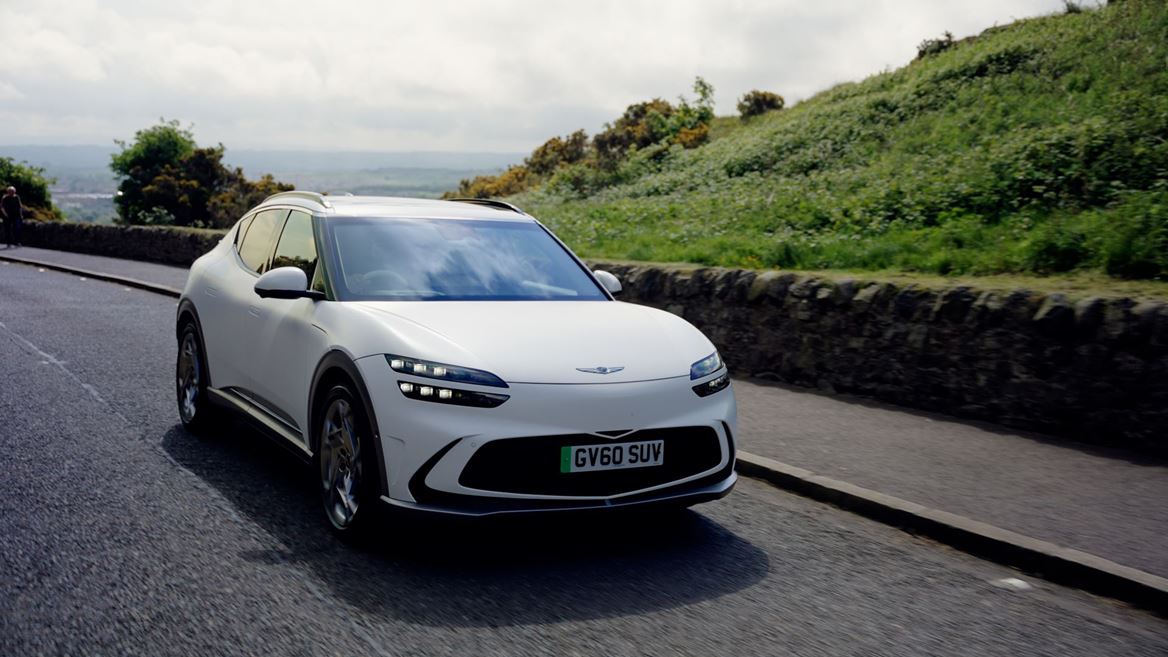 GENESIS ANNOUNCES NEW STUDIO IN EDINBURGH, SCOTLAND
Brand's first retail Studio outside of London

Third dedicated UK Studio will open this summer

Reinforces Genesis' continued commitment and growth in the region

New Genesis Studio provides employment opportunities with job creation in central Edinburgh
LONDON, UK, Jan. 17, 2023 – Premium automotive brand, Genesis, has announced that they will open a new Studio in Edinburgh, Scotland, highlighting the company's continued expansion since its arrival in 2021 and marking its first retail Studio in the UK outside London.
The new Studio will open in the heart of Edinburgh city centre this summer, reflecting the growing significance of the Scottish market and building on the company's flagship sponsorship of the Genesis Scottish Open golf tournament.
Genesis will be creating job opportunities as part of the premium car manufacturer's resource plans for the new central Edinburgh Studio and will be hiring Genesis Personal Assistants and on-site product experts.
As with all Genesis Studios, visitors will be welcomed by a personal level of hospitality based on Korean customs for welcoming guests. Those who visit will be treated as Genesis' son-nim – 'son' meaning 'guest' and 'nim' being an honour. This reflects the Korean virtue of providing the best to those who step inside your home.
Genesis Studios are elegantly spaces inspired by traditional Korean architecture and minimalist interior design. This can be seen throughout all Genesis Studios worldwide with its use of both exposed concrete and traditional wooden beams which embody the brands design philosophy of "the beauty of white space". Customers will be able to configure their car and see first-hand the materials, colours and trim available.  Each Genesis Studio strives to create an interactive and engaging design space whilst ensuring a relaxed and stress-free environment.
"Since launching in 2021 we have seen strong sales in Scotland, and our cars have been recognised two years in a row in the Scottish Car of the Year awards," said Andrew Pilkington, Managing Director at Genesis Motor UK.  "The response to Genesis has been very positive in Scotland and we are sure this will continue as we prepare to open our Edinburgh Studio. We are looking forward to recruiting our Edinburgh based retail and support teams and welcoming our Scottish guests this summer".
Last summer saw the first year as the title sponsor of the Genesis Scottish Open, one of Europe's most prestigious golf tournaments; the opening of the Studio this summer will enhance the brand's presence in and around the city as Genesis continues its sponsorship of the Scottish Open.
Genesis opened its second Studio in the UK in October last year, within the iconic Battersea Power Station in London. The first Genesis UK Studio opened in Westfield, London in the summer of 2021.
Since the brand's arrival into the UK market less than two years ago, Genesis has been successfully disrupting the market by offering premium, Korean-designed cars with a luxury experience.
The brand has a clear commitment to becoming an all-electric vehicle brand by 2030 and to pursuing the goal of being carbon net zero by 2035.  Genesis' electrification journey began in 2022 with the launch of GV60, a bold electric model with a sleek and athletic crossover styling, followed by Electrified G80 – a modern interpretation of the classic sedan profile. In Autumn 2021, the Electrified GV70 joined the road to electrification -an SUV delivering exceptional driving performance with highest standards in luxury, versatility, and comfort.
The Genesis GV70 range recently won the Scottish Car of the Year (SCOTY) Best Large SUV Award in December 2022, the second SCOTY win for Genesis after the GV80 won Best Luxury SUV in November 2021.
For more information on where you can find us across the UK, head to https://www.genesis.com/uk/en/genesis-contact-us/visit-studios.html.
About Genesis
Genesis brings premium cars with a luxury experience to Europe. The Korean brand has established itself as a true alternative within the premium segment, receiving multiple award wins in 2022. With a commitment to hospitality and great service, Genesis strives to build sincere relationships with customers and, above all, to respect the greatest luxury – their time. Embodying its unique design language 'Athletic Elegance', the brand continues to strengthen its range of vehicles and services across Europe having launched five premium luxury vehicles in 2021. Genesis introduced three electric vehicles in 2022 and, from 2025, all-new Genesis vehicles will be pure electric as part of the brand's vision for a sustainable future. Genesis is also pursuing a goal to become carbon net zero by 2035.
For more information about Genesis and its definition of premium, please visit www.genesis.com.