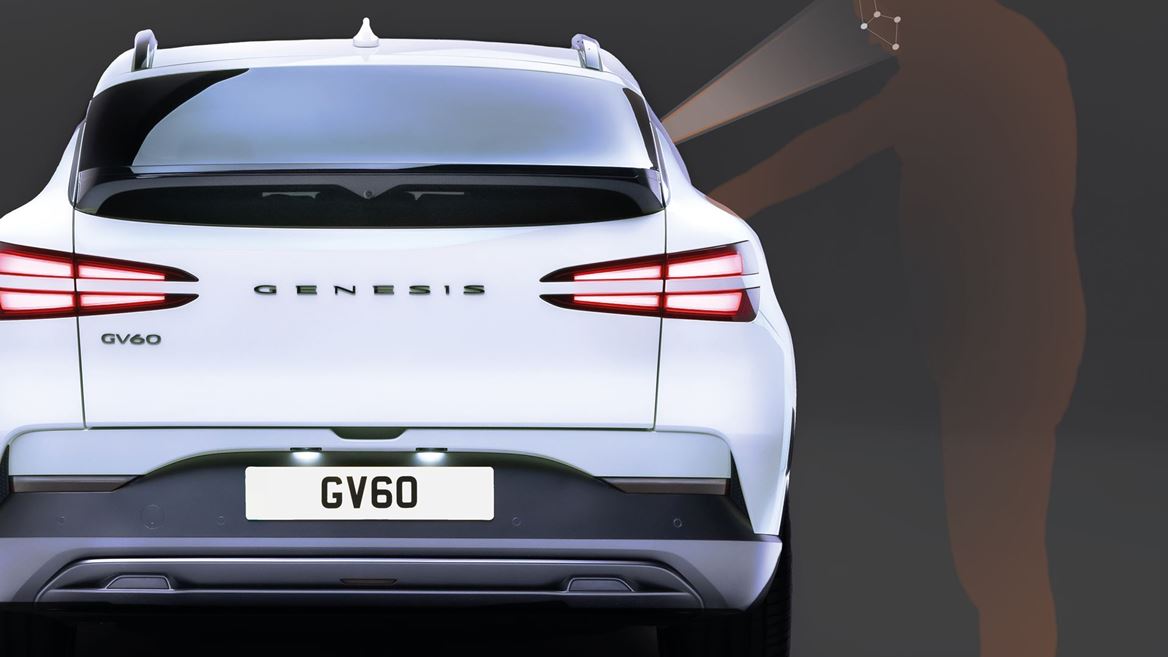 GENESIS DEBUTS GV60 WITH WORLD−FIRST FACIAL RECOGNITION AT SALON PRIVÉ LONDON

World's first application of such technology in the automotive sectorFace Connect uses facial recognition technology to lock and unlock the Genesis GV60Part of a keyless biometric vehicle entry and engine start
LONDON, United Kingdom, Apr. 20, 2023: The world's first facial recognition technology on a car has made its European debut at Salon Privé London today. Available exclusively on the all-electric Genesis GV60, Face Connect is part of a keyless biometric vehicle entry and engine start.
Genesis' Face Connect gives drivers the ability to access their car using their face alone – technology that is already available on millions of smartphones worldwide. Using a facial recognition sensor in the b-pillar of the car with a deep-learning image processing controller, the GV60 can be both locked and unlocked without the need for a physical key.
Drivers just need the physical key once to set up their profile for face recognition entry and then the car is started using their fingerprint, with all information stored securely via encrypted software in the vehicle and managed via HMI (Human-Machine Interface). Drivers can be reassured that at no point any biometric data is uploaded and stored remotely.
Making its debut in May last year, the GV60 was Genesis' first all-electric car. With a range of up to 321 miles, capable of 0-62mph in just four seconds and with the ability to charge from 10-80% in just 18 minutes with the right conditions, the GV60 represents an unmatched level of premium design and technology.
Salon Privé London is held for three days in April in the heart of London, on the lawns of the historic Royal Hospital Chelsea, and is a spectacular collection of the greatest supercars, sports cars and luxury cars. As well as the most prestigious brands on show, there will be over 60 stunning classic cars lined up in the Concours de Vente – and all of them are available to buy there and then.
"This application of facial recognition and biometric technology on the Genesis GV60 is bringing not just Genesis but the entire industry into the next generation of motoring," commented Andrew Pilkington, managing director of Genesis Motor UK. "Such state-of-the-art innovations simply demonstrate both the commitment that Genesis has to its customers to offer a personalised and seamless experience and the commitment it has to the UK and European market."
The 2023 Genesis GV60 is available to buy now in either Premium, Sport or Sport Plus versions and can be personalised using the online configurator, allowing customers to choose from a range of colour and trim options, as well as select a select number of upgrade packages.
For more information head to https://www.genesis.com/uk/en/index.html
About Genesis
Genesis brings premium cars with a luxury experience to Europe. The Korean brand has established itself as a true alternative within the premium segment, receiving multiple award wins in 2022. With a commitment to hospitality and great service, Genesis strives to build sincere relationships with customers and, above all, to respect the greatest luxury – their time. Embodying its unique design language 'Athletic Elegance', the brand continues to strengthen its range of vehicles and services across Europe having launched five premium luxury vehicles in 2021. Genesis introduced three electric vehicles in 2022 and, from 2025, all-new Genesis vehicles will be pure electric as part of the brand's vision for a sustainable future. Genesis is also pursuing a goal to become carbon net zero by 2035.
For more information about Genesis and its definition of premium, please visit www.genesis.com.