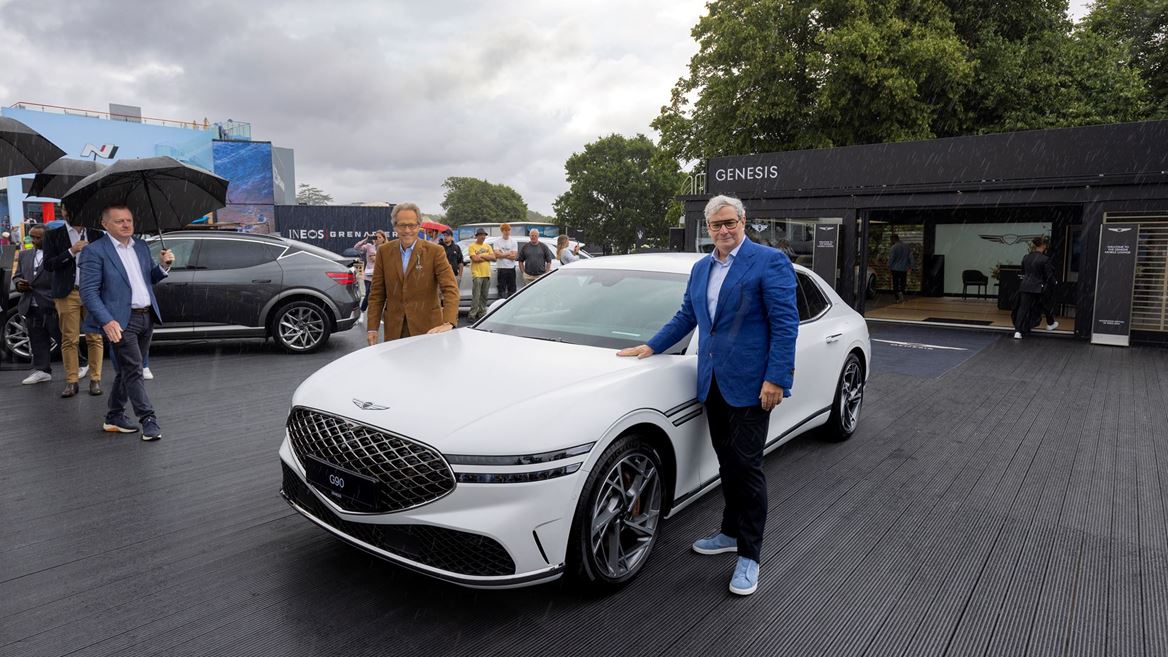 GENESIS G90 FLAGSHIP LAUNCHES IN EUROPE

Genesis G90 saloon unveiled at Goodwood Festival of SpeedMost elegant interpretation of brand's trademark Athletic Elegance design languageInterior sets new standards with premium design, craftsmanship and technologyCustomers can register their interest in the Genesis luxury flagship from today
Goodwood House, Chichester, UK, 13 July 2023: Genesis Motor Europe today revealed its European G90 flagship saloon at the Goodwood Festival of Speed, one of the most renowned automotive events in the world.
The covers were pulled off the G90 by Luc Donckerwolke, Chief Creative Officer of Genesis Brand, and His Grace, the Duke of Richmond. G90 represents the most elegant interpretation of the brand's luxury design identity.  This distinctive, state-of-the-art four door saloon will be available, on request, in Germany and Switzerland with customers able to register interest from today, 13 July.
The G90 delivers exceptional comfort and advanced technology. Designed to enhance the premium experience for drivers and passengers, the European model will be available in two lengths: short wheelbase and long wheelbase.
The short wheelbase G90 will be available with a choice of four or five seats. The long wheelbase will have four seats offering unrivalled comfort from individually heated and ventilated rear seats with massage functions, as well as leg and footrests. Luxuriously, the long wheelbase version offers an extra 190mm of legroom for occupants in the rear.
"Well informed people who know Genesis know G90 and they have been asking us when it will come to Europe. The car has been hugely successful in Korea, the US, Canada and Middle East and now we can confirm it has arrived in Europe," Lawrence Hamilton, Managing Director at Genesis Motor Europe, commented.
"As you would expect from a Genesis flagship sedan, the G90 is something very special and we have built on that with this European edition. We have made a significant investment developing and fine tuning the ride, dynamics and feel of the G90 to ensure it meets European tastes."
"Europe is the home of luxury and customers who choose G90 will want for nothing; European cars will be luxuriously specified. The very best, and latest, technology, luxury and safety equipment will come as standard on every European G90."
"At Genesis we are committed to offering customer service excellence and this exclusive model will be available on request from our studios. The G90 is the ultimate expression of Genesis quality and capability; bringing it to Europe for customers who know what the G90 represents is something we have been looking forward to."
Externally, G90 demonstrates a bold evolution of the brand's trademark Athletic Elegance design language. With a new Crest Grille and sleek Two-Line headlamps, the front of the car takes the model's luxurious image to the next level with its Layered Architecture design, comprising two G-Matrix patterns placed on top of one another to create a three-dimensional effect. In addition, the Clamshell Hood design for the bonnet features a single panel that combines the hood and front wings to eliminate panel gaps, giving G90 a distinctively sleek yet imposing design.
Designed to satisfy both owners who take the wheel themselves and those who are driven by chauffeurs, the interior of the G90 sets new standards in the luxury saloon sector. Bringing to life Genesis' design ethos of the Beauty of White Space, it harmoniously combines new technologies with traditional materials and craftsmanship.
The G90 was named Motor Trend's Car of the Year 2023, with one of the judges adding, "I believe this to be the best luxury car on the market…".
Genesis G90 is now available in Germany and Switzerland. Full product information and pricing will be announced soon. G90 can be viewed on the Genesis stand at the Goodwood Festival of Speed until Sunday 16 July.
For more information head to www.genesis.com
About Genesis
Genesis brings premium cars with a luxury experience to Europe. The Korean brand has established itself as a true alternative within the premium segment, receiving multiple award wins in 2022. With a commitment to hospitality and great service, Genesis strives to build sincere relationships with customers and, above all, to respect the greatest luxury – their time. Embodying its unique design language 'Athletic Elegance', the brand continues to strengthen its range of vehicles and services across Europe having launched five premium luxury vehicles in 2021. Genesis introduced three electric vehicles in 2022 and, from 2025, all-new Genesis vehicles will be pure electric as part of the brand's vision for a sustainable future. Genesis is also pursuing a goal to become carbon net zero by 2035.
For more information about Genesis and its definition of premium, please visit www.genesis.com.