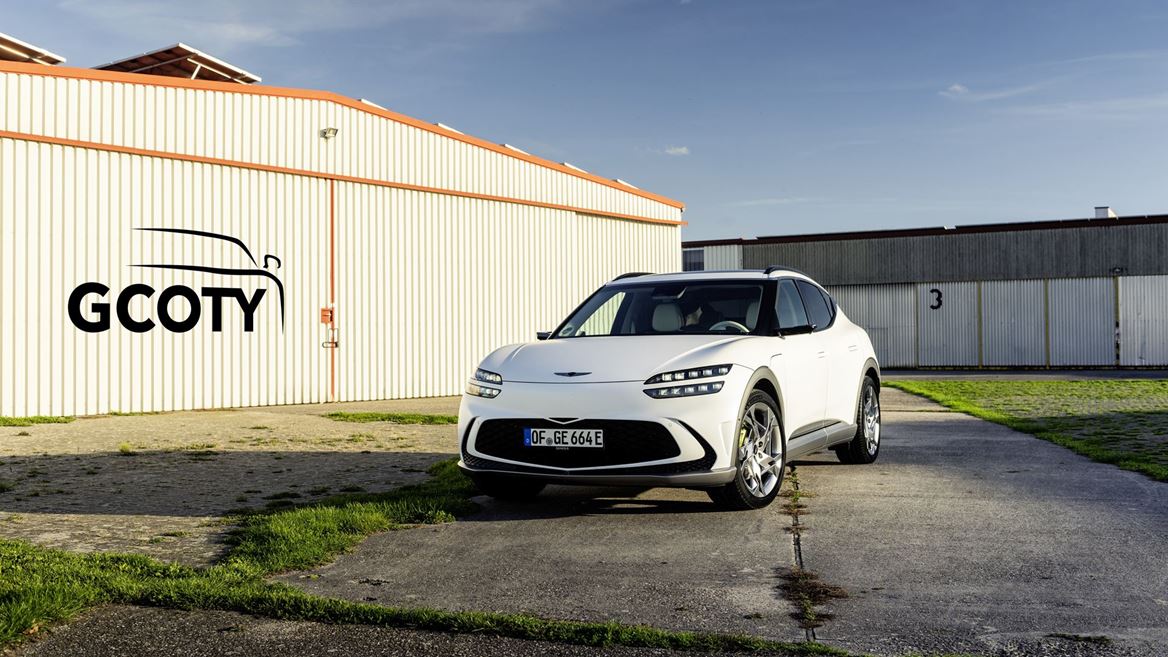 GENESIS GV60 NAMED "GERMAN PREMIUM CAR OF THE YEAR 2023"
Genesis wins the prestigious award with the brand's first electric model

GV60 competed in the "Premium" category

Category winners are voted for by experienced motoring and industry journalists from across the industry in

Germany
November 3, 2022, Frankfurt (Germany) – Genesis GV60 is "German Premium Car of the Year": The Korean premium brand's first electric car secured the prestigious award presented annually by German motor and industry journalists.
The "German Car of the Year" (GCOTY) is chosen by an approximately 30-member jury, which selects five class winners through an online voting process. The selected cars represent the top of their respective segments and thus qualify for the final stage, where class winners compete against each other through test drives to determine an overall winner.
The all-electric GV60 won in the "Premium" category, which included new cars with a starting price between 30,000 and 60,000 euros. GV60 prevailed in this particularly competitive vehicle class, going up against well-known competition from Germany and abroad. Additionally, the brand's first dedicated electric vehicle was also nominated in the "New Energies" category, which is dedicated to alternatively powered models.
"I am delighted that our first all-electric car, the Genesis GV60 has been named German Premium Car of the Year. The significance is not lost on anyone at Genesis; this is an award from the cream of German automotive media, for a Korean car on sale in Germany, the home of premium automotive brands," explains Lawrence Hamilton, Managing Director of Genesis Motor Europe GmbH.  "This award is extremely encouraging for everyone at Genesis; it means we have the right electric cars, the right design and the right technology to help us succeed in Europe – nothing is guaranteed, but this is a very strong indicator."
Long range, comprehensive standard equipment
The Genesis GV60 is the first of three pure electric cars of the premium brand: with a starting price of £47,005 in the UK, it is available in three all-electric powertrains (Premium, Sport and Sport Plus) and offers a range of up to 321 miles. Featuring innovative technology, the high-voltage battery can be charged from 10 to 80 percent in 18 minutes at 350 kW fast-charging stations.
As standard, GV60 is packed with next-generation technology such as a stunning dual 12.3" infotainment screens and wireless phone charging and smartphone integration via Apple CarPlay and Android Auto, voice control and digital radio. With eight airbags, and more than 20 driver assistance systems, including a Forward Collision Avoidance Assist (FCA) system, Lane Follow Assist (LFA), the Genesis GV60 offers an impressive level of safety features. Using the online configurator, customers can personalise their desired model with various optional packages, interior materials and wheel choices.
For more information on GV60 head to https://www.genesis.com/uk/en/models/gv60.html
About Genesis
Genesis brings premium cars with a luxury experience to Europe. The Korean brand has established itself as a true alternative within the premium segment. With a commitment to hospitality and great service, Genesis strives to build sincere relationships with customers and, above all, to respect the greatest luxury – their time. Embodying its unique design language 'Athletic Elegance', the brand continues to strengthen its range of vehicles and services across Europe having launched five premium luxury vehicles in 2021. Genesis will introduce three electric vehicles in 2022 and, from 2025, all-new Genesis vehicles will be pure electric as part of the brand's vision for a sustainable future. Genesis will also pursue a goal to become carbon net zero by 2035.
For more information about Genesis and its definition of premium, please visit www.genesis.com.
Photography: GCOTY / Genesis