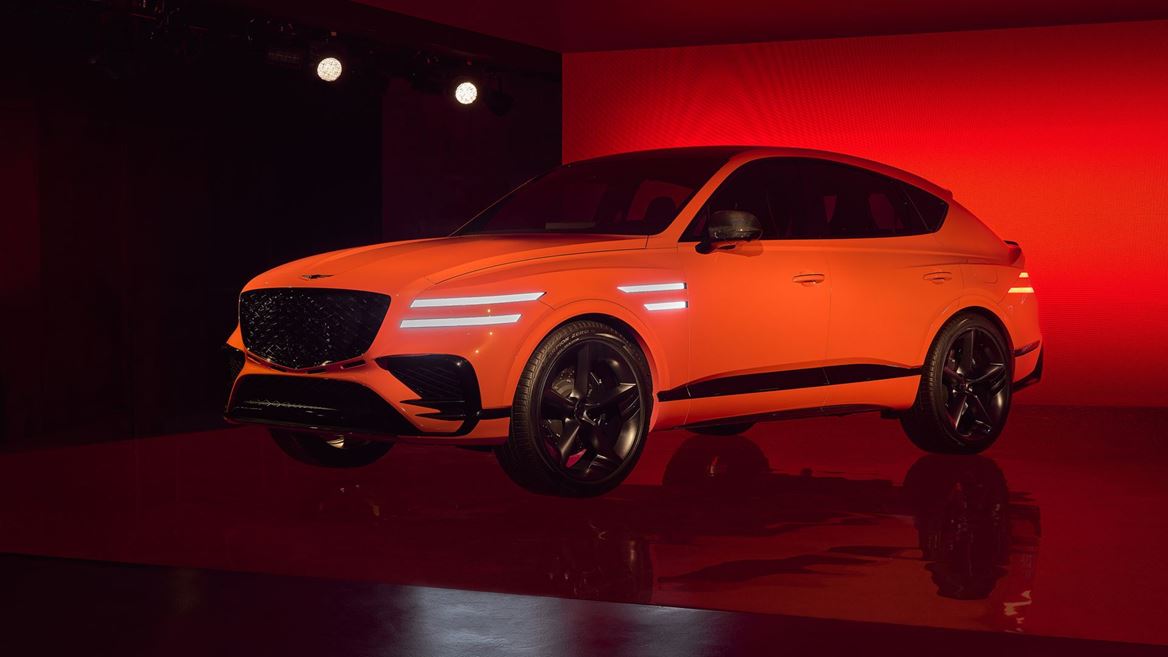 GENESIS GV80 COUPE CONCEPT MAKES EUROPEAN DEBUT

Genesis GV80 Coupe Concept makes European debut in Munich, GermanyConcept was first shown in New York earlier this yearGV80 Coupe Concept highlights a potential athletic direction for the brand
Frankfurt, Germany, May 4, 2023:  The Genesis GV80 Coupe Concept has made its European debut at the Car Design event in Munich, Germany.  Attended by the automotive design community, this is the inaugural event and is hoped to become an annual celebration for automotive design in Germany. 
First revealed at Genesis House in New York in April, the GV80 Coupe Concept elevates the brand's performance attributes and represents the most dynamic interpretation of the brand's trademark Athletic Elegance design philosophy.
GV80 Coupe Concept is inspired by the X Speedium Coupe Concept and combines the practicality of a lifestyle-oriented SUV with the dynamism of a sports car. Harnessing the iconic Genesis 'Two Lines' design concept, seamless rear lights complete the Two Lines signature at the rear, while an upper spoiler and spoiler lip provide increased downforce at speed to optimise the car's aerodynamics.
Reinforcing the GV80 Coupe Concept's performance potential is a lowered roofline and a lightweight carbon fibre roof panel, both of which contribute to the car's dynamic driving qualities by lowering the centre of gravity and reducing the overall mass of the vehicle. Genesis' rear-wheel-drive platform provides the basis for the GV80 Coupe Concept's long bonnet and generous dash-to-axle proportions. Further emphasising the car's sporty character are 23-inch matte black finished five-spoke forged aluminium wheels.
Luc Donckerwolke, President and Chief Creative Officer for Genesis, said; "The New York show cars have communicated our DNA and our vision for the future of Genesis. The GV80 Coupe Concept clearly demonstrates that a hot Genesis complements our luxury positioning."
For more information on Genesis, please visit: https://www.genesis.com/uk/en/index.html
About Genesis 
Genesis brings premium cars with a luxury experience to Europe. The Korean brand has established itself as a true alternative within the premium segment, receiving multiple award wins in 2022. With a commitment to hospitality and great service, Genesis strives to build sincere relationships with customers and, above all, to respect the greatest luxury – their time. Embodying its unique design language 'Athletic Elegance', the brand continues to strengthen its range of vehicles and services across Europe having launched five premium luxury vehicles in 2021. Genesis introduced three electric vehicles in 2022 and, from 2025, all-new Genesis vehicles will be pure electric as part of the brand's vision for a sustainable future. Genesis is also pursuing a goal to become carbon net zero by 2035.
For more information about Genesis and its definition of premium, please visit www.genesis.com.