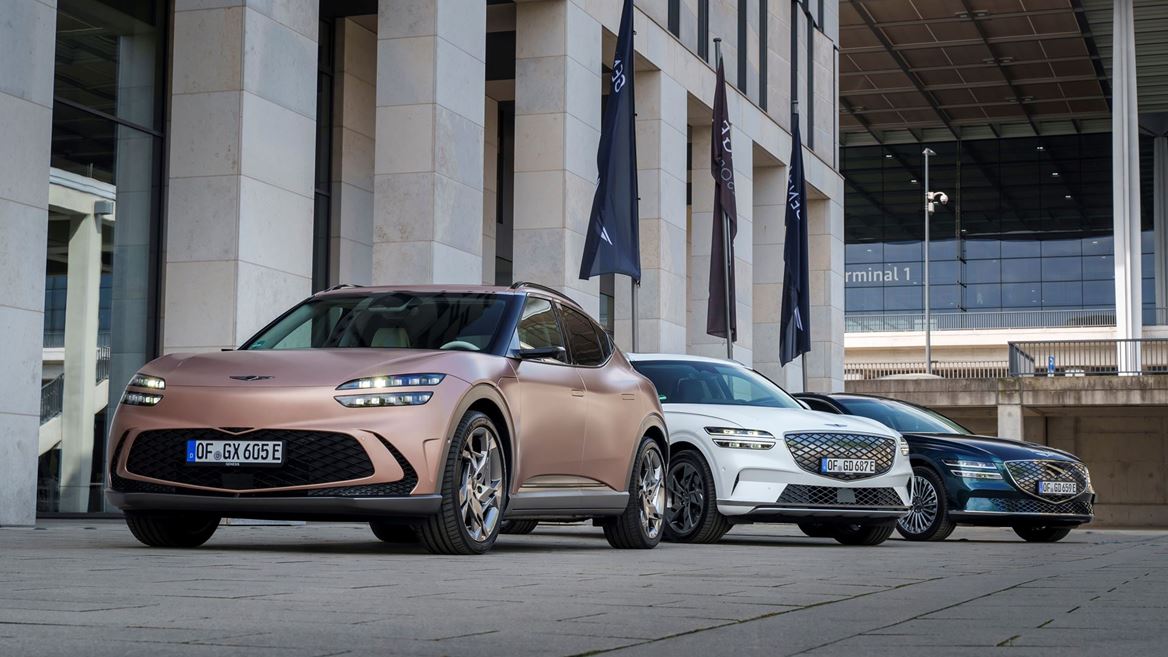 GENESIS LEADS THE WAY WITH CUTTING EDGE BIOMETRIC AND ELECTRIC TECHNOLOGIES AS UPDATED GV60 AND ELECTRIFIED G80 JOIN ELECTRIC LINE−UP

MY23 Genesis GV60 and Electrified G80 set new standards in premium luxuryGV60 features innovative biometric technology including world-first Face ConnectNew Digital Key 2.0 delivers exceptional personalisation, convenience and security to GV60Plug & Charge service offers seamless in-car payment for electric chargingComfort and serenity with enhanced seating, interior lighting and air purificationElectrified G80 receives carefully chosen upgrades that cement its position as an exceptional all-electric luxury sedanGenesis is leading premium luxury electric brand with its GV60, Electrified GV70 and Electrified G80 modelsAll electrified models benefit from Genesis' industry-leading EV technology that provides exceptional, performance efficiency and ease-of-useOn sale now
FRANKFURT, Germany, May 30, 2023: Since Genesis revealed GV60, its first all-electric car in 2021, followed by Electrified GV70 and Electrified G80 last year, it has firmly established itself as a leading premium luxury electric brand. Now, in 2023, Genesis is introducing a number of new technologies and features to enhance the ownership experience for the luxury Korean brand's customers.
The award-winning all-electric GV60 is now available with world-first facial recognition technology. Part of an advanced keyless entry system that also includes Fingerprint Authentication, the innovative Face Connect allows drivers to access their car using their face alone. This state-of-the-art addition is joined by the Digital Key 2.0, Plug & Charge and a raft of other enhancements that confirm Genesis and GV60 as a global leader in connected mobility.
Highlighting the Genesis commitment to delivering serenity and an outstanding ownership experience, GV60 also benefits from the introduction of the industry-leading Plug & Charge capability that allows in-car payment, plus the inclusion of Ergomotion and Relaxation front seats as standard.
As before, the GV60 continues to represent the brand's unwavering commitment to its core values of exceptional style, outstanding quality and cutting-edge technology, as well as delivering a driving experience that delivers unrivalled comfort, refinement and driver engagement. It also offers exceptional performance with up to 490PS, yet is capable of covering 321 miles on a single charge.
Underpinned by the brand's cutting-edge E-GMP electric architecture, much of it shared with Electrified GV70 and Electrified G80, GV60 also benefits from state-of-the-art features including an 800V electrical system, bi-directional V2L (Vehicle to Load) charging capability and the efficiency enhancing Disconnector Actuator System for AWD (All-Wheel Drive Models).
New for 2023, Electrified G80, has been enhanced to delivers even greater comfort and customisation. Refinements to the seats and interior materials reinforce Electrified G80's premium refinement and comfort, while technology updates ensure unrivalled connectivity, usability and personalisation.
Lawrence Hamilton, Managing Director at Genesis Motor Europe, commented: "Genesis is committed to offering the very best car ownership experience and these new features represent our desire to continuously enhance our all-electric model range.  Customers will benefit from the latest connectivity and convenience options, as well as enjoy even more levels of comfort and personalisation.
Introducing world-first Face Connect technology demonstrates our passion to lead innovation as we continue our electrification journey.  From 2025, all-new Genesis cars will be pure electric as part of the brand's vision to become carbon net zero by 2035"
MY23 Genesis GV60
World first Face Connect with GV60
Innovation and biometric technology combine with GV60's world first Face Connect system, which delivers exceptional convenience and security Using state-of-the-art facial recognition hardware and software, drivers can access and start GV60 without the key fob or a smartphone.
Using a NIR (Near Infrared) camera located in the door pillar and an advanced deep-learning image processing controller, Face Connect allows entry without the need for a physical or digital key, which is perfect when the driver's hands are full or when engaging in outdoor leisure pursuits where carrying a key is inconvenient.
Not only does Face Connect allow unlocking and locking of the doors, it automatically pre-loads the user's profile. This means the driver's preferences are automatically loaded, adjusting the position of the driver's seat, steering wheel and head-up-display as well as updating the navigation system's recent destinations and infotainment sound volume settings.
Digital Key 2.0 and Fingerprint Authentication
In addition to Face Connect, Digital Key 2.0 allows owners to share access to their GV60 with up to three different smartphone users, each who will have an individual profile. Depending on the mobile device used, Digital Key features cutting edge UWB (Ultra Wide Band), NFC (Near Field Communication) and Bluetooth connectivity to allow unrivalled access, security and safety.
Biometric technology also features in the Fingerprint Recognition system, which enables the GV60 to be started without the key fob. Once your fingerprints are registered through the infotainment system, you can simply press the touch sensor and start the GV60.  Furthermore, the security of the biometric data is assured, with the personal details of all the users stored securely in the GV60, making it impossible for the data to be accessed by any third parties. The owner can also delete and amend profiles at any time, further enhancing security and adding peace of mind.
Externally, the addition of Digital Key 2.0 allows automatic welcome lighting to be activated when the user is up to one metre away, enhancing safety, visibility and usability. It delivers fuss-free access to the luggage compartment with the standard smart powered tailgate. Even with your hands full the tailgate will open automatically if the user stands at the rear of the car for more than three seconds.
Plug & Charge
Providing customers with quick and easy in-car payment for electric charging, Plug & Charge is a seamless and secure system that allows drivers to charge without requiring a payment card or smartphone app. Developed in collaboration with Shell Recharge and Hubject, drivers simply pull up, plug in and charge.
When plugged in at a compatible station, the car instantly communicates with the charger, with the charging contract being used to identify and connect the customer's Genesis Charging account, completing the authentication process and starting the charging session. Once charging has ended, the customer's Shell Recharge account is automatically invoiced, and the customer is able to drive away.
This simple and stress-free service is possible thank to the car's PCID (Provisioning Certificate Identifier), a special digital code that is unique to each individual Genesis and that is associated with a Shell Recharge charging contract through the Genesis Charge Pass*. Setting up Plug & Charge is a straightforward process, while security is guaranteed with all software and hardware complying to the ISO 27001.
Comfort and Serenity as standard
For MY23 GV60, comfort and serenity are assured with the standard Premium Relaxation Comfort front seats which offer exceptional driver and front passenger comfort while charging or parking the vehicle. At the touch of a button the seats can be fully reclined, allowing occupants to luxuriate and stretch out in GV60's calming and spacious interior, helping reduce stress levels and fatigue. Heating and ventilation are also included, ensuring supreme comfort regardless of the temperature outside the car.
For the driver, there's also the ErgoMotion Driver's Seat, which features seven air cells each, which can be adjusted to ensure maximum comfort and posture. Seat ergonomics are also optimized according to drive mode. In Comfort, side support is less pronounced, while Sport mode delivers firmer side bolstering. Recognized by Germany's AGR (Aktion Gesunder Rücken, or Campaign for Healthier Backs) for its ergonomic design, this seat minimizes fatigue and ensures exceptional comfort.
For those sitting in the rear the standard Second Row Comfort Package adds luxurious features such as heated rear seats and retractable side blinds for the acoustically laminated rear windows. At night, customizable ambient lighting enhances the premium feel by bathing the interior in a relaxing glow. There are 64 different colours to choose from, allowing occupants to quickly and easily alter the environment to suit their mood.
Finally, GV60's dual zone climate control system now features an advanced air purification system as standard. Helping maintain a pleasant cabin environment for occupants it uses a fine dust sensor, engine room pre-filter and Antibacterial high-performance combination filter. By constantly monitoring the atmosphere around the GV60, this set-up can be automatically engaged when the air quality drops.
Electrified G80
Updated for MY23, Electrified G80 combines the Genesis brand's state-of-the-art technology and peerless quality, with distinctive design class-leading driving excitement and cutting edge EV engineering. Carefully chosen enhancements maintain the class-leading status of Electrified G80, which remains an exceptional luxury electric sedan with a range of up to 323 miles on a single charge.
With refinements to the seats and materials, the Electrified G80 continues to deliver class-leading premium refinement and comfort, while technology updates ensure unrivalled connectivity, usability and personalisation. Furthermore, there are even greater opportunities for customisation with the option of new paint colours for the body and brake calipers, which are now available in an eye-catching white finish.
While the uncluttered design is a perfect example of measured restraint, luxury is demonstrated with the 12-way power adjustable standard seats, while For MY23, Electrified G80 confirms its premium comfort credentials with the availability of the heated and ventilated 18-way Ergo Motion for both the driver and passenger. With seven air chambers each, these seats can be adjusted to ensure maximum comfort and posture, plus they feature a massage function for ultimate relaxation.
Elsewhere, Electrified G80 receives an updated Genesis Integrated Controller for the infotainment system. Positioned ahead of the drive-by-wire, glass-topped rotary gear selector, it features a touch sensitive handwriting pad on its top surface and allows quick and easy access to the numerous infotainment functions. For occupants in the rear there's now a pair of USB-C sockets or the option of a wireless smartphone pad, ensuring that all occupants remain connected when on the move.
Electrified G80 delivers exceptional handling and supreme comfort, qualities that have been further fine-tuned with the inclusion of a new Hyrdo-bush for the rear suspension crossmember. Replacing a rubber item, this sophisticated component helps further eliminate unwanted vibration and noise, delivering enhanced comfort and refinement as well as an even more dynamic and engaging driving experience.
Industry-leading electric expertise
With the GV60, Electrified GV70 and Electrified G80, Genesis is committed to making the switch to an electric vehicle as stress-free and user-friendly as possible for owners. Using innovative electrical hardware and software, every Electrified Genesis shares a number of innovative and pioneering features that deliver exceptional performance, driving pleasure and efficiency.
800V Charging and architecture for ultimate flexibility
Key to the performance of all Genesis EVs is a state-of-the-art electrical architecture that allows both 800 volt and 400 volt charging without the need for additional components or adapters. This innovative and patented technology automatically manages the motor and the inverter to provide stable charging regardless of the infrastructure.
As a result, owners benefit from a flexible multi-charging system that delivers stable and simple recharging of the battery across a wide range of chargers, including fast, rapid and ultra fast devices. In the case of the GV60, when charging at 240kW 10% to 80% battery capacity can be achieved in as little as 18 minutes, while on Electrified GV70 and Electrified G80 the figure is just 22 minutes.
Further advances can be found in the brand's compact Power Electric (PE) system, which packages the motor, an electric transmission and inverter into a single compact module. The most powerful AWD (All-Wheel Drive) models also use pioneering silicon carbide semiconductors that offer efficiency gains of around 2 to 3 percent compared to more common silicon components.
Zero energy waster with i-Pedal and Smart Regenerative Braking
Another Genesis innovation is the i-Pedal (Intelligent Pedal) mode, which allows the driver to accelerate, decelerate, and stop using just the throttle pedal alone. Not only does the i-Pedal allow a more intuitive and relaxing way to drive, it improves efficiency by harvesting energy that would otherwise be lost when slowing, feeding it back into the battery. Drivers can also use the steering wheel-mounted paddle shifters to alter the braking force, adjusting it to suit the driver's preferences, driving style and road conditions, with three different modes available.
Bi-directional charging with Vehicle to Load
Genesis is also a pioneer of bi-directional charging, with its unique V2L (Vehicle to Load) function allows owners to use their GV60, Electrified GV70 or Electrified G80 as a mobile power source. Capable of providing a 3.7 kW charge, which is more than supplied by most domestic sockets, it provides access to electricity regardless of location, such as when camping or enjoying outdoor activities. From laptop computers to electric bicycles, portable fridges and even other electric vehicles, this state-of-the-art technology can keep devices topped-up and functional even when miles from the nearest power source.
Genesis DAS for enhanced performance and efficiency
Electrified Genesis AWD models feature the innovative DAS (Disconnector Actuator System) that helps enhance efficiency by quickly and smoothly connecting or disconnecting the front motor from the drive wheels. This gives the ability to switch between RWD and AWD depending on the system requirements, minimizing power loss and ensuring efficient driving. Unlike rival twin motor models that simply cut the energy supply to one motor, which results in significant energy losses as the motor is still being turned as the car is moved, DAS completely cuts drive to reduce driveline resistance and drag.
Electrified GV70
Completing the Genesis line-up of electric vehicles is the Electrified GV70, a premium SUV that delivers exceptional dynamism, versatility and state-of-the-art technology. Carefully engineered and designed to maximise the advantages of its innovative and powerful electrified drivetrain, it features unique styling cues, sustainable materials and advanced 800V architecture that provides a range of 282 miles and 10% to 80% charging in just 18 minutes.
An advanced dual 320kW high-revving Premium E-Motor set-up delivers performance, refinement and comfort, while a Boost function increases power to 360kW for ultimate driver exhilaration. Electrified GV70 also features a unique e-Terrain mode that allow drivers to fine tune the powertrain for any surface and situation. In addition, Ride Preview and Electronically Controlled Suspension combine with Active Noise Control-Road (ANC-R) to enhance the sense of calm and premium luxury.
The interior of Electrified GV70 is spacious and luxurious with sustainable premium materials and elegant design. Cutting edge technology includes a 14.5-inch HD infotainment screen and 12.3-inch TFT instrument cluster with 3D display, while Genesis Connected Services offer cutting edge, over-the-air updates and seamless smartphone integration.
For more information on Genesis, please visit: https://www.genesis.com/uk/en/index.html
About Genesis
Genesis brings premium cars with a luxury experience to Europe. The Korean brand has established itself as a true alternative within the premium segment, receiving multiple award wins in 2022. With a commitment to hospitality and great service, Genesis strives to build sincere relationships with customers and, above all, to respect the greatest luxury – their time. Embodying its unique design language 'Athletic Elegance', the brand continues to strengthen its range of vehicles and services across Europe having launched five premium luxury vehicles in 2021.Genesis introduced three electric vehicles in 2022 and, from 2025, all-new Genesis vehicles will be pure electric as part of the brand's vision for a sustainable future. Genesis is also pursuing a goal to become carbon net zero by 2035.
For more information about Genesis and its definition of premium, please visit www.genesis.com