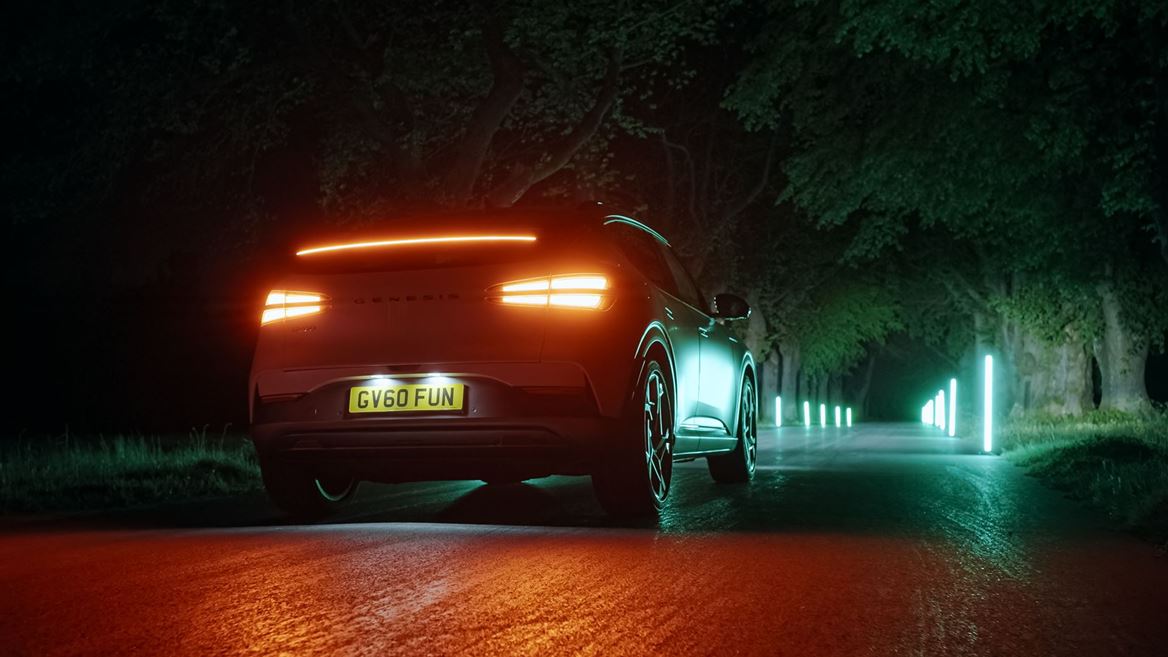 GENESIS LIGHTS UP GOODWOOD WITH NIGHT−TIME RUN UP FAMOUS HILLCLIMB

Genesis completes first night-time drive up famous Goodwood hillclimbRising star and ADAC GT4 German racing driver Patricija Stalidzane takes on the HillUnique trackside lighting powered by Genesis Electrified GV70 with V2L technologyGenesis will host two European debuts: Genesis X Convertible and the unveil of another Genesis model on the first day of the eventWatch the first ever night-time Goodwood hillclimb here
London, UK, 29 June, 2023: Ahead of its third year as a partner of Britain's largest motorsport garden party, Goodwood Festival of Speed, Genesis has completed a historic first ever high speed drive up the famous Goodwood hillclimb with German racing driver – Patricija Stalidzane – at the wheel.
Each year thousands take on the iconic Goodwood hillclimb. However, Genesis is the very first to cross the finish line at night by utilising the silent all electric power of GV60. In tandem, Electrified GV70's vehicle-to-load capabilities powered trackside lighting, guiding the way for GV60 along the 1.16-mile (1.86km) track.
Travelling from Munich to help Genesis in this historic feat was 21-year-old professional racing driver Patricija Stalidzane. Beginning her racing career karting in 2011 as a competitor in the ADAC Kart Masters Patricija currently competes in ADAC GT4, a closely contested sportscar racing championship predominantly held in Germany.
Patricija said: "Having worked with Genesis before, I was eager to get back in the driving seat of the GV60, especially for such a fun challenge. My training schedule for the Nürburgring Langstrecken-Serie can be intense, and an opportunity to do something new and exciting was really special. GV60 is incredibly responsive and dynamic to drive, particularly when firing up the boost mode, its electric power is exhilarating. I'm super proud to be the first driver to ever tackle the famous Goodwood hillclimb at night!"
Featuring a powerful dual motor set-up, the GV60 made easy work of tackling the legendary track. With up to 490PS available in thrilling Boost Mode, the Genesis can sprint from 0-62mph in just 4.0 seconds, while the combination of carefully tuned suspension and four-wheel drive traction delivers Genesis' trademark precision, control and driver engagement through the hillclimb's challenging bends.
The Duke of Richmond commented: "Each year we look forward to seeing how the innovation of our partners will continue to build on Goodwood's automotive history and heritage. Genesis offers a new perspective of the hillclimb with their night-time run and I look forward to seeing their latest cars take to the Hill next month."
The Goodwood hillclimb, which has been the focal point of the festival since 1993, winds through the historic estate with thousands attempting to break the track record, currently set at 39.08 seconds. With an average gradient of 4.9%, the track course features challenging corners such as Park Bend, Molecomb Bridge and Flint Wall, all of which are household names to motorsport fans.
Genesis will showcase two exciting European debuts at Goodwood Festival of Speed in July, with Genesis X Convertible set to be revealed and GV80 Coupe Concept to be on display to the public for the first time in Europe.
Genesis X Convertible can be viewed by visitors on the Genesis stand, where it's joined by the brand's range of vehicles, including GV60, Electrified G80, Electrified GV70, GV70 SUV. MY23 GV60 will also be in action on the legendary hillclimb route over the duration of the event.
To watch the first ever night-time race up the Goodwood hillclimb, please see here: www.youtube.com/watch?v=XEE3q0IdUAI
About Genesis
Genesis brings premium cars with a luxury experience to Europe. The Korean brand has established itself as a true alternative within the premium segment, receiving multiple award wins in 2022. With a commitment to hospitality and great service, Genesis strives to build sincere relationships with customers and, above all, to respect the greatest luxury – their time. Embodying its unique design language 'Athletic Elegance', the brand continues to strengthen its range of vehicles and services across Europe having launched five premium luxury vehicles in 2021. Genesis introduced three electric vehicles in 2022 and, from 2025, all-new Genesis vehicles will be pure electric as part of the brand's vision for a sustainable future. Genesis is also pursuing a goal to become carbon net zero by 2035.
For more information about Genesis and its definition of premium, please visit www.genesis.com.