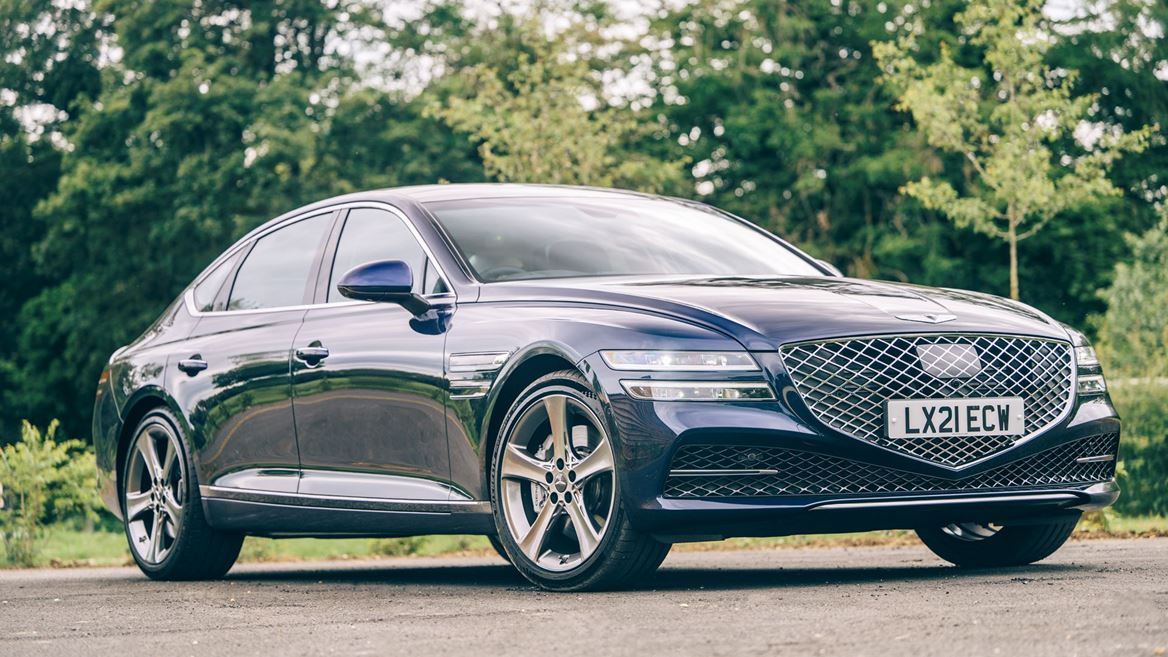 GENESIS MARKS HISTORIC MILESTONE WITH ONE MILLION CAR SALES

1,008,804 Genesis cars sold around the worldMajor milestone achieved eight years after the brand's launchG80 saloon is best-selling model, with over 390,000 sales to dateIncredible growth over the last two years bolstered by ambitious expansion into Europe
Frankfurt, Germany, Monday 18th September, 2023: Genesis Motor Europe is celebrating one million global car sales, a remarkable achievement for the South Korean luxury brand.
Over 690,000 cars have been sold in Korea so far and almost 320,000 units to customers globally. The brand has passed this monumental milestone less than eight years after its initial launch as Korea's first luxury brand in November 2015.
Genesis' growth has been exceptional, following its global debut in 2015 with the first generation G90 saloon, previously the EQ900, where 384 were purchased that year. However as further models were introduced, such as the G70, G80, GV70 and GV80, Genesis went on to sell 65,585 units by the end of 2016 and an impressive 132,450 cars in 2020 alone – surpassing the 100,000 annual global sales mark for the first time.
Notably, over 500,000 of Genesis' 1,008,804 cars have been sold in the last two years, coinciding with Genesis' expansion into Europe. In total, the brand operates across 17 different markets across several global regions, including its home market of Korea, the United States, Canada, the Middle East, Australia, Europe, and China.
"In less than a decade Genesis has performed beyond all expectations, delivering a million vehicles to customers around the globe. This global success and our worldwide achievements has provided us with a formidable springboard for Europe and laid a solid foundation since launching here just over two years ago. Our commitment to delivering premium cars, defined by cutting-edge technology and innovative design, is resonating with our European customers and we look forward to continuing to expand in this market," commented Lawrence Hamilton, Managing Director for Genesis Motor Europe.
He added: "In Europe, Genesis has proven to be a hugely effective disrupter in the luxury premium segment with its award-winning range of vehicles and exceptional customer service that has been driven by the 'Genesis difference' philosophy. Moreover, with three exciting electric models already on sale and more to come, the future of our brand has never looked brighter as we move towards our goal of becoming a fully electric brand by 2025 and carbon net zero by 2035."
Genesis sales through to the end of 2022 have remained balanced between SUV and passenger models, however, G80 remains the best-selling model across the Genesis range, with global sales of 390,738, for both the petrol and electric versions. Introduced in 2016 and succeeded by an all-new model in 2020, the luxury saloon was also the first Genesis model to go on sale in Europe, alongside the GV80 SUV in 2021. The GV80 was Genesis' first SUV and, alongside the GV70 has recorded cumulative sales of 173,882 units and 160,965 units respectively.
In addition to reaching this historic milestone, and as part of a determined expansion in the region, Genesis Motor Europe earlier this year announced significant growth in its brand touchpoints in Germany and the UK, with retail partners appointed to join Genesis. Driven by customer demand, this development into more major cities and regions will complement the existing Genesis Studios and give greater access to the test drives, sales and after sales services.
For more information on Genesis, please visit: https://www.genesis.com/uk/en/index.html
Notes to editors
Genesis Timeline
November 2015:
Genesis launches as Korea's first luxury brand with G90 (EQ900)
August 2016:
Genesis unveils its second model, G80, at the Busan Auto Show in South Korea
3rd April 2017:
The Lotte World Tower, the tallest skyscraper in Korea and fifth tallest in the world, opens
17th April 2017:
Genesis reveals GV80 Concept SUV at New York International Auto Show
September 2017:
Genesis debuts G70 at a launch event in Seoul's Olympic Park
January 2018: 
Genesis' first standalone show room, Genesis Gangnam, opens its doors to customers
February 2018:
South Korea hosts the Winter Olympic Games in Pyeongchang
January 2020:
Genesis unveils GV80 at a private event in Seoul
March 2020:
Parasite becomes the first foreign language film to win Best Picture at the 92nd Academy Awards
October 2020:
Genesis revealed its second SUV, GV70, in Seoul
December 2020:
Genesis exceeds 100,000 annual global sales for the first time (132,450 units)
February 2021:
BTS become first Korean nominated artists to perform at the Grammy Awards
April 2021:
The Electrified G80, the brands first electric car, makes its global debut at Auto Shanghai
May 2021:
Genesis launches in Europe with G80 and GV80, surpasses 500,000 cumulative sales and reveals the G70 Shooting Brake
June 2021:
Genesis begins official partnership with Goodwood Festival of Speed in Europe
August 2021:
Genesis unveils GV60, its first dedicated electric model and brings G70 & GV70 to Europe
November 2021:
Genesis premiers Electrified GV70 in Guangzhou, China and opens Genesis House in New York City
December 2021:
Genesis exceeds 200,000 annual global sales for the first time (201,415)
April 2022:
GV60 makes European debut at Salon Privé in London
June 2022:
Electrified GV70 is unveiled at Goodwood Festival of Speed 2022 and Electrified G80 arrives in Europe
July 2022:
Genesis begins partnership with Scottish Open
October 2022:
Electrified GV70 goes on sale in Europe
June 2023:
Pop group Black Pink become the first ever Korean band to headline a major UK music festival
July 2023:
Genesis launches flagship G90 in Europe at the Goodwood Festival of Speed
September 2023:
Genesis announces that it has surpassed global one million sales mark
About Genesis
Genesis brings premium cars with a luxury experience to Europe. The Korean brand has established itself as a true alternative within the premium segment, receiving multiple award wins in 2022. With a commitment to hospitality and great service, Genesis strives to build sincere relationships with customers and, above all, to respect the greatest luxury – their time. Embodying its unique design language 'Athletic Elegance', the brand continues to strengthen its range of vehicles and services across Europe having launched five premium luxury vehicles in 2021. Genesis introduced three electric vehicles in 2022 and, from 2025, all-new Genesis vehicles will be pure electric as part of the brand's vision for a sustainable future. Genesis is also pursuing a goal to become carbon net zero by 2035.
For more information about Genesis and its definition of premium, please visit www.genesis.com