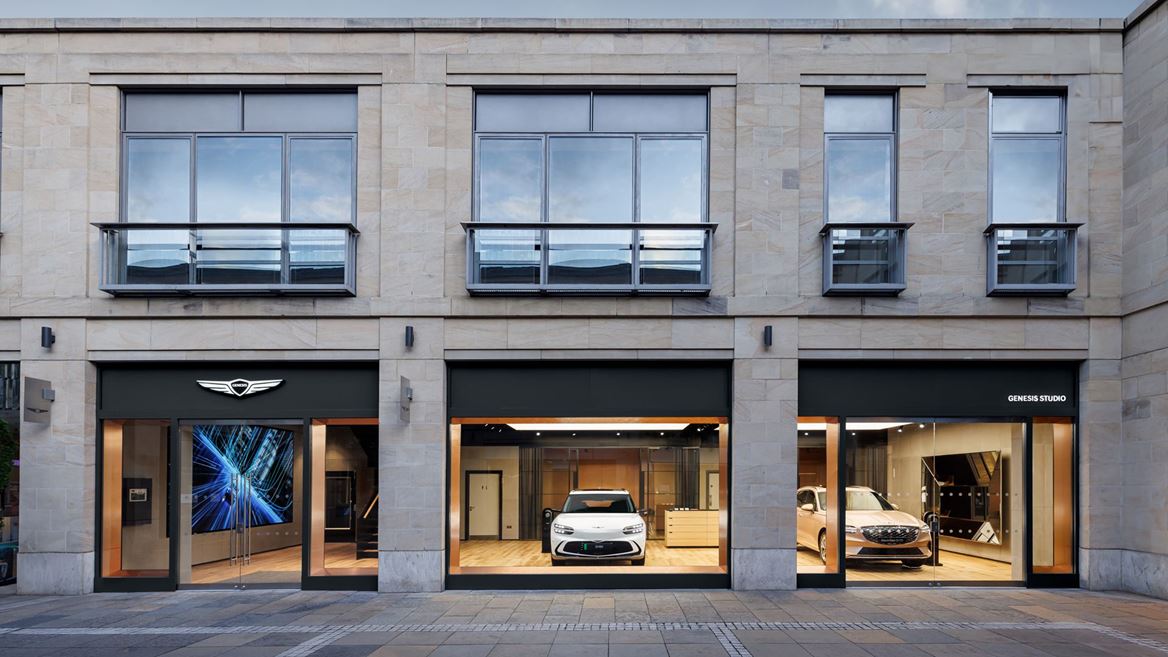 GENESIS MARKS OFFICIAL OPENING OF EDINBURGH STUDIO

Third Genesis UK Studio opens in Edinburgh, ScotlandLocated on 20-22 Multrees Walk, the Studio is now open to the publicCelebrating the launch, public are invited to take part in Swing Electrified, a free immersive game inspired by Genesis' sponsorship of the Genesis Scottish OpenFree slots can be reserved for a limited time from Wednesday 12th to Sunday 16th July 2023 between 12pm and 4pm and can be booked here: https://www.genesis.com/uk/en/discover-genesis/swing-electrified.html
Edinburgh, UK, 12 Jul., 2023: Genesis is pleased to announce the official opening of the third UK dedicated Genesis Studio in Edinburgh, marking the continued expansion of Genesis in the UK and the wider European market. The Studio, the first located outside of London, is now open to the public.
Located at 20-22 Multrees Walk, the new Studio is situated in Edinburgh's most established luxury retail destination. Intended to be more than just a showroom, the Genesis Studios have been designed with Korean customer hospitality at the forefront of mind, including Genesis Personal Assistant to manage all needs through the buying and ownership experience.
To celebrate the opening of the Edinburgh Studio and its sponsorship of the Genesis Scottish Open, Genesis is hosting Swing Electrified, an immersive golf game which challenges the public to put their swing to the test. The game will be located on the first floor inside the Studio.
From 12th to 16th July between 12pm and 4pm daily, golf enthusiasts, Edinburgh locals and shoppers will all be invited to attempt their best golf swing in front of the camera, as well as to explore the new Genesis Studio. After taking their swing players will have a 360 video of their attempt sent directly to them, which can be shared on social media. Free slots to take part can be reserved in advance here, spaces are limited.
"Since Genesis arrived in Europe in 2021, the brand has grown from strength to strength, offering a refreshing Korean alternative to the premium market. Fulfilling the strong sales demand in Scotland, the opening of our latest Studio in Edinburgh marks just the beginning of Genesis' commitment to continued retail expansion across the UK," commented Andrew Pilkington, Managing Director at Genesis Motor UK. "We look forward to welcoming our Scottish guests to our new Studio space and experience our brand's excellent customer service and hospitality."
To find out more about the Genesis Edinburgh Studio, please visit: www.genesis.com.
About Genesis
Genesis brings premium cars with a luxury experience to Europe. The Korean brand has established itself as a true alternative within the premium segment, receiving multiple award wins in 2022. With a commitment to hospitality and great service, Genesis strives to build sincere relationships with customers and, above all, to respect the greatest luxury – their time. Embodying its unique design language 'Athletic Elegance', the brand continues to strengthen its range of vehicles and services across Europe having launched five premium luxury vehicles in 2021.Genesis introduced three electric vehicles in 2022 and, from 2025, all-new Genesis vehicles will be pure electric as part of the brand's vision for a sustainable future. Genesis is also pursuing a goal to become carbon net zero by 2035.
For more information about Genesis and its definition of premium, please visit www.genesis.com