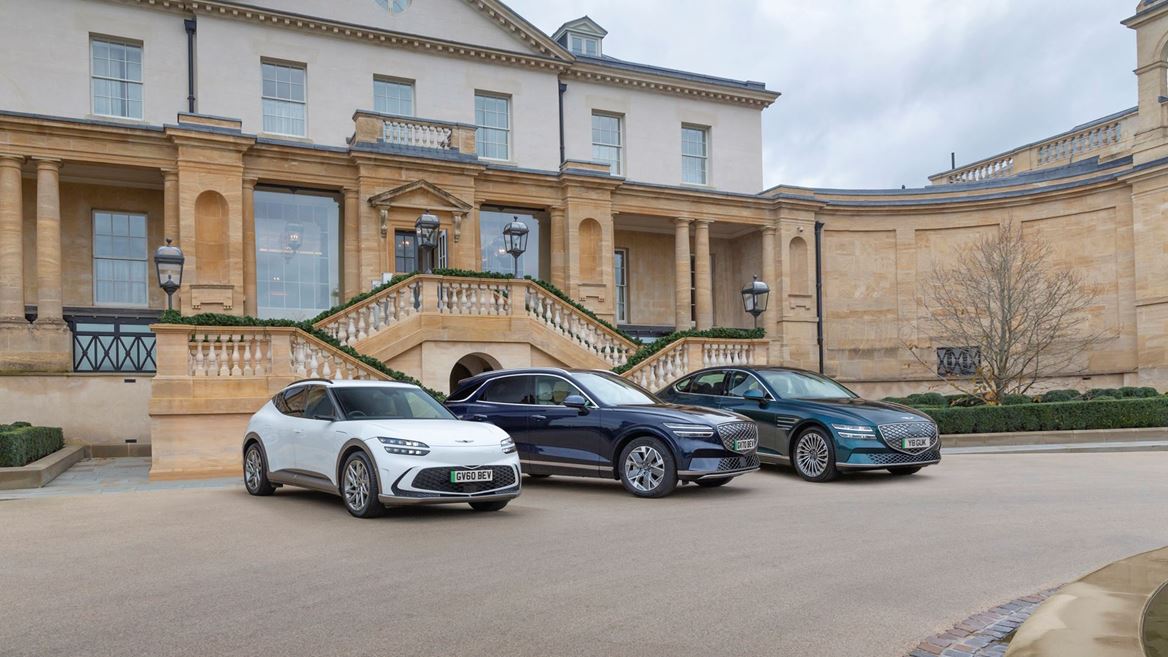 GENESIS MOTOR EUROPE ANNOUNCES SIGNIFICANT EXPANSION IN GERMANY AND THE UK
Driven by customer demand, Genesis will expand its brand touchpoints in the UK and Germany

Hand-picked specialist partners will offer increased access to the brand and products

Supports Genesis commitment to deliver personalised customer service excellence
FRANKFURT, Germany Mar. 01, 2023: Genesis is ready to significantly expand its customer touchpoints in Germany and the UK. Driven by customer demand, this expansion into more major cities and regions will complement the existing Genesis Studios and online services. The aim is to provide wider access to the premium Korean brand's test drives, sales and service operations.
Genesis will be carefully selecting specialist partners in both markets to ensure the commitment to personalised customer service excellence is delivered at every customer touchpoint. From consistent, transparent pricing though to peace of mind servicing and maintenance, Genesis will continue to focus on delivering an exceptional buying and ownership experience.
The expansion is being spearheaded by Lawrence Hamilton, who joined as Managing Director for Genesis Motor Europe last September. He explained: "In just two years, Genesis has successfully established itself in Europe and the response from consumers is extremely positive.  We achieved a 563% increase in customer deliveries in 2022 and, with such a desirable range including three all electric cars, demand continues to grow.
"Genesis products have won car of the year awards in our three European markets, we are winning group tests in the media and customers have spoken; they want to buy Genesis. By expanding with specialist partners, we can take our award-winning cars to even more customers.
"Exceptional customer service and hospitality remains at the core of Genesis, and we are looking forward to welcoming more owners to our brand." 
The larger retail footprint in Germany and UK will be operational from early 2024 and will support the growth and capability of the brand's sales and service operations.  It will also strengthen the foundations for Genesis to expand into new European markets.  
Since the brand's arrival in Europe less than two years ago, Genesis has successfully disrupted the market by offering premium, Korean-designed cars with a luxury experience. Genesis has a clear commitment to becoming an all-electric vehicle brand by 2030 and to pursuing the goal of being carbon net zero by 2035.
Notes to editors
*In Switzerland, the three Genesis Studios in Zurich, Basel and Geneva are strategically well placed across the country to successfully serve and deliver an exceptional brand experience for all Swiss customers. Therefore, there are no requirements for further expansion in this market. 
About Genesis
Genesis brings premium cars with a luxury experience to Europe. The Korean brand has established itself as a true alternative within the premium segment, receiving multiple award wins in 2022. With a commitment to hospitality and great service, Genesis strives to build sincere relationships with customers and, above all, to respect the greatest luxury – their time. Embodying its unique design language 'Athletic Elegance', the brand continues to strengthen its range of vehicles and services across Europe having launched five premium luxury vehicles in 2021. Genesis introduced three electric vehicles in 2022 and, from 2025, all-new Genesis vehicles will be pure electric as part of the brand's vision for a sustainable future. Genesis is also pursuing a goal to become carbon net zero by 2035.
For more information about Genesis and its definition of premium, please visit www.genesis.com.