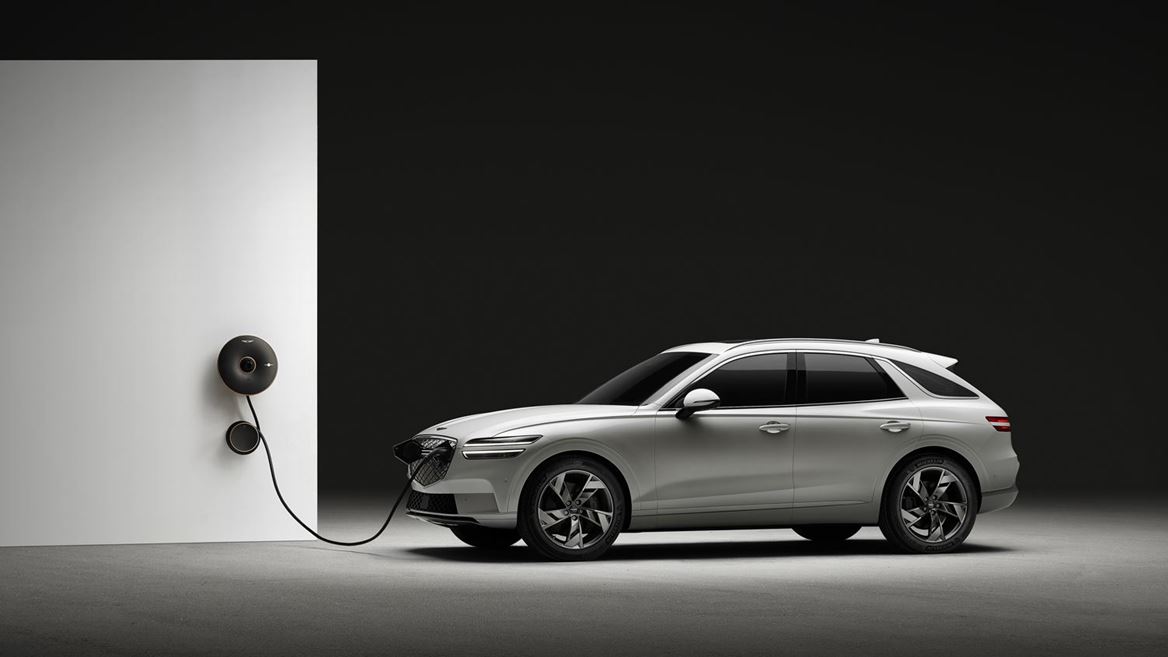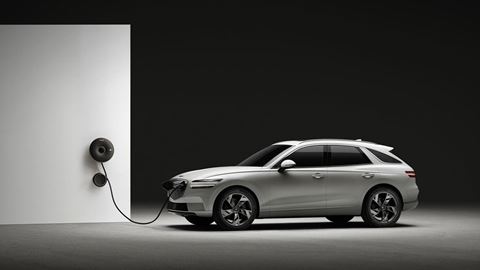 Advertisement. Scroll to continue reading.
The electric model of the GV70 sets a standard for luxury electric SUVs

The Genesis features have been evolved to achieve optimal aerodynamic efficiency

Features an All-Wheel Drive system with individual motors for front and rear wheels, generating a maximum output of 360kW in Boost Mode
Frankfurt, Germany: Genesis has officially unveiled the Electrified GV70 at Auto Guangzhou 2021, setting a new standard for luxury electric SUVs.
Genesis introduced the luxury electric SUV model by hosting a world premiere event at the Guangzhou International Auto Exhibition in China, which takes place at the China Import and Export Fair Complex from 19 – 28 November.
Jay Chang, Global Head of the Genesis brand, introduced the brand's vision for electrification, after which SangYup Lee, Head of Genesis Global Design, discussed the Electrified GV70's design. Markus Henne, Chief Executive Officer of Genesis Motor China presented the Genesis' market strategy for the country.
The event was broadcast worldwide via livestream on Genesis' official YouTube channel: https://youtu.be/diV7cg1FN9s
"Our global vision to create a sustainable future through electrification is a natural extension of our original commitment that dates back to the launch of Genesis in 2015: the commitment to creating a positive impact in our customers' lives," said Jay Chang, Global Head of the Genesis Brand. "I am pleased to reveal another new electric model in China that celebrates our audacious step toward a sustainable future."
The Electrified GV70 is built on the heritage of the GV70, inheriting its predecessor's spacious interior and adding outstanding performance and a host of new technologies designed exclusively for electric vehicles.
During the event, Genesis showcased an Electrified GV70 with an Atacama Copper Matte exterior.[1] On the exterior, the front displays a careful consideration for aerodynamic efficiency and function.
Genesis' signature Crest Grille has evolved into an aerodynamic crest that features an inverted G-Matrix pattern and incorporates a hidden electric charging port, creating a minimalist yet sophisticated look.
The minimalist horizontal shape of the rear bumper completes the model's modern image. A simplified, tailpipe-free skid plate emphasises the SUV's electric nature, while the iconic and progressive Two Line Quad Lamps put the finishing touch on the electric version of GV70, with Genesis' signature Two Lines architecture.
The interior boasts a driver-focused design, offering an intuitive and dynamic driving experience. Inspired by the 'Beauty of White Space' interior design concept, the Electrified GV70 offers customers the opportunity to write their own story with an interior that reflects the sustainable ambitions of this electric vehicle, as well as Genesis' commitment to future sustainability.
A variety of eco-friendly materials have been used to furnish the model, and each material features a high-quality finish, completing a design that embodies Genesis' vision for sustainable luxury from the inside out. Genesis will offer the model with a Glacier White interior.
The competitiveness of the Electrified GV70's interior has been enhanced by lowering the central tunnel to secure an amount of second row space that is equivalent to the GV70.
As an athletic and dynamic vehicle, the Electrified GV70 offers competitive and powerful performance to satisfy drivers.
It will be available only as an AWD (All-Wheel Drive) model, with a maximum power output of 160kW and 350Nm of torque for the front and rear, delivering a total maximum output of 360kW (in Boost Mode) and 700Nm of torque. This powerful model can go from 0 to 100km/h in 4.5 seconds in Boost Mode.[2]
In addition, the Electrified GV70 is the first Genesis model to feature the SUV-specific e-Terrain Mode, which enables a stable driving experience in various environments.
The new model delivers a competitive all-electric range (AER). Based on the CLTC standard, the estimated maximum range per charge is over 500km (Based on the Korean EV certification system, the estimated range per charge is 400km[3]). The addition of 350kW rapid charging, meanwhile, enables the battery to charge from 10% to 80% in just 18 minutes.
Furthermore, Genesis' application of a 400V/800V multi-rapid charging system will allow drivers to utilise various forms of charging infrastructure. The multi-rapid charging system enables fast and stable charging by raising the voltage supplied by typical chargers from 400V to 800V.
The technology is optimised for the vehicle's system thanks to the model's driving motors and inverters. Customers can use the 800V rapid charging system to utilise both 400V and 800V charging infrastructure without the need for an additional converter.
The electric version of the GV70 includes a V2L (Vehicle to Load) feature that supports a 3.6kW charge, which is higher than the power supply in the average home, enabling customers to conveniently use electric appliances outside of the vehicle.
Moreover, the Disconnector Actuator System (DAS) can automatically connect or disconnect the motor and drive shaft, considering various driving conditions. Such conditions include vehicle speed and driving mode, enabling seamless switching between 2WD and AWD – reducing unnecessary power loss while increasing efficiency.
The new model's driving experience is further enhanced with a variety of cutting-edge technologies. The Smart Regenerative Braking System regenerates energy through the braking system based on driving habits, real-time navigation, and road conditions. In driving mode, the i-Pedal (Intelligent Pedal) allows the driver to accelerate, decelerate and stop using just the accelerator pedal.
Genesis has also equipped the vehicle with ANC-R (Active Noise Control-Road) to achieve a comfortable driving experience. The technology significantly reduces the level of noise by measuring and analysing road noises utilising four sensors and eight microphones inside the vehicle, and by simultaneously creating inverted sound waves.
The Preview Electronic Control Suspension (Pre-view ECS) has been applied to support an optimal driving experience. This suspension system can be controlled based on information collected through the SUV's front camera and navigation system.
Genesis will be displaying a total of five vehicles at Auto Guangzhou 2021, including the Electrified GV70, G80 luxury sedan, GV80 luxury SUV, and two G70 models.
* Specifications and features discussed are for the Korean market only. International market features are TBC
Notes to editors
Genesis Europe Media Centre
www.genesisnewseurope.com
Genesis Europe Comms Twitter
@genesis_eu_pr
Genesis Twitter and Instagram
@genesis_europe
Genesis Facebook
www.facebook.com/GenesisEuropeGmbH
Genesis Linkedin
www.linkedin.com/company/genesis-motor-europe
About Genesis
Following its launch in 2015, Genesis has established itself as a true alternative within the premium segment. With a commitment to hospitality and great service, Genesis strives to build sincere relationships with customers and above all, to respect the greatest luxury of all – their time. The brand was launched first in South Korea and following success in the U.S., Canada, Russia, the Middle East and Australia, Genesis has set its sights on Europe and China. Embodying its unique design language 'Athletic Elegance', the brand continues to strengthen its range of vehicles and services to appeal to a broader range of consumers. The first electric car, the Genesis G80, will launch this year, with more to follow. Genesis is one of the highest-ranked brands in the automotive industry by respected third-party experts including North American Car of the Year, Consumer Reports and J.D. Power. Genesis is the only brand with a full product range to achieve IIHS Top Safety Pick+.
For more information on Genesis and its definition of premium, please visit www.genesis.com. Please visit our media site for the latest global news at http://genesisnewseurope.com/ and Twitter at @genesis_eu_pr.
[1] Exterior color may vary upon official launch in each region
[2] On Sport Mode, measured by Genesis' R&D center
[3] Estimated figures with Standard 19" wheels. Figures will be certified prior to the official launch in each region and may vary depending on the certification of each country's certification institution.
Advertisement. Scroll to continue reading.
Advertisement. Scroll to continue reading.