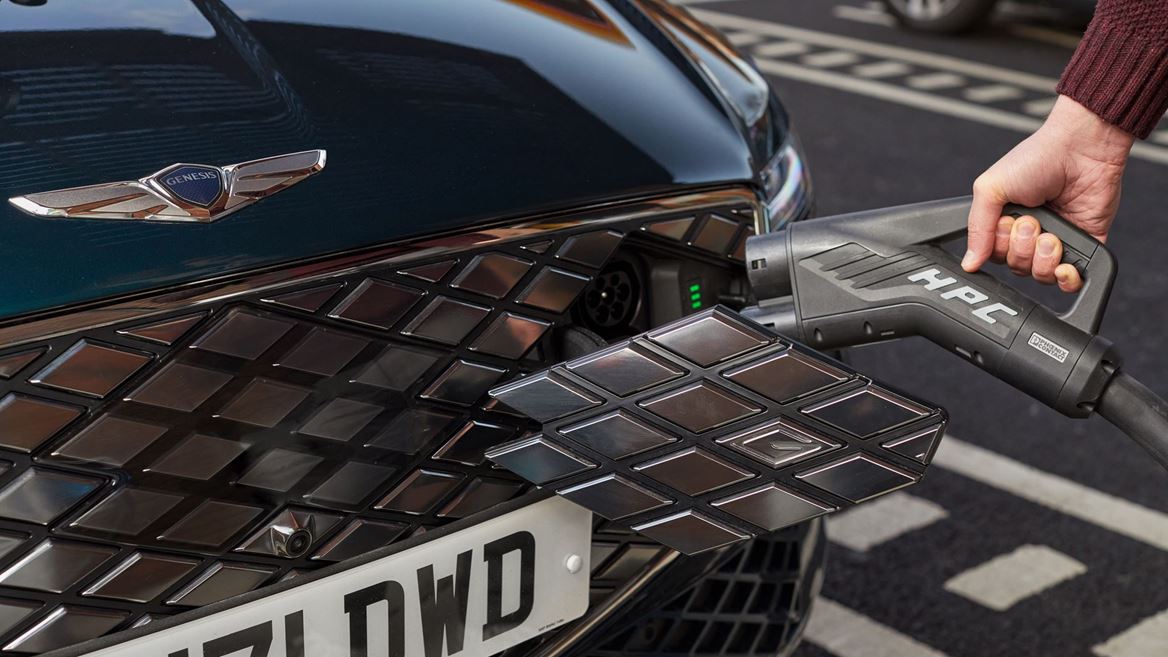 GENESIS REVEALS INNOVATIVE AND HASSLE−FREE PLUG & CHARGE PROGRAM FOR ELECTRIC VEHICLE CUSTOMERS

Plug & Charge provides Genesis customers with quick and easy in-car payment for electric chargingSeamless and secure system lets drivers charge without requiring a payment card or smartphone appSmart onboard software enables the billing process to be instant and autonomousBespoke set-up for Genesis customers as part of the Shell Recharge App developed in partnership with Shell Recharge and HubjectPlug & Charge will be available to all new model year 2023 GV60 customers from AprilService will be rolled out to model year 2024 electrified GV70 and electrified G80 models, plus as an update on existing models in the electric range to be announced later in the year
FRANKFURT, Germany, 12 April, 2023:  Genesis today announces its innovative Plug & Charge service, an advanced charging solution for hassle-free electric charging. Designed to deliver a seamless and secure charging experience, the bespoke system allows customers to simply plug in and charge without the need for a payment card or, once set-up, a dedicated app.
Due to the successful collaboration with Shell Recharge, a leader in smart electric vehicle charging solutions, and Hubject, operator of the only productive Plug & Charge ecosystem, Genesis now offers its customers Plug & Charge, the ultimate charging convenience. Easy to use, drivers simply pull up, plug in and charge. With no need for a mobile app or a payment card, Plug & Charge allows for smooth and seamless charging that is all part of the Genesis commitment to delivering a sustainable and fully connected premium electric experience.
Making Plug & Charge possible is the PCID (Provisioning Certificate Identifier), a special digital code that is unique to each individual Genesis and that is associated with a Shell Recharge charging contract through the Genesis Charge Pass*. When plugged in to charge at a compatible station, the car instantly communicates with the charger, with the charging contract being used to identify and connect the customer's Genesis Charging account, completing the authentication process and starting the charging session. Once charging has ended, the customer's Shell Recharge account is automatically invoiced, and the customer is able to drive away. 
Setting up Plug & Charge is a straightforward process, at no extra cost for Genesis Charge Pass* users. The customer simply enters the unique PCID from their Genesis into the Shell Recharge App and the PCID is linked to the customer charging contract. This data is registered in Hubject's Plug & Charge ecosystem and is activated so that after installation, the entire charging process, from authentication to initiation to billing, happens instantly and automatically. Security is guaranteed, with Hubject protecting the Plug & Charge ecosystem and its related data as required by the state of the art security standard, ISO 27001.
Lawrence Hamilton, Managing Director for Genesis Motor Europe, commented: "We are delighted to be launching Plug & Charge, an innovative and advanced product that delivers the most seamless and convenient electric charging experience yet. Working in partnership with Shell Recharge and Hubject, Genesis has created an in-car payment system that fully reflects our commitment to cutting edge technology and to delivering an unrivalled premium electric vehicle ownership experience. In combination with the Genesis Charging program, Plug & Charge once again demonstrates our commitment to making sure Genesis customers are able to enjoy the most important luxury of all, time."
Plug & Charge compatibility is available from April on all new model year 2023 GV60 models and will be rolled out to model year 2023 electrified GV70 and G80 models within the second half of 2023. Genesis is also planning an install update to offer the Plug & Charge feature to existing GV60, electrified GV70 and electrified G80 owners. Exact product release dates to be announced in due course.
The new program allows Genesis to continue a commitment to hassle-free charging that started with the Genesis Charging program that brings together home and public charging under one easy to use account. With Genesis Charging, provided by Shell Recharge, customers can manage their home charging and have easy access to over 470,000 public charging points in more than 35 European countries, all controlled by a single app and with all charging sessions being billed to one invoice. 
Plug & Charge is already supported by IONITY and Aral Pulse fast chargers, with more networks to follow soon.
For more information, please visit: www.genesis.com/uk/en/electric/plug-and-charge.html
Notes to editor:
*Powered by Shell Recharge. Genesis Charge Pass is a product from Shell Recharge Solutions. The charging card is provided to Genesis customers free of charge. It can be registered via Shell Recharge App for using it at public charging stations.
About Genesis
Genesis brings premium cars with a luxury experience to Europe. The Korean brand has established itself as a true alternative within the premium segment, receiving multiple award wins in 2022. With a commitment to hospitality and great service, Genesis strives to build sincere relationships with customers and, above all, to respect the greatest luxury – their time. Embodying its unique design language 'Athletic Elegance', the brand continues to strengthen its range of vehicles and services across Europe having launched five premium luxury vehicles in 2021. Genesis introduced three electric vehicles in 2022 and, from 2025, all-new Genesis vehicles will be pure electric as part of the brand's vision for a sustainable future. Genesis is also pursuing a goal to become carbon net zero by 2035.
For more information about Genesis and its definition of premium, please visit www.genesis.com.