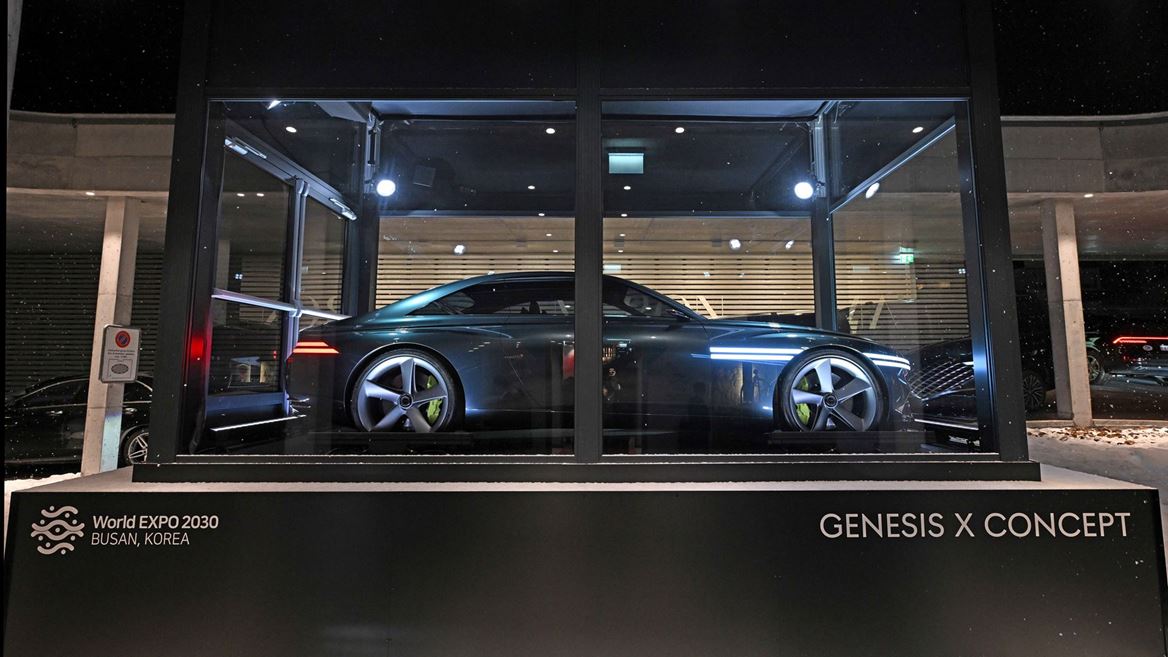 GENESIS SHOWCASES THE GENESIS X CONCEPT TO COMPLEMENT 'KOREA NIGHT' AT DAVOS 2023
The Genesis X Concept on display during Davos 2023 "Korea Night," organised to promote the South Korean city of Busan's bid to host the World EXPO 2030

30 Genesis electric cars in use as official transportation for the forum's Korean delegates, including the Electrified G80, Electrified GV70, and GV60
FRANKFURT, Germany, Jan. 19, 2023 – Genesis showcased its X Concept model at the World Economic Forum (WEF) held in Davos, Switzerland, during the "Korea Night" event. Located at the AMERON Davos Swiss Mountain Resort event hall, the Genesis X was displayed in a glass showcase with the 2030 Busan World Expo logo to promote the South Korean city of Busan for its bid to host World EXPO 2030.
Korea Night was organised to promote both the vision of the 2030 Busan World EXPO and Korean culture to key guests gathered in Davos for the annual forum. The event engaged around 200 people, including key global figures in the political, business, and cultural fields.
In line with Busan's World Expo vision for a sustainable future, "Transforming Our World, Navigating Towards a Better Future," Genesis X Concept was selected as the exhibition model among various other candidates for its progressive take on sustainable luxury car design.
Featuring Genesis' signature Two Lines, the X Concept is Genesis' fifth concept car—following the New York, GV80, Essentia, and Mint concepts—and epitomises the brand's design direction in the electrification era. The "X" in the model name symbolises a "hidden hero." 
In addition to the X Concept display, 30 electric models were used as official transportation for the forum's Korean delegates. The Genesis fleet includes: 18 Electrified G80 saloons, eight GV60 SUVs, and four Electrified GV70 SUVs with the Busan World EXPO 2030 logo to help promote the city.
About Genesis
Genesis brings premium cars with a luxury experience to Europe. The Korean brand has established itself as a true alternative within the premium segment, receiving multiple award wins in 2022. With a commitment to hospitality and great service, Genesis strives to build sincere relationships with customers and, above all, to respect the greatest luxury – their time. Embodying its unique design language 'Athletic Elegance', the brand continues to strengthen its range of vehicles and services across Europe having launched five premium luxury vehicles in 2021. Genesis introduced three electric vehicles in 2022 and, from 2025, all-new Genesis vehicles will be pure electric as part of the brand's vision for a sustainable future. Genesis is also pursuing a goal to become carbon net zero by 2035.
For more information about Genesis and its definition of premium, please visit www.genesis.com.