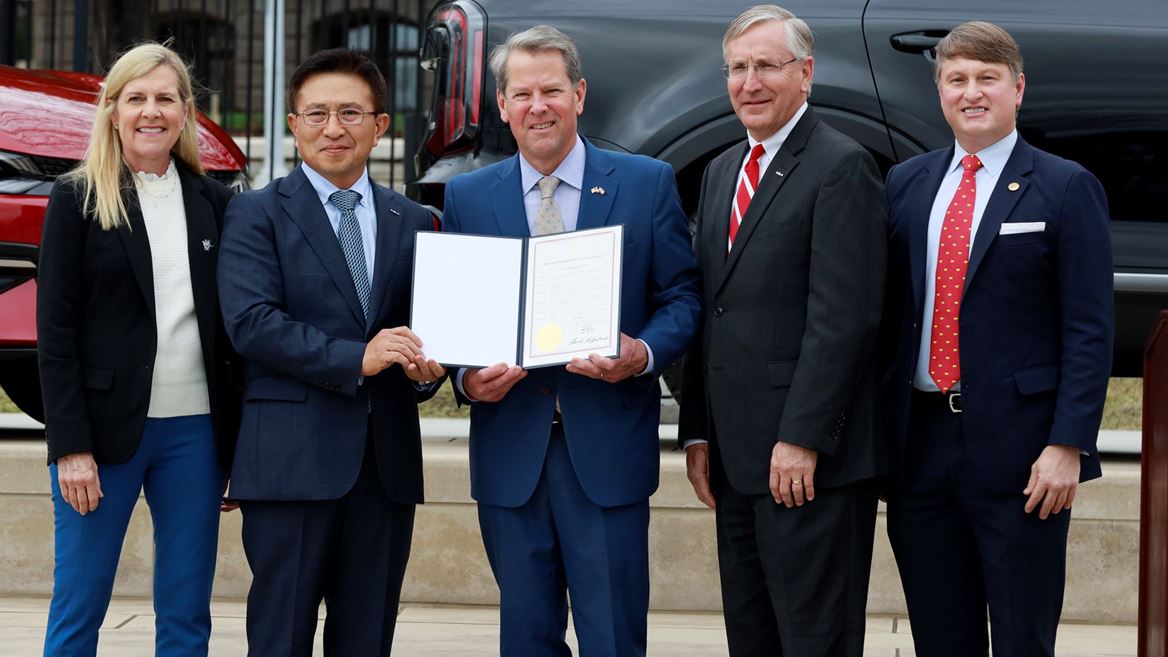 Georgia lawmakers commend Kia for manufacturing and its impact to the state
Led by Governor Brian P. Kemp, Georgia lawmakers recognized January 31 as "Kia Day," commending Kia's vehicle manufacturing and its impact to the state since making one of the biggest single foreign investments in Georgia's history in 2006 by establishing a state-of-the-art vehicle assembly facility in West Point.
Kia Georgia was Kia Corporation's first manufacturing plant in North America and assembles nearly 40-percent of all Kia vehicles sold in the U.S. To date, Kia has invested more than $1.9 billion in the state and Kia Georgia is responsible for more than 14,000 plant and supplier jobs in the region.
"Kia chose Georgia because they saw something in us – our great workforce, quality of life, and pro-business approach. And we saw something in Kia – a shared vision for transformational growth and a commitment to the hardworking people of our state," said Governor Brian P. Kemp.
Kia is a dynamic part of the world's third-largest automaker and continues to invest in Georgia. In October, it was revealed that assembly of Kia electric vehicles (EVs) is expected to begin in the first half of 2025 at Hyundai Motor Group Metaplant America (HMGMA), which officially broke ground near Savannah, Georgia. HMGMA will create more than 8,100 jobs over the next few years.
"Kia was the first to open an auto manufacturing plant in Georgia because we saw the talented workforce, sense of community, respected pro-growth business climate and commitment to innovation that is prevalent here," said Sean Yoon, president and CEO, Kia North America and Kia America. "Kia is focused on becoming a leader in sustainable mobility by popularizing EVs and we look forward to working with and bringing new opportunities to Georgia, the state we proudly call home."
Kia Georgia is home to the K5 midsize sedan and various models of the Telluride, Sorento and Sportage SUVs*with more than 90-percent of the vehicles assembled destined for dealerships across America. Kia Georgia's total production is anticipated to surpass 4 million vehicles in April of 2023. The West Point facility has provided over $20 million in support of Georgia communities since 2009, including over $6 million to support educational programs such as the THINC College & Career Academy in LaGrange and SAE's "A World in Motion."
"Georgia's array of resources to promote economic growth and workforce development enabled Kia to focus on the key fundamentals of building a state-of-the-art facility and the necessary skill sets for hundreds of team members new to automotive manufacturing," said Stuart Countess, president and CEO of Kia Georgia. "As Kia looks ahead with excitement, we are confident in our ability to adapt and lead the evolving automotive industry. Our experience in the state of Georgia is a huge part of building that confidence."