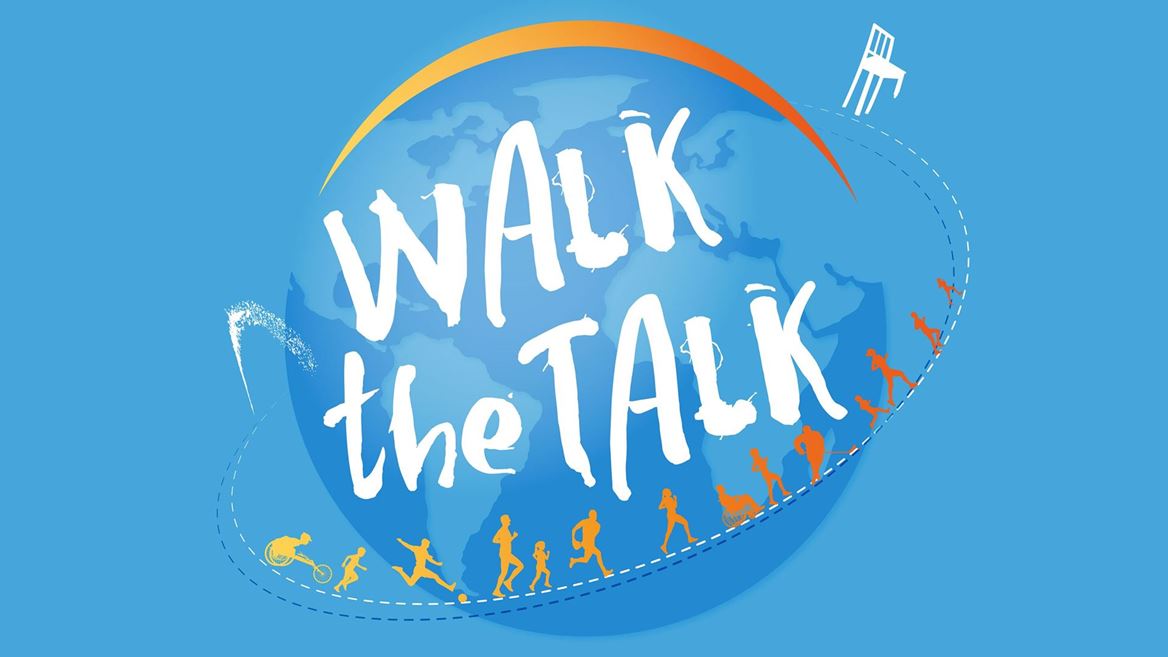 Get active with WHO's Walk the Talk: Health for All Challenge
17 May 2023 – The World Health Organization (WHO)'s Walk the Talk: Health for All Challenge returns for its fourth edition, with athletes, local sports clubs and the local community coming together in Geneva (Switzerland) on 21 May. Just a month ahead of Olympic Day, which will also encourage the world to move on 23 June, the WHO event is aimed at promoting solidarity, and the physical and mental health benefits of exercise.
Coinciding with the WHO's 75th anniversary year, the fourth edition of Walk the Talk invites people of all ages and abilities to run or walk a 3km or 4.2km route. Participants will get moving in the early morning from the United Nations (UN) Office in Geneva, also known as the Palace of Nations.
The event will include a running master class led by Ethiopia's double Olympic champion, Derartu Tulu, and Kenya's two-time Olympic silver medallist, Paul Tergat, giving enthusiastic runners a once-in-a-lifetime opportunity to run alongside a pair of long-distance greats. Tulu won 10,000m gold at the Olympic Games Barcelona 1992 and Sydney 2000, while Tergat took silver in the men's event over the same distance, at Atlanta 1996 and Sydney 2000.
Since its inception in 2018, the WHO event has taken place in Geneva, New York (USA) and Doha (Qatar), as well as virtually with a global audience in 2020. Whether walking or jogging, Walk the Talk has allowed WHO and its partners to highlight the amazing benefits of physical activity and encourage everyone to make healthier decisions.
Healthy living objectives to impact billions
According to WHO, each year approximately 3.2 million deaths and 32.1 million disability-adjusted life years (DALYs) are attributable to insufficient physical activity.
The Walk the Talk programme is part of WHO's ambitious goal, known as the Triple Billion targets, to improve the health of billions of people by 2023:
1 billion more people benefitting from universal health coverage;1 billion more people better protected from health emergencies; and1 billion more people enjoying better health and well-being.
Walk the Talk also aims to help achieve Goal 3 of the UN's Sustainable Development Goals by 2030: ensuring healthy lives and promoting well-being for all ages.
Rewarding partnership for all
It is widely recognised that physical activity promotes both mental and physical health, and that participating in safe and inclusive sports opportunities is a key way for people to get active. Regular physical activity is beneficial for people of all ages and abilities, and it is never too late to start being more active and less sedentary in order to improve your health.
In November 2022, the IOC and WHO announced a joint cooperation programme aimed at strengthening the role of sport in contributing to a global target of a 15 per cent reduction in physical inactivity by 2030. This was in direct response to a WHO report which found that 81 per cent of adolescents and 27.5 per cent of adults were not active enough.
The three-year programme forms part of the IOC's Olympism365 strategy, and further highlights the commitment that the IOC and WHO have made to improving health for people of all ages, backgrounds and abilities. It is also a concrete development of the Cooperation Agreement that both organisations signed in May 2020, at a time when the global health crisis heightened the importance of exercise for our physical and mental well-being.
With the cooperation programme aspiring to improve the access people around the world have to physical activity schemes and to promote the health benefits of sports participation to all, Walk the Talk: Health for All Challenge and Olympic Day act as key celebrations in encouraging communities around the world to get active and stay active.
Paris 2024 as a platform for change
The Walk the Talk: Health for All Challenge is one of many projects designed to empower people of all ages to take control of their health, particularly the next generation. It has been found that 92 per cent of girls and 82 per cent of boys aged six to 11 – the period when our relationship with exercise is shaped – are not physically active enough.
Recognising the impact the Olympic Games Paris 2024 could have on future generations, the Paris 2024 Organising Committee and the French Ministry of National Education, Youth and Sport joined forces to launch an initiative to provide schoolchildren with 30 minutes of exercise every day. After originally being successfully trialled in February 2020 during Olympic and Paralympic Week, the programme is being implemented by every school in France.
With spectators at the Games set to see athletes compete across 32 different sports, and full gender balance among the competing athletes to be achieved for the first time, Paris 2024 has the potential to motivate and inspire more people than ever before to take up sport and get moving for the benefit of their health and well-being.