Greenhouse Treatment Center and Love, Cassidy Partner to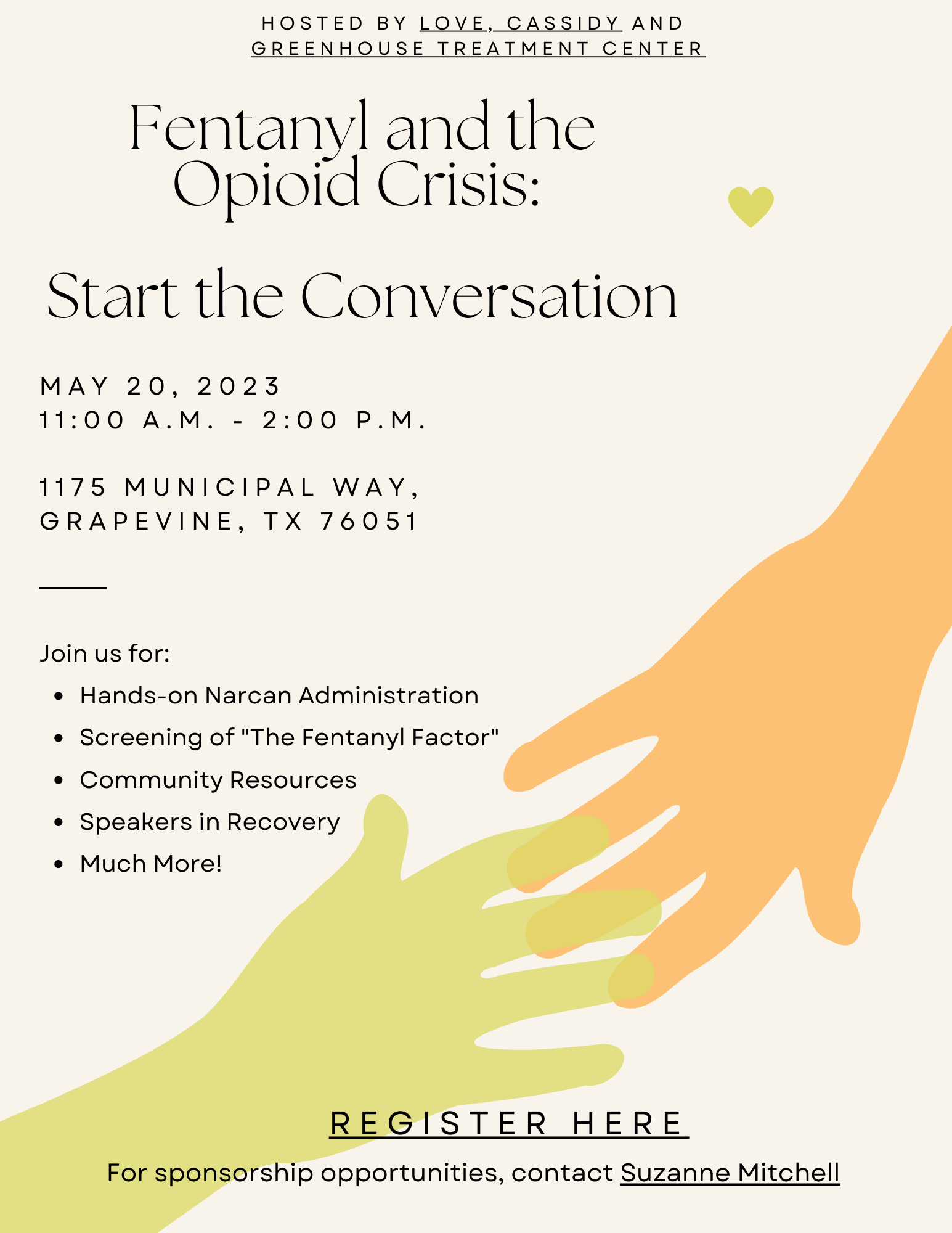 GRAND PRAIRIE, Texas, May 15, 2023 (GLOBE NEWSWIRE) — In an effort to further educate the community on the dangers of illicit fentanyl, Greenhouse Treatment Center and local non-profit organization Love, Cassidy will partner on May 20 to host an educational event for the community called "Fentanyl and Opioid Crisis – Start the Conversation." Attendees will receive information on local resources, hands-on training naloxone training by the North Texas Harm Reduction Alliance, and hear from people who have overcome addiction. The 20-minute documentary "The Fentanyl Factor" will also be shown followed by a panel discussion.
The event will take place on May 20 at the REC of Grapevine located at 1175 Municipal Way in Grapevine from 11:00 a.m. – 2:00 p.m. Registration for the event can be found here.
Illicit fentanyl continues to wreak havoc in the country, and Texas has not been spared from the effects: In 2020, 92% of all opioid overdose deaths involved fentanyl, and by 2021, the state averaged approximately 209 opioid-related overdose deaths each month. This past April, the Texas Department of Public Safety made one of the largest single fentanyl seizures during an Operation Lone Star traffic stop with more than 3.1 million lethal doses seized. With the presence of fentanyl continuing to increase and the substance steadily growing more lethal, Greenhouse Treatment Center and Love, Cassidy hope to save lives by educating the public.
"I have made it my life's work to help prevent families from losing their children to substance use," said Suzanne Mitchell, founder of Love, Cassidy. "We're at the point where kids are unknowingly making a mistake by taking something from friend and losing everything because of it. I will do all I can to raise awareness about the dangers that exists, and I thank Greenhouse in sharing that passion with me by aiding in this event."
Taking place near Grapevine's Main Street Fest, the event will feature speakers in recovery, two showings of the documentary "Fentanyl Factor" with a panel discussion to follow, live demonstrations of nasal and intramuscular naloxone administration, addiction treatment resources and other vendors.
For sponsorship opportunities, contact Suzanne Mitchell. All proceeds from the event will be used to purchase Narcan from Emergent Biosolutions and Narcandirect.com and will be dispersed to the community.
"We are more than happy to partner with Love, Cassidy to host such a meaningful event," said Tyler Harrell, CEO of Greenhouse Treatment Center. "Fentanyl is such an insidious substance taking the lives of so many, any opportunity to provide education and raise awareness will always get our support."
About Greenhouse Treatment Center
Greenhouse Treatment Center is located near Dallas, TX. Greenhouse treats patients who are struggling with drug addiction, alcohol addiction and co-occurring mental/behavioral health issues. For more information, call 972-362-6787.
Greenhouse Treatment Center
1171 107th St.
Grand Prairie, TX 75050
972-362-6787
Contact:
Maz Rodriguez
Public Relations Manager
MRodriguez@ContactAAC.com
A photo accompanying this announcement is available at https://www.globenewswire.com/NewsRoom/AttachmentNg/1d47518f-173e-4ab6-9e84-066456fdee6e