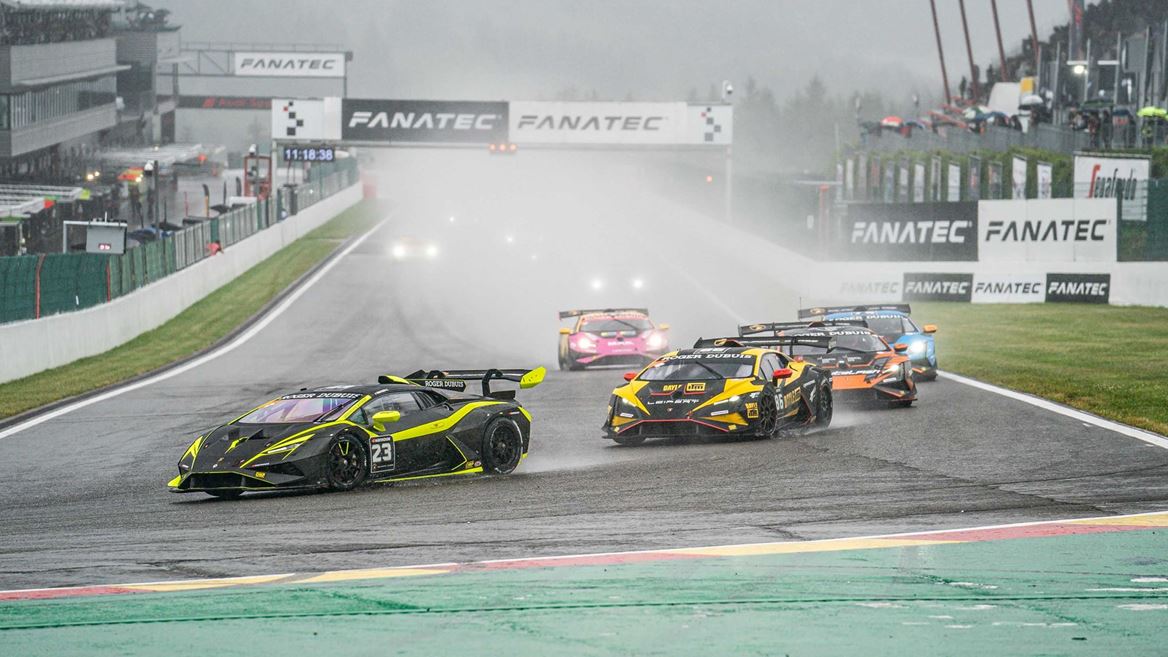 Heavy rain cuts short second race at Spa−Francorchamps
Race called just before half distance, handing newcomer Cedric Wauters victory
Sant'Agata Bolognese/Spa-Francorchamps, 2 July 2023 – Bad weather forced the second Lamborghini Super Trofeo Europe race at Spa-Francorchamps to be abandoned, leaving series debutant Cedric Wauters (TotaalPlan Racing) as the winner from Leipert Motorsport's Brendon Leitch. Morning rain intensified before the start of the second 50-minute encounter, which began under the safety car following a delay of over half an hour. Before long, however, it became apparent that visibility and standing water made it impossible to release the field, and officials ordered the race to be stopped just short of half distance.
Half points were awarded as the race did not reach the required 75% distance. As such, Leitch became the new Pro class points leader and will take a 0.5-point margin into the next round at the Nürburgring on the weekend of 29-30 July.
Wauters, who claimed pole position on his first outing in the one-make championship reserved for Lamborghini Huracán Super Trofeo EVO2s, naturally headed the field behind the safety car and officials endeavoured to ensure full-speed racing began. The #89 Iron Lynx car of Nigel Schoonderwoerd spun at Raidillon and stopped. Once the area was cleared, the safety car lights briefly went out but quickly went back on after Jason Keats crashed his #54 Brutal Fish Racing machine at the top of Raidillon. Following another lap behind the safety car, the race was stopped and not resumed.
The stewards stated that: "As the race two has been suspended according to article 125 of the 2023 Lamborghini Super Trofeo Europe Sporting Regulations, the Stewards determined that the points for race two will be awarded accordingly to article 17. [In] doing so, as more than two (2) laps but less than 75% of the original race distance (or time) were completed, half points will be awarded to the drivers."
Cedric Wauters (#23 TotaalPlan Racing) said, "It was not easy out there. The visibility, especially with 48 cars, was very problematic and the rain was getting heavier so it's a pity that the race was stopped but it was the correct decision. The car was great for us all weekend, it evolved a lot, and I had a feeling that I could achieve a good result today. Thankfully I put it on pole position yesterday but we're happy with the win."
Gabriel Rindone holds a 4.5-point lead over Renaud Kuppens and Pierre Feligioni in the Am class standings, while Luciano and Donovan Privitelio remain on top in Lamborghini Cup. In Pro-Am, the Target Racing duo of Frederik Schandorff and Alex Au lead Loris Spinelli and Andrzej Lewandowski (VS Racing) by seven points.