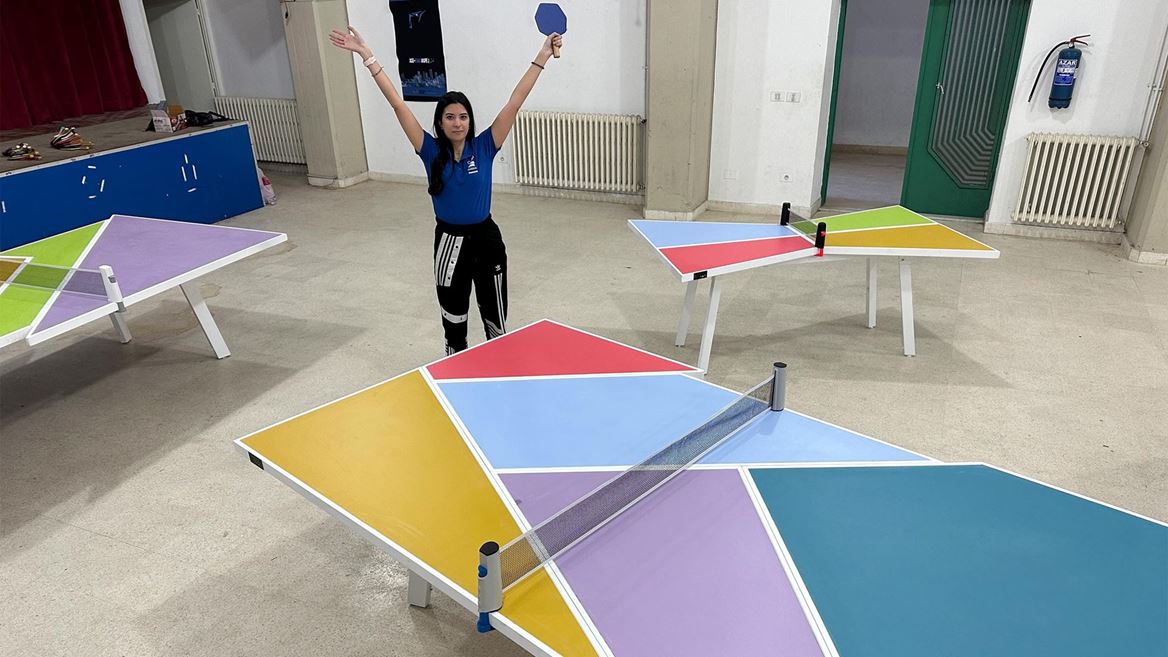 How Mayssa Bsaibes is "Kee−PING Hope" for children through table tennis
21 Apr 2023 – As World Table Tennis Day is celebrated across the globe on 23 April, we speak with IOC Young Leader Mayssa Bsaibes about how she is using the sport to inspire people in Lebanon through her Kee-PING Hope | AMAL project, which produces table tennis tables and bats from recycled wood and donates them to local orphanages.
Mayssa Bsaibes grew up in a sporty household. Her father was an eager tennis player, but, given the scarcity of courts in Lebanon, he decided to buy a table tennis table for his daughters. The decision proved inspired as his two eldest, Rita and Rouba, went on to become national champions. Inspired by her sisters, who became her mentors, Mayssa began practising at the age of eight and within just a few years was ranked number one in Lebanon. She would hold on to that position for a decade, between the ages of 11 and 21, becoming Lebanese champion in the process.
Her time playing table tennis would come to a temporary end, however, as her family suffered a great loss. In 2009, her middle sister, Rouba, tragically passed away due to cancer.
"Table tennis is an important part of my life because of the bond that was created with my sisters along the way," explains Mayssa. "It was hard for us to continue with table tennis after Rouba passed away, but then it actually helped us a lot through our healing process. I will be forever grateful to the sport because it's like everything we have worked on is for our sister, to keep the legacy of the Dream Team Sisters alive."
Helping Lebanon to keep hope
In 2021, Mayssa applied for the IOC Young Leaders programme, dreaming of being able to combine her passion for table tennis with her career in architecture in any way possible. She was also inspired by a desire to help her country recover from an economic crisis, which was only exacerbated by the deadly explosion that rocked Beirut in 2020. In the aftermath of this tragedy, and with people struggling with the economic crisis, many left Lebanon in search of more forgiving conditions. Mayssa, though, wanted to stay and help with the recovery efforts in any small way possible.
That is when, having been accepted to the IOC Young Leaders programme, she founded Kee-PING Hope | AMAL through which Mayssa found the perfect way to combine her passion and her job. Using leftover wood from carpentry shops in Lebanon, Kee-PING Hope | AMAL produces sustainable table tennis tables, bats and nets with unconventional shapes and colours, created by her partner, Badih Rameh, a product designer. The tables are then donated to SOS Children's Villages – a non-profit that runs a series of orphanages around the world, including in Lebanon.
Children from five orphanages are currently able to access this equipment and given the chance to participate in weekly table tennis training sessions, as well as additional workshop sessions about life-skills and well-being. "The reaction of the kids when they opened the door was fantastic," says Mayssa. "They were saying, 'Wow, why are the tables like that?' We wanted bright colours for the kids to be happy while playing table tennis and, with the different shapes, also help them to control their play. For example, I can say, 'Please bounce the ball on the green or the red side,' making them work on their table tennis skills in a fun way on the tables."
Applying Young Leader skills to organise WTTD
Mayssa came across another great opportunity in January 2023 as she was hired by the International Table Tennis Federation (ITTF) Foundation as the World Table Tennis Day (WTTD) Officer. WTTD is a celebration for sports lovers around the world, and from this year on, it will be celebrated on 23 April to mark the anniversary of the birth of ITTF founder and first president Ivor Montagu. Each year, the celebrations are themed around one of the UN Sustainable Development Goals. In 2023, the focus is sustainability for the planet and people's prosperity. To mark the occasion, the ITTF will host a 24-hour livestream on the Foundation's YouTube channel, featuring an hour-long panel talk with two IOC Young Leaders, moderated by Mayssa, during which they will discuss their projects and their relationship with sustainability. In her role as WTTD Officer, Mayssa is also involved in promoting the day itself and inviting people to register their events on the Foundation website, where visitors will see a world map marking out the more than 350 events that have been registered so far.
Through her work with the IOC Young Leaders programme, Mayssa believes she has developed many of the skills that have helped her achieve so much, including flourishing in an important role with the ITTF.
"I want to thank the IOC Young Leaders programme for making my vision a reality," she says. "The programme changed my life, giving me confidence in public speaking and knowing how to deal with people. Coming from a small country, it was really important for me to have support from the IOC. They support us financially, but also through expert sessions with the team members who help us through the process. The team follows up with us on a daily basis, so it's not only about funding, but also helping us build our projects and our character."
Worldwide Olympic Partner Panasonic's continued support
The IOC Young Leaders Programme has been supported by Worldwide Olympic and Paralympic Partner Panasonic since 2017, and this will continue through to 2024. Panasonic, as the programme's founding partner, is committed to supporting the IOC Young Leaders through different initiatives, for example providing its creative and technological expertise, along with its network of influencers and ambassadors, to inspire the Young Leaders and equip them with the skills and tools they need to enhance their projects.
Find out more about Panasonic's support for the programme.
​