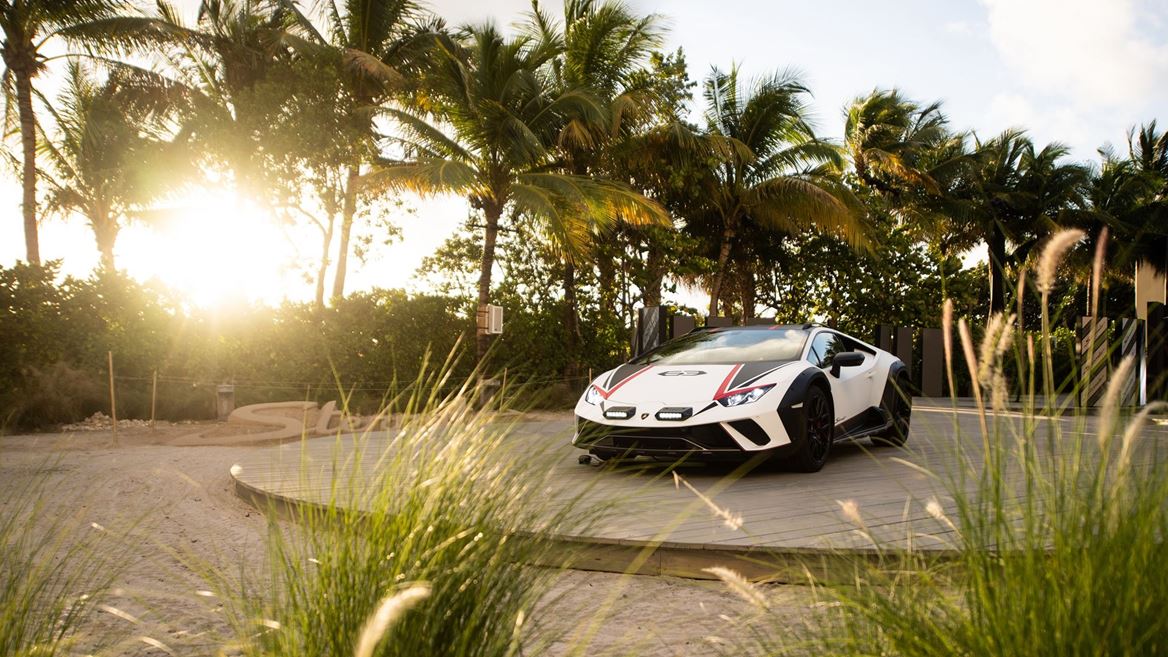 Huracán Sterrato debuts at the Lamborghini Beach Lounge in Miami
Private, beachfront pop-up Lounge welcomes VIP guests and Lamborghini owners during Art Basel Miami  
Sant'Agata Bolognese/Miami, FL December 1, 2022 – The Lamborghini Huracán Sterrato[1] the first all-terrain super sports car and the final addition to the Huracán range, made its North American premiere yesterday in Miami at the Lamborghini Beach Lounge located at the 1 Hotel South Beach. The sustainable, luxury hotel offers the perfect, modern backdrop against which to showcase this bold, new V10 masterpiece beyond the concrete.
During an exclusive evening celebration that included an unveiling of the Huracán Sterrato, Stephan Winkelmann, Chairman and CEO of Automobili Lamborghini, welcomed long-time Lamborghini customers, VIPs and media together with Rouven Mohr, Chief Technical Officer, Mitja Borkert, Head of Design, and Federico Foschini, Chief Marketing and Sales Officer.
"Miami represents a melting pot of incredible culture, creativity and cutting-edge design, so we felt it was the ideal location to launch our new, unexpected super sports car, the Huracán Sterrato," remarks Mr. Winkelmann. "The feeling I get when driving this car is in some ways similar to when I strongly connect with a remarkable piece of artwork – it's uniquely personal, deeply emotional and undoubtedly exciting."
Designed for maximum driving pleasure even off the asphalt on unpaved or sandy surfaces, the Huracán Sterrato offers perfect control and delivers a completely new level of driving emotion and fun. The Huracán Sterrato comes with a 5.2-liter V10 engine with maximum power output of 610 hp and 560 Nm of torque (at 6500 rpm), combined with 7-speed dual-clutch transmission and electronically controlled all-wheel drive with rear mechanical self-locking differential. Designed to offer optimum performance on and off the road, it accelerates from 0 to 100 km/h (ca. 60 mph) in 3.4 seconds and reaches a top speed of 260 km/h (ca. 160 mph).
The Lamborghini Beach Lounge features two Huracán Sterrato on display, one with the exterior color Verde Gea and the other in Bianco Phanes. Around the cars, winding pathways bordered by tire track imprinted sand lead guests to three digital installations that highlight the Huracán Sterrato in action on different surfaces – dirt, gravel and sand. Each installation is brought to life with a complimentary sport that sets the environment: off-road biking in the countryside, parasailing in the mountains and windsurfing along the coastline.
Connected with the all-terrain experience is the all-new premium 3T Exploro Racemax x Huracán Sterrato bike. Crafted in-house in Italy using 3T's own carbon fiber technology, it is designed with the same Verde Gea livery as the Huracán Sterrato vehicle and boasts the logo script on the saddle. Available via 3T distributors, the bike will be available globally in early 2023.
Within the Lamborghini Beach Lounge, artwork from celebrated artist Fabian Oefner is on view for guests featuring his highly acclaimed "Disintegrating" works that portray super sports cars that seem to blow apart. In the Disintegrating X – Lamborghini Miura SV (2019), what looks like a computer-generated image is actually a real-life photograph. It was made by photographing every single piece of a 1972 Miura SV and then assembling the individual pieces to a composition that looks like the car disintegrating at full speed. In Oefner's latest collaboration with Automobili Lamborghini, Disintegrating Essenza (2022), he photographed all 2,358 parts of the race car at the factory in Italy. He then assembled the individual parts to create a hyper-realistic illusion of the car launching into the atmosphere like a rocket into the night sky. These prints are complimented by two Heisenberg Lamborghini sculptures on display.
Limited to just 28 timepieces, long-time partner Roger Dubuis also launched the latest creation to emerge from their collaboration with Automobili Lamborghini – the new Excalibur Spider Huracán Monobalancier (MB). A prime example of what happens when incredible watchmakers meet visionary engineers, the heart-pumping timepiece is infused with the horological excellence of the Maison and the spirit of the Huracán Sterrato super sports car. Maximum traction. Peak acceleration. Thrilling experiences.
The Lamborghini Beach Lounge in Miami is open by invite-only December 1-3, 2022.