LONDON, Jan. 13, 2022 (GLOBE NEWSWIRE) — Asia Pacific recorded a dominant share in the Hybrid Drive Train Market. Developing nations have begun to produce hybrid buses. FAW Group Corporation and Dongfeng Motor Corporation (DFM) in China have announced the production of hybrid drive train models. Apart from that, three types of regulations involving China's Corporate Average Fuel Consumption (CAFC) accelerate electrification in APAC region. This is also one of the factors contributing to the global growth of the hybrid drive train market. So far, several models of public charging have emerged. Government subsidies in China have funded infrastructure construction by state-owned utilities. This is another factor that has contributed to the regional market dominance, which has resulted in the growth of the overall hybrid drive train market.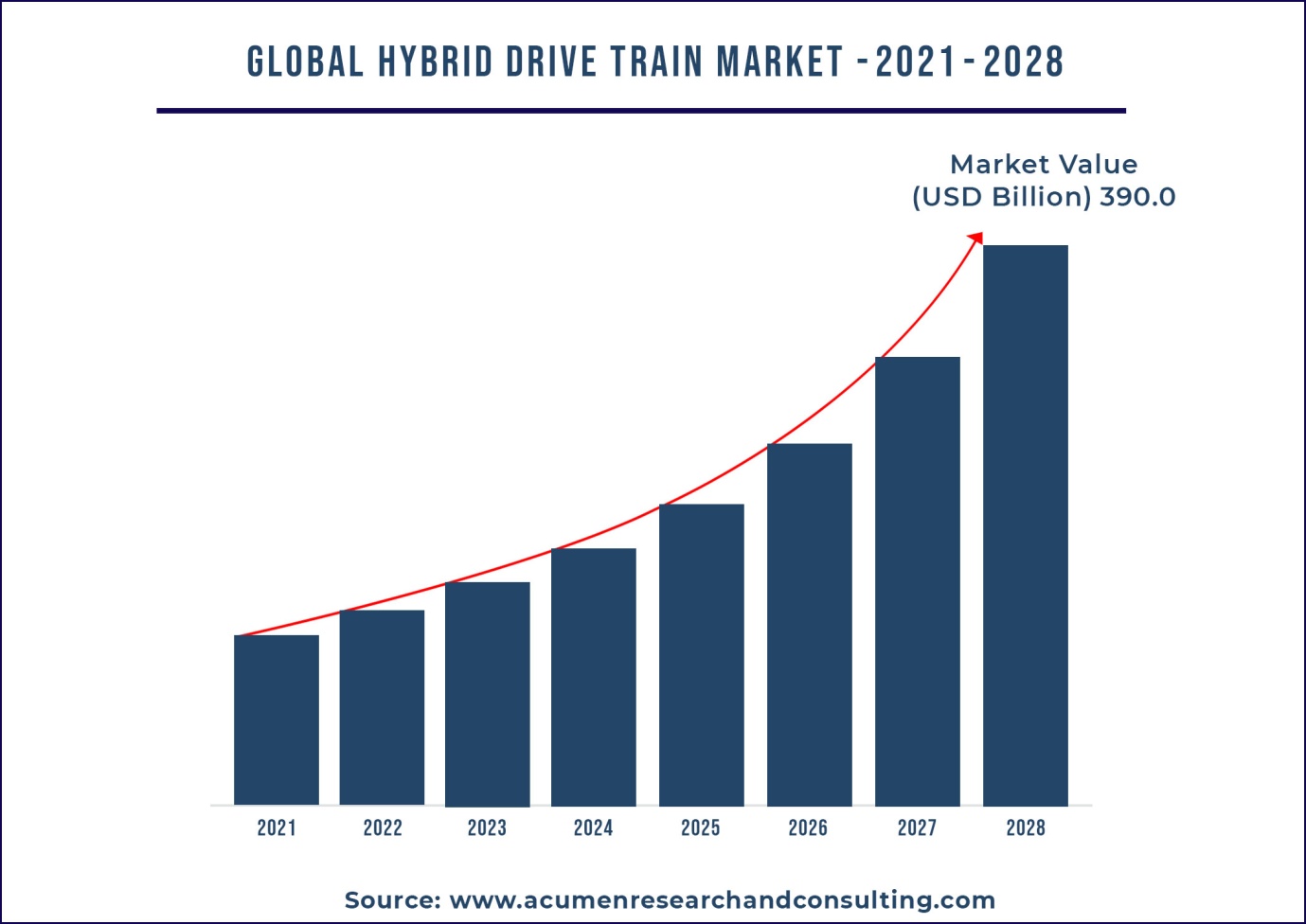 Download Sample Pages Of this report – https://www.acumenresearchandconsulting.com/request-sample/2781
Europe, on the other hand, is expected to have the fastest growing CAGR in the hybrid drive train market in the coming years. According to a report released by the United Nations Environment Program (UNEP), hybrid related technology and its various applications have made significant gains in recent years and are now an important part of the fuel economy equation. The European Union has begun to gain market share in developing and transitional countries, resulting in strong growth and maturity for large-scale deployment on a global scale. Such factors are responsible for the growth of the hybrid drive train market in the European region, ultimately contributing to the market's overall growth.
View Table of Content of this report: https://www.acumenresearchandconsulting.com/hybrid-drive-train-market
COVID-19 impact on global hybrid drive train market
Pre-COVID the automotive industry, along with other industries such as electric vehicles, was steadily moving forward in the global market. Despite the global market pressures caused by the pandemic, the long-term outlook for EVs is stable. This is due to the high adoption of plug-in hybrid electric vehicle (PHEV) and battery electric vehicle (BEV), which is expected to grow steadily by 2030. Such factors will undoubtedly contribute to the growth of the hybrid drive train market during the forecast period.
Market Pitfalls and Challenges
According to the SAE International report, hybrid and battery powered vehicles are facing economic and environmental pressure as well as pressure of reducing emissions and increasing fuel economy without hampering the performance and consistency compared to combustion engines. This has prompted researchers to conduct extensive research on hybrid vehicles, which are the only viable solution to this problem. A one-of-a-kind parallel hybrid drive train was designed and prototyped at Southwest Research Institute (SwRI). As a result, the series drive train's disadvantages have been mitigated because the design allows the engine speed to decouple from vehicle speed, allowing the engine to operate efficiently. During the analysis period, such factors impeded the global hybrid drive train market's growth.
To receive personalized service, please share your research needs here@ https://www.acumenresearchandconsulting.com/request-customization/2781
Segmental Analysis
The global hybrid drive train market is segmented based on level, type, and components. Based on level, the market is segmented as Mild HEV, Full HEV, and PHEV. By type, the market is segregated as series, parallel, and series-parallel. By components, the market is classified into HEV and PHEV
Competitive Analysis
Advertisement. Scroll to continue reading.
The global players of the hybrid drive train market involve BAE Systems plc, Aisin Corporation, Delphi, ZF Friedrichshafen AG (ZF Group), BorgWarner Inc., Continental AG, Hofer Power train, Denso Corporation, JATCO Ltd, Magna International Inc., OBRIST Group, PUNCH POWERTRAIN NV, and among others
Click Here For Related Reports: https://www.acumenresearchandconsulting.com/industry-categories/automotive-and-transportation-logistics
•        In September 2018, BorgWarner Inc., was selected for its axis P2 drive module and electro-hydraulic unit for hybrid electric vehicles by two leading Chinese original equipment manufacturers (OEMs). The company was chosen as the supplier for high volume program based on technological advantages their P2 modules delivered in terms of cost effective, power clutching & controlling technology, and the efficiency, functional and packaging optimization.
•        In April 2021, BAE Systems plc collaborated with Plug Power, a supplier of hydrogen engines and fuelling systems. The collaboration between the two companies will offer transit operators in North America region inclusive, scalable systems to reach zero emissions, offering required site, vehicle, and service solutions. Additionally, BAE Systems will integrate Plug Power's fuel cell engine into electric drive system to power the bus that will increase efficiency, reliability, and emission-free options during transit.
View Complete Table of Content
ACCESS THIS PREMIUM RESEARCH REPORT – https://www.acumenresearchandconsulting.com/buy-now/0/2781
Would like to place an order or any question, please feel free to contact at sales@acumenresearchandconsulting.com | +1 407 915 4157
About Acumen:
Acumen Research and Consulting is a global provider of market intelligence and consulting services to information technology, investment, telecommunication, manufacturing, and consumer technology markets. ARC helps investment communities, IT professionals, and business executives to make fact based decisions on technology purchases and develop firm growth strategies to sustain market competition. With the team size of 100+ Analysts and collective industry experience of more than 200 years, Acumen Research and Consulting assures to deliver a combination of industry knowledge along with global and country level expertise.
Advertisement. Scroll to continue reading.
For Latest Update Follow Us:
https://www.facebook.com/acumenresearchandconsulting
https://www.linkedin.com/company/acumen-research-and-consulting
Website- https://amecoresearch.com
Advertisement. Scroll to continue reading.
Our Blogs –
http://www.timestechpharma.com