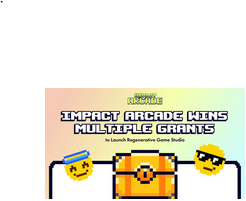 Impact Arcade Wins Multiple Grants to Launch Regenerative
AUSTIN, TEXAS , April 04, 2023 (GLOBE NEWSWIRE) — Impact Arcade is a web3 regenerative finance studio that is launching an array of action-packed casual games that, far from being a time-sink, actually contributes to solving the UN sustainable development goals all over the globe. Every time a player plays one of Impact Arcade games, they are contributing to these missions. The team, led by Seth Blaustein of Dollar Donation Club, recently launched to much acclaim, picked up several grants in the process of bringing their game-changer – and world-changer – to market.
Impact Arcade Picks Up Early Support
Impact Arcade picked up several grants in early development. Future Quest gave Impact Arcade a large grant, stating they are 'building casual games that generate real world impact, such as planting trees, cleaning up ocean plastic, protecting rainforests & beyond." The project was also selected as a village wonder by the PolygonDAO. The ecosystem, which invests heavily in the best new projects in the market, singled out Impact Arcade as having particular merit in their award of the investment.
Impact Arcade Addreses Gen-Zs Passions and Concerns
You can see why. Impact Arcade captures the perfect blend of a modern generation's passions and concerns. Gen-Z and Millenials care about climate change. They abhor the damage society is doing to our planet. They actively give to charitable missions, change their behaviours, and volunteer their time to support saving the planet. The regenerative finance sector does brilliant work through multiple web2 platforms, including Impact Arcade parent Dollar Donation Club, to create real change on the ground.
They also love games. The world's largest creative industry, one that spans lifestyle, esports, media, and – you know – games. Gaming is now humanity's hobby. Roughly half the globe play video games in some form or another. What started as simple point and clicks with a few pixels are now multimedia titans, with thousands of hours of cinematic content, millions of words of dialogue, and entire ecosystems built to sustain the playerbase. Increasingly, games are becoming evolving, living and breathing worlds – 'live service'. People tune into games like they tune into their favorite TV show or follow their favorite football team. 
How Impact Arcade Works
Impact Arcade takes these two primal fascinations of modern culture and brings them together. When you play an Impact Arcade game, your high score corresponds to how much ocean plastic – for example – you've removed from the environment. This is because each game in Impact Arcade's roster is connected to a regenerative mission. With ocean plastic, it's Impact Arcade's debut game, Impactman. In it, players gobble up ocean plastic from the seafloor on their beleaguered boat. Your end game high score is equal to how much plastic you've actually removed from the ocean – with the game specifying exactly what was achieved.
Other missions include protecting endangered species. Players wishing to take part play Kinn, an animal raising game akin to Nintendogs or Tamagotchi. As you raise and care for the animal, your in-game efforts protect an animal in the real world. In Carbon Crush, a match-3 game like Candy Crush, high scores represent trees planted, and thus carbon removed from the atmosphere. In River Defenders, a tower defence game, players construct elaborate defences and strategically place towers to combat the ongoing flood of plastic, with efforts translated into cleaning up rivers.
Impact Arcade and the Regenerative Finance Sector
Impact Arcade facilitates it through its long-standing partnership with world-class regenerative programs all over the world and in concert with UN sustainability goals and the missions it sets out. The team is long in the tooth in this space, with Dollar Donation Club an already established web2 platform that provides an easy route to regenerative finance for the average netizen. With Impact Arcade, not only is regenerative finance exploding into web3, but doing so in a hyper-accessible way that everyone enjoys. 
Regenerative Finance in Web3
Impact Arcade uses other web3 paradigms to build out its regenerative gaming studio. Although it's not – as the team highlighted in their recent manifesto on Medium – a Play-to-Earn (P2E) game. P2E games have already shown the weak underbelly of their economics, and the trend has shifted to Play-to-Own (P2O). Impact Arcade is no different, and will ensure that those who are regulars at the Arcade and spend their time and capital having fun there (while casually) changing the world will be rewarded by the economic success of the games as a whole.
Everyone Wants Their Rewards
However, everyone likes a good reward. The best part of going to one of those ticket arcades was cashing in your tickets for a plush toy or, if you were really talented, a Sony Walkman. Impact Arcade will of course let players win crypto and NFT prizes by cashing in their tickets, as well as entering raffles for incredible real world experiences linked to the regenerative causes they are on.
So it's a win, win, and win again. The players play, contribute to real world environmental impact, and earn rewards and long-standing economic benefit for doing so. This is Impact Arcade's pitch, and it's so compelling it's no wonder it's attracted grants, awards, and buzz since it began development. Now, with their manifesto launch and the upcoming beta of their debut game Impactman, the world is going to get to see for themselves just what the team have been working on.
Make a Difference at the Impact Arcade
As such, the website is now live, and the first players are being allowed to sign up to play the debut game at launch. Head over there to have a chance to waste your time in the best possible way. Guilt-free gaming is gone for good, and slaying bosses in game might well slay them for good in the real world. Whether it's ocean plastic, climate instability, fossil fuel carnage, or much else besides – we all know the challenges we face. With Impact Arcade, facing them has never quite been so fun.