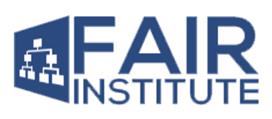 Inaugural FAIR Institute Summit Europe marks one of two
RESTON, Va., May 24, 2023 (GLOBE NEWSWIRE) — For the first time, FAIR Institute, a non-profit professional organization dedicated to advancing the discipline of measuring and managing cybersecurity and operational risk, will host a new conference in Europe: FAIR Institute Summit Europe in London June 1. In March, FAIR Institute Middle East and Africa was held in Jordan. In the upcoming conference, businesses in the U.K. will address how they are recognizing a cultural shift in the financial effects of cyber threats and taking measurable steps to halt their progression.
Speakers will provide insights into how they are leveraging the industry's international standard Factor Analysis of Information Risk (FAIR™), the leading model, to build or improve their risk management programs. FAIR is the only resource that uses a financial approach to measure cyber risk quantification in dollars and cents across all industries to help make better business investment decisions.
The London Summit will be held at IET Savoy Place, Maxwell Library, 2 Savoy Place, London, Thursday, June 1. Speakers at the all-day summit, 9 a.m.-5 p.m., will be featured in keynote addresses, panel conversations, and use case presentations. They include:
Jack Jones, 3x CISO, award-winning author of the FAIR™ Model, Chairman of the FAIR InstituteNick Sanna, President of the FAIR Institute; CEO of RiskLens; Board Member of the Internet Security AlliancePhil Huggins, CISO, National Health Service, EnglandJulian Meyrick, Managing Partner & Vice President, Security Strategy Risk & Compliance, IBM SecurityPooya Alai and Rebekka Kerland, Cyber Security Managers, MaerskPierre Olodo, Cyber Risk Specialists, RichemontKeyun Ruan, Risk Economics and Quantification Lead, Google CloudLaura Voicu, Manager Security Assurance and Risk Management, InfoSec, ElasticHardip Bharj, Head of Security Risk Management, SAPPaul de Luca, Head of Cyber Risk, HPEJo Armstrong, Head of UK Card Technology Risk Management, Capital OneDavid Steng, Director, Cyber Risk & Economics, Group Cybersecurity Office, Fresenius GroupFerhat Yazgili, Senior Cyber Risk Manager, Fresenius Group
Register for the 2023 Europe Summit here. Sponsors for this event are FAIR Institute Technical Advisor RiskLens, Institute Sponsor IBM Security, and Europe Chapter Community Sponsor C-Risk.
"We are proud to invite business leaders to our inaugural FAIR Institute Summit Europe and previously our FAIR Institute Summit Jordan. They have asked us to bring sessions such as we offer at the FAIR Conference in the U.S.," said Nick Sanna, president, FAIR Institute. "Cyber threats are growing worldwide and becoming a significant financial drain for businesses and organizations. Our sessions will provide members inspiring, thought-provoking and educational sessions relevant for the needs in their regions and beyond."
Membership to FAIR Institute is free. If organizations are not yet members, visit here to learn how to become involved: https://bit.ly/3XHDLzR. The popular annual U.S. FAIRCON event will be held Tuesday and Wednesday, Oct. 17 and 18, 2023, at the Fairmont Hotel, Washington, D.C. Additional details to be announced.
About the FAIR Institute
The FAIR Institute is an expert, non-profit organization led by information risk officers, CISOs and business executives, created to develop and share standard risk management practices based on FAIR. Factor Analysis of Information Risk (FAIR™) is the only international standard analytics model for information security and operational risk. FAIR helps organizations quantify and manage risk from the business perspective and enables cost-effective decision-making. FAIR has more than 14,000 members worldwide in over 100 countries representing over half of Global 2000 companies. To learn more and get involved visit: www.fairinstitute.org. 
FAIR Institute education partners include Arizona State University, Carnegie Mellon University, Center for Applied Cyber Education, Ferris State University, George Mason University, Harvard University, Macquarie University, Pepperdine, San Jose State University, University of Massachusetts Amherst, University of Tampa, University of Toronto, Virginia Tech, and Washington University in St. Louis.
Media Registration: News media members interested in covering the Summit can register and receive an access pass by contacting Luke Bader, lbader@fairinstitute.org.
Contact:
Cathy Morley Foster
Eskenzi PR
cathy@eskenzipr.com
925.708.7893