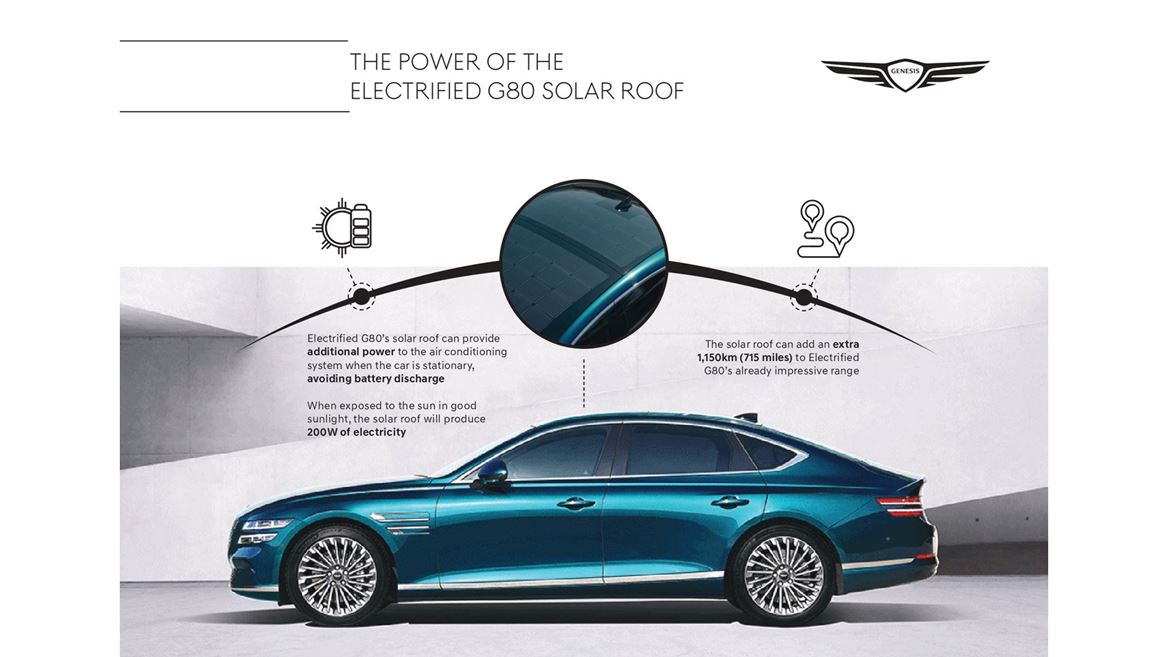 INNOVATIVE SOLAR ROOF ADDS OVER 700 MILES OF RANGE A YEAR TO ELECTRIFIED GENESIS G80
Innovative solar roof panel can add more than 1,000 km (700 miles) of range over a year

Advanced set-up adds energy to the high voltage 87.2kWh battery, both when driving and while the car is parked

Electrified G80's solar roof can also charge the vehicle's low-voltage battery when parked for long periods

Contributes over 266 kWh of electric energy a year, roughly the same that an average UK household uses per month
FRANKFURT, Germany, November 17, 2022: Research from Genesis has shown that by harnessing the power of the sun, the Electrified G80's state-of-the-art solar roof can add up to an additional 1,150 km / 715 miles of range a year.
Available as an option, the solar roof panel uses an advanced photovoltaic (PV) material made from silicon, which is used as a conductor to "absorb" sunlight to produce electricity. The innovative use of solar technology allows the Electrified G80's already impressive WLTP 323 mile range to be extended even further. Based on an average of just under six hours of daylight, this sophisticated addition can add around 0.7 kWh of energy which translates to an extra 3 km / 1.8 miles of range a day, or 1,150 km / 715 miles over the course of a year – saving customers both money and time. Due to the efficiency of the solar roof being subject to external conditions, range will be lower in countries with fewer hours of sunlight and similarly range will be higher for those who park their cars outside and/or drive more during the day.
The solar roof panels on Electrified G80 use high-performance cells with high charging efficiency. The panels have a power of approximately 200W (204 to be exact) and when exposed to the sun in good sunlight will produce 210W of electricity, the equivalent of two 100-watt bulbs or 11 household LED fluorescent lamps (18W each). The solar roof is also able to charge Electrified G80's low voltage 12V battery, providing additional power for comfort features such as the air conditioning.
The solar roof is just one of many advanced features found on the Genesis line-up, which is defining a new standard in luxury electric cars by combining grace with dynamism and technology with sustainability. Electrified G80 uses recycled materials in the headlining and sun visors that feature fabrics made in part with recycled PET and nylon yarn.  
Electrified G80 is available to purchase in Europe with pricing starting from £65,000. Customers can build their Electrified G80 using the online configurator to create their bespoke model with a whole range of optional packages and interior materials. The sunroof pack is available as an optional extra and is priced at £1,360 for the UK.
For more information on the Electrified G80, please head over to https://www.genesis.com/uk
About Genesis
Genesis brings premium cars with a luxury experience to Europe. The Korean brand has established itself as a true alternative within the premium segment. With a commitment to hospitality and great service, Genesis strives to build sincere relationships with customers and, above all, to respect the greatest luxury – their time. Embodying its unique design language 'Athletic Elegance', the brand continues to strengthen its range of vehicles and services across Europe having launched five premium luxury vehicles in 2021. Genesis will introduce three electric vehicles in 2022 and, from 2025, all-new Genesis vehicles will be pure electric as part of the brand's vision for a sustainable future. Genesis will also pursue a goal to become carbon net zero by 2035.
For more information about Genesis and its definition of premium, please visit www.genesis.com.