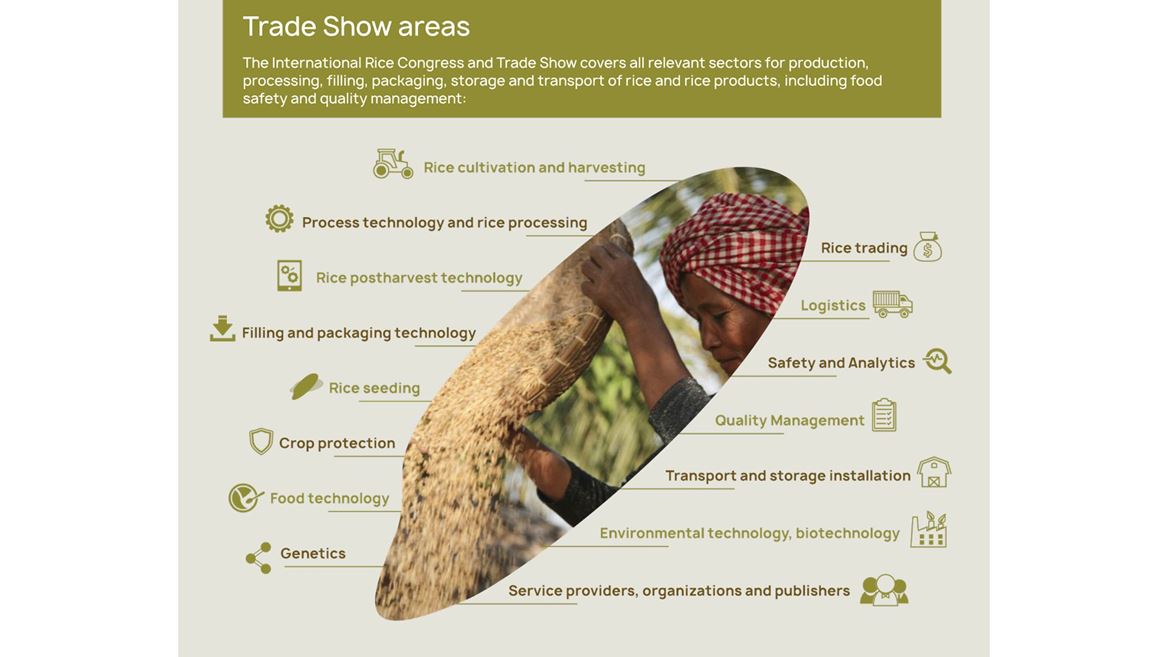 International Rice Congress trade show offers practical complement to scientific platform
From seed varieties, transplanters and smart farming to fertilizer, harvesting, storage and logistics systems – Exhibitor registration deadline: 15 September
The trade show integrated into the International Rice Congress (IRC 2023), 16-19 October, Manila, Philippines, will offer attendees a range of practical field tools that address the many challenges of the agri-food system discussed in the around 400 scientific presentations over the four days. From rice transplanters and novel farm input solutions, including new seed varieties, to harvest and post-harvest offerings as well as logistics, the trade show presents market-ready solutions that rice farmers can apply today.
The agricultural technology companies AGCO, Bayer, CNH and Kubota have already each secured a space from the 35 coveted exhibitor spots available at the trade fair, accessibly located at the reception hall near the networking area and poster presentations.
"The trade show within the congress represents the practical aspect of rice farming like field equipment and promising new seed varieties but also techniques and face-to-face advice to rice farmers and other rice professionals. There are still a few stands available," says Katharina Staske, Managing Director of DLG Asia Pacific.
Conceived in 2002 and held every four years at alternating locations, the International Rice Congress with its international trade fair has served as a platform for knowledge exchange among scientists, experts, and decision makers from the government, private, and public sector to develop evidence-based solutions to the challenges of the global rice sector.
"The trade show enables the important exchange between academia, the private sectors and farmers," adds Staske.
Expected trade show exhibits include irrigation and precision planting and direct seeding equipment and smart farming as well as data management systems.
"Some of the key features Kubota is set to showcase include transplanter machinery, along with our latest application—Kubota Intelligence Solutions (KIS). This app is designed to monitor interconnected agricultural equipment, enhancing overall efficiency. Additionally, we will unveil a drone concept designed for fertilizer spreading. The event, International Rice Congress, is considered the perfect platform for introducing efficient innovations." says Ms. Erika Ligot-Digital Marketing Supervisor of Kubota Philippines Inc.
The focus in Asian rice cultivation continues to be on using high-yielding and disease resistant rice strains, especially if they can be made available to small-scale farmers.
"Any cultivation solution like a new seed variety that is not only available but is also accessible and applicable to small holding farmers in Asia contributes to food security in some way," adds Staske.
Storing rice in humid climates is a challenge as mold and bacteria thrive in these conditions, a situation that can lead to spoilage and food wastage. Post-harvesting solutions to be presented at the trade fair are expected to include grain cooling units that are optimized for the temperature and humidity of the tropical climate.
In-between the many presentations, participants will be exploring rice technologies and other services at the trade show, which is organized by the DLG (German Agricultural Society) through its Thailand-based subsidiary, DLG Asia Pacific and the International Rice Research Institute (IRRI). "Bringing companies together with practitioners and experts is a good example of DLG's non-profit mission to further agricultural knowledge across borders," explains Staske.
The International Rice Congress is an important forum for identifying solutions that can contribute to the future productivity improvements needed, including the latest findings in genetic research.
The last International Rice Congress attracted some 1,500 delegates from 64 countries, including high-level representatives from the United Nations Food and Agriculture Organization, the World Food Programme, International Fund for Agricultural Development, governments of India, Uganda and Singapore, Bayer Crop Science, Oxfam, and Corteva Agriscience. The event also featured over 300 posters with technical details on individual topics and more than 400 research presentations of different studies across the globe.
With its central theme "Accelerating Transformation of Rice-Based Food Systems: From Gene to Globe," IRC 2023 will highlight solutions and innovations that could help address critical issues on agriculture and climate change, food and nutrition security, environmental sustainability, and human and economic development.
The sixth edition of International Rice Congress will be held at the Philippine International Convention Center (PICC), which has recently been declared as a Natural Cultural Treasure for its richness in Filipino history, heritage and culture. Previous International Rice Congress have been held in Beijing (2002), New Delhi (2006), Hanoi (2010), Bangkok (2014), and Singapore (2018). This year's congress will be the first edition held in the Philippines, the headquarters of IRRI.
DLG entered a partnership with IRRI in 2018 to support the organization at its 5th International Rice Congress. The partnership was extended for the 2023 edition of the congress to include not only the organization of the trade show but also the dissemination of professional information.
For more information on the International Rice Congress 2023 please consult here.
About DLG
Headquartered in Frankfurt, Germany, the DLG strives to increase professional knowledge in agriculture across borders, its objective since the society was formed in 1885 by visionary and engineer Max Eyth. With over 30,000 members today, DLG is a politically independent and non-profit society with membership open to all. Drawing on a network of experts with international expertise as well as subsidiary companies in nine countries, the DLG organizes over 30 regional arable and livestock exhibitions worldwide in addition to its leading international trade fairs, EuroTier for livestock farming, and Agritechnica for agriculture machinery and crop production, each taking place biennially in Hanover, Germany.
About International Rice Research Institute (IRRI)
IRRI is dedicated to abolishing poverty and hunger among people and populations that depend on rice-based agri-food systems. Through its work and partnerships, IRRI aims to improve the health and welfare of rice farmers and consumers; promote environmental sustainability in a world challenged by climate change; and support the empowerment of women and the youth in the rice industry.
IRRI is a member of CGIAR, the world's largest agricultural research partnership dedicated to a food-secure future.
For more information, please contact:
Media contacts:
DLG:
Malene Conlong
Tel: +49 6924788237
Email: M.conlong@dlg.org
IRRI:
Ruby Shaira Panela
Media relations for IRRI
Email r.panela@irri.org