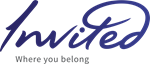 Invited announces partnership with professional golfer
ATLANTA, Feb. 15, 2023 (GLOBE NEWSWIRE) — Invited and three-time APGA Tour winner Marcus Byrd today announced a strategic partnership that will provide the up-and-coming golfer with the resources and facilities available through membership access to Invited's portfolio of courses throughout Atlanta. Byrd, who Tiger Woods recently named as the Charlie Sifford Memorial Exemption into the PGA TOUR's Genesis Invitational, also won the APGA Tour Farmers Insurance Invitational at Torrey Pines to earn an exemption at the Honda Classic.
Through the partnership, Byrd will have access to 21 courses throughout the Atlanta area and more than 208 courses nationwide. Byrd will join fellow APGA Tour star Kamaiu Johnson as an ambassador of Invited's Gateway Club, a program designed to provide a diverse group of standout golfers from First Tee Chapters in Atlanta, Dallas, Ft. Worth and Houston with complimentary memberships to Invited clubs. There is a diverse group of more than 85 current Gateway Club junior participants with memberships at 22 participating clubs in Houston, Dallas and Atlanta.
"We are focused and dedicated on making our clubs and the sport a better reflection of the world we live in," said Invited CEO David Pillsbury. "Marcus has an incredible story of perseverance and determination. Even as a professional golfer who is on a path to the PGA TOUR, he hasn't had the resources that other golfers might be afforded. While we can provide him with access to the facilities throughout our Atlanta clubs, he can serve as a mentor for the young golfers in the Invited Gateway Club."
Invited, formerly ClubCorp, is a lifestyle hospitality brand founded in 1957 on the traditions and values of acceptance. With these founding principles in mind, the company announced a full rebrand in April of this year with the name and fundamental belief that everyone is "Invited". The new name conveyed the appropriate hospitality emotion and appeal to match the lifestyle and hospitality service that the company and its members and guests have become accustomed to.
"The access to the practice and playing facilities at Invited is an absolute game changer for my career. I can't wait to meet the club leadership and members as I continue chasing my dream of playing full time on the PGA TOUR," Byrd said. "I was able to meet and play golf with some of the Invited Gateway Club kids at an APGA Tour event in Houston including 16-year-old Micah Wilson and I can tell you firsthand that what Invited is doing is changing lives. This is exactly the type of program that can make a difference in our sport and it's an honor to serve as a Gateway Club Ambassador and to represent Invited in their DE&I efforts."
Byrd enters back-to-back starts on the PGA TOUR in great form. In addition to his victory in January at Torrey Pines, Byrd won the APGA Tour Valley Forge in the Fall of 2022 season and followed with a runner-up finish at the APGA Charlie Sifford Centennial. Byrd has finished in the top 5 in seven of his last eight starts on the APGA Tour, including four runner-up finishes and two victories.
About Invited (formerly ClubCorp)
Since its founding in 1957, Dallas-based Invited has operated with the mission of Building Relationships and Enriching Lives®. The leading owner-operator of private golf and country clubs, city, and stadium clubs in North America, Invited is relentless in its pursuit of providing extraordinary experiences, meaningful connections, shared passions, and memorable moments for its more than 400,000 members. The company's mission is supported by 20,000 peak-season employees and a portfolio of 200 owned or operated golf and country clubs, city clubs, sports clubs, stadium clubs in 29 states, and seven BigShots Golf locations. Invited creates communities and a lifestyle through its championship golf courses, workspaces, handcrafted cuisine, resort-style pools, tennis and pickleball facilities, golf lounges, fitness centers, and pioneering programming.
Marquee Invited properties include: Firestone Country Club (Akron, Ohio); Mission Hills Country Club (Rancho Mirage, California); The Woodlands Country Club (Houston, Texas); and The Metropolitan Club (Chicago, Illinois).
MEDIA CONTACT: Chris Reimer, 904-806-6614, Reimer@CRPRGroup.com
A photo accompanying this announcement is available at https://www.globenewswire.com/NewsRoom/AttachmentNg/d9766174-e5eb-4277-aac6-45238203d09c