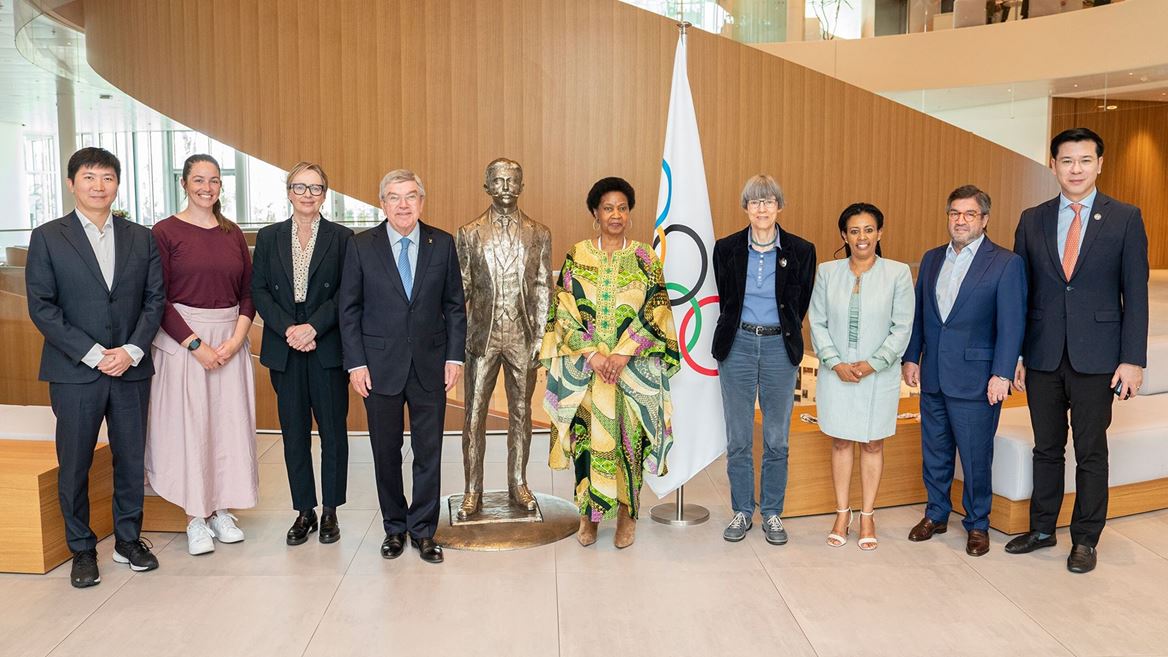 IOC Advisory Committee on Human Rights meets for the first time
20 Mar 2023 – The IOC Advisory Committee on Human Rights formally met for the first time in Lausanne on 16 and 17 March 2023.
IOC President Thomas Bach welcomed the Chair, Dr Phumzile Mlambo Ngcuka, and the members of the Committee at Olympic House. "We are very pleased to host the IOC Advisory Committee for its first meeting. The Committee will be instrumental in helping us further take into account human rights considerations in our day-to-day activities," he said.
The agenda for the one-and-a-half-day meeting covered the progress achieved on the implementation of the IOC's strategic framework on human rights, and its key actions for 2023 by sphere of responsibility.
For the IOC's first sphere of responsibility, the IOC as an organisation, the conversation focused on the upcoming update of the Olympic Charter. For the second, the IOC as owner of the Olympic Games, the members discussed the work undertaken with the Organising Committees for the forthcoming Olympic and Youth Olympic Games, with an intervention from the Paris 2024 and Dakar 2026 teams.
Lastly, for the third sphere of responsibility, the IOC as leader of the Olympic Movement, the IOC Advisory Committee on Human Rights had the chance to hear from the UN Special Rapporteur on Cultural Rights on her views regarding the situation of athletes with Russian or Belarusian passports in the context of the illegal war Russia is waging against Ukraine. The IOC also updated the Committee on safe sport. The IOC Advisory Committee also discussed the roles of NOCs and IFs in upholding human rights in their own spheres of responsibility, and specific challenges with regard to athletes' rights in the Olympic Movement, including the situation in Iran and that in Afghanistan.
The meeting closed with a review of the role of the IOC Advisory Committee on Human Rights, its next steps and the date of its next meeting.
Committee Chair Dr Phumzile Mlambo Ngcuka concluded: "We are extremely pleased to formally start advising the IOC on human rights matters within the remit of the IOC. The task is large and the IOC Advisory Committee on Human Rights, that I chair, will do its utmost to guide the IOC in the implementation of its strategic framework on human rights."