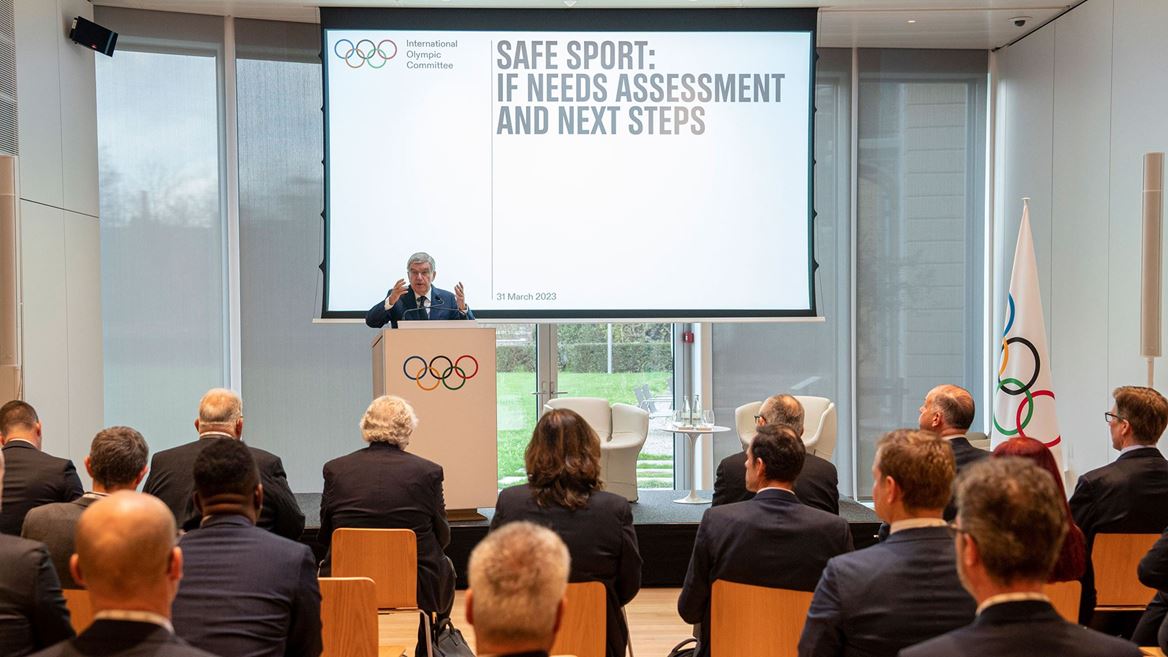 IOC announces USD 10 million fund to strengthen safe sport and creates working group to coordinate Olympic Movement safeguarding efforts
31 Mar 2023 – As part of its ongoing effort to promote athletes' safety, the International Olympic Committee (IOC) has announced that it will create a fund of USD 10 million per Olympiad to strengthen the prevention of and response to harassment and abuse in sport at the local level.
The announcement was made by IOC President Thomas Bach during a conference hosted by the IOC in Lausanne and attended by representatives from 36 International Federations (IFs), plus the Association of Summer Olympic International Federations (ASOIF) and the Association of International Olympic Winter Sports Federations (AIOWF).
"We have to undertake all the efforts to have an offer for safe sport everywhere, every time and for everybody. This topic is not only affecting elite sport; it starts at grassroot level with the kids," said the IOC President. "We need a coordinated and customised approach for every culture, for every sport and also for the different kind of incidents that can happen."
President Bach presented the IOC Executive Board proposal of a working group chaired by Executive Board member and Deputy Chair of the IOC's Gender Equality, Diversity and Inclusion Commission, HRH Prince Feisal Al Hussein. The working group's remit will be to consider the best approach to establishing independent safeguarding systems and structures at the national level, which will ensure that resources are directed to where they are most needed to support athletes and build safeguarding capacity in sports organisations.
"The announcement by President Bach marks a historic moment in this field," said Prince Feisal. "Over the past few years, cases of harassment and abuse in sport have continued to come to light with increasing frequency – showing no discrimination in sport, discipline or geographical location. As we look towards a new chapter and convene this working group, it is essential that we come together and look to see how we may bridge the gap between the important  work being done at the international level, and the need for local solutions."
The IOC invited the IFs to join the working group and will extend the invitation to the National Olympic Committees (NOCs) in order ensure that all Olympic Movement stakeholders are involved.
"This is a topic of great importance, but one that is different than many others faced by International Federations such as competition manipulation and anti-doping. It needs a different approach," said ASOIF President Francesco Ricci Bitti. "IFs and other Olympic Movement stakeholders have a fundamental role to play, however these issues must be addressed locally. The leadership and coordination of the IOC here is something we have been calling for. But this is an area where we must continue to work together."
A long-term commitment
Today's announcement builds on nearly 20 years during which the IOC has been leading the way and making efforts to ensure that athletes can train and compete in safe environments.
"Having begun work in this area almost 20 years ago with the first IOC Consensus on this topic in 2006, the IOC Medical and Scientific Commission has been and continues to be a strong advocate for this important work. " said Prof. Uğur Erdener, IOC Member and Chair of the IOC Medical and Scientific Commission. " The need for understanding trauma in safeguarding work further emphasises the role that medical entourage can play in helping to support sports organisations in this area. It also means that safeguarding is a topic which must be addressed locally, and where possible linking into wider established support systems."
Safeguarding is embedded in all Olympic events. The Games-time Frameworks ensure that safeguarding officers are available at all Olympic Games and mechanisms are in place to prevent and respond to any concerns.
The launch of the IOC Certificate: Safeguarding Officer in Sport in 2021– the first programme of its kind – has already trained 165 students across 66 countries in its first two editions.
Meanwhile, the Athlete Safeguarding Toolkit supports the creation of policy and procedure as well as the implementation of these Frameworks.
Safe sport is also one of five focus areas of the IOC's Gender Equality and Inclusion Objectives for 2021-2024. Promoting safe, inclusive and equitable sport everywhere, every day, is also a key priority of the Olympism365 strategy, aimed at strengthening the role of sport as an enabler of the UN Sustainable Development Goals, and the primary focus of the IOC's Safe Sport Action Plan 2021-2024.
Leading the way
Safe sport – the ability to train and compete in an environment that is fair, equitable and free from all forms of harassment and abuse – has received increasing attention in recent years. Faced with an increasing number of cases, Olympic Movement stakeholders have been regularly looking for guidance and leadership on the issue.
The IOC has been continuously supporting them with the development of accessible initiatives created to strengthen their safeguarding knowledge, policies and procedures, including through pragmatic tools and workshops.
Experience shows that in most countries there is a lack of local structures to both prevent and appropriately address harassment and abuse cases, and with the creation of this new working group, the IOC is providing a forum to ensure that safeguarding efforts are local, contextualised and appropriate.
To address upcoming challenges, the IOC is convening world-renowned experts to take part in the third safeguarding consensus meeting to be held in September 2023, during which cyber-abuse in sport will be widely discussed.