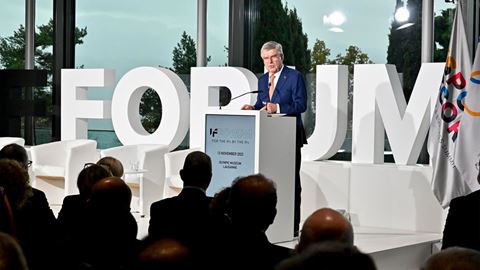 13 Nov 2023 – International Olympic Committee (IOC) President Thomas Bach has underlined the vital need for unity in the sporting world against a backdrop of increasing geopolitical tensions, as he welcomed attendees to the 2023 International Federation (IF) Forum in Lausanne.
Addressing the audience at the Olympic Museum, President Bach emphasised sport's ability to bring people together, particularly in times of division, and stressed the overriding need for unity in tackling the global challenges currently facing the sports world.
"The current geopolitical tensions are extremely complex. In such times, the unifying power of sport is more important than ever before," said President Bach. "To be such a unifying power, it is essential that we all stand together.
"Today, millions of people around the globe are longing for such a unifying force that brings us all together in our so confrontational world. Our role is clear: to unite – and not to deepen divisions. Therefore, we carry an important responsibility – to stand together for the power of sport and to live up to our shared mission to make the world a better place through sport."
The IOC President described the growing danger for the entire sports movement that its unifying mission is being undermined: "if not to say being attacked, by one or the other government," he said: "The autonomy of sport – your autonomy as an International Sports Federation – is under threat. The actions of these divisive political forces would effectively mean that they take over your role as International Federations. Some want to decide which athletes can compete in which competitions. Others want to decide where your competitions can take place. Still others want to organise their own political sports events. Especially the latter would mean a government takeover of international sport. If they succeed with this, your role and the role of the Olympic Movement would become obsolete."
In such politicised sport, real world championships would no longer be possible, competitions would take place only among politically like-minded blocs and it would be impossible for sport to be a unifying force for all of humankind. On the contrary, sport would become a part of the confrontation and division in our world, said Thomas Bach and emphasised: "For all these reasons, I call on all of you to stand against such politicised sport. None of us should participate in any way in such politically motivated sports events."
He thanked the International Federations, most of which have demonstrated the unifying power of sport in a great way during this past year, by making it possible for all athletes, regardless of their passport, to compete peacefully, and addressed their concerns: "In this context, we have received questions from a number of you regarding the impact of the suspension of the Russian NOC on you. The Russian Olympic Committee had to be suspended by the IOC because it violated the territorial integrity of the NOC of Ukraine by including as its members sports organisations of regions of Ukraine. This is a blatant breach of the Olympic Charter. This decision is purely based on the actions of the ROC and does not imply that the IFs should automatically suspend their respective Russian member federation. It is up to each IF, on a case-by-case basis, to examine the situation in view of the IF statutes."
Looking ahead to next year, President Bach stated that the Olympic Games Paris 2024 can be "a symbol of unity and peace" that will bring the world together despite the divisive political climate.
"We all share the expectations of millions of people around the globe," he said. "They all have to experience so many divisions and confrontations in their daily lives that they are longing for something that unifies us, something that give us hope, something that gives us optimism. After the pandemic, people are longing to come together again."
The IOC President also addressed the fast-approaching future in the digital world where the rapid developments in AI and in esports provide the Olympic Movement with both opportunities and challenges.
He informed the participants about the mission of the newly created IOC Esports Commission, under the chairmanship of IOC Member and UCI President David Lappartient, to look into the creation of Olympic Esports Games. At the same time, President Bach made clear that two principles are already established as a framework: "The first one is: whenever there is an IF engaged in esports, this IF will be our first go-to partner. The second principle is: we will again focus on our values and we will stay true to our values – the Olympic values of peace, respect, non-discrimination and solidarity – that have guided us for over a century. Our values are and remain the red line that we will not cross. Any development in esports will be guided by these two principles and will be guided by the respect for these values."
President Bach then looked at the huge opportunities AI is offering, "which we should seize now. Without a doubt, AI will change our lives and it will change sport. This is already happening in some sports. Just think of 'VAR' in football or 'Hawk-Eye' in tennis. AI has the potential to revolutionise the training of athletes. It has the potential to revolutionise judging and refereeing; sports broadcasting and the spectator experience; the organisation of sport events; the list goes on and on." The IOC has set up a working group of experts, which will guide the organisation with regard to AI. He invited the IFs to provide their input into this discussion.
Setting the course for the future
President Bach's speech kicked off the three-day IF Forum, which is being held at the Olympic Museum, bringing together 300 leaders from more than 125 IFs. Under the theme of "Sport (R)evolution", this year's event is designed to cover issues that are transforming the environment in which IFs work, with industry experts and influential decision-makers from the global sports movement providing insights into the latest strategies, technologies and trends. It also provides an opportunity for leaders from IFs, the Olympic Movement and the wider sports industry to share best practices and discuss how to tackle sport's challenges and opportunities.
Underlining his call for unity, President Bach highlighted that the sports movement will be able to take advantage of the opportunities presented by developments such as AI and esports only if it remains a unified force.
"If we proceed united and if we stand together, then we have every reason to look to the future of sport with great confidence. At this IF Forum, you have the opportunity to set the course for this future," he said.
"Our unity is our strength. We can seize the opportunities of the digital revolution only if we collaborate and share our knowledge. With many discussions at this IF Forum focused on the accelerating impact of technology on sport, I am looking forward to hearing your thoughts and receiving your input, so that we can join forces.
"In this way, we are living our Olympic motto – we can go faster, we will aim higher, we will become stronger – together."
The IF Forum concludes on 15 November.