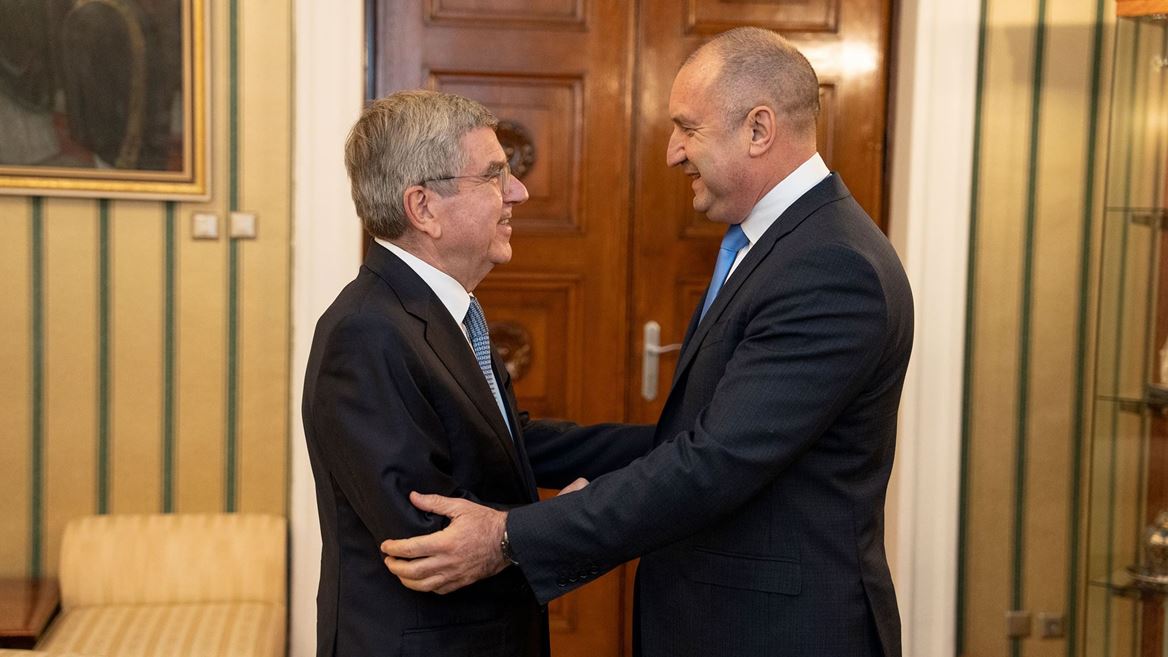 IOC President celebrates 100 years of the Bulgarian NOC in Sofia
18 May 2023 – The President of the IOC was in Bulgaria on Wednesday, to celebrate the centenary of the founding of the National Olympic Committee. Welcomed by the President of the NOC, Olympic Champion Stefka Kostadinova, he joined hundreds of invited guests at a celebration of the 100th anniversary in the national capital, Sofia. There, they were joined by dozens of athletes and Bulgarian Olympians who demonstrated the success of Bulgaria in Olympic Competition. Bulgaria was one of the nations represented in the very first Olympic Games in 1896.
President Bach congratulated the Bulgarian NOC for the 230 medals it had won in its history. He told them that, per capita with such a medal haul, "this puts you among the leading Olympic nations in the world."
Earlier, President Bach was welcomed by the President of the Bulgarian Republic, Rumen Radev, who is a strong supporter of the Olympic Movement. President Radev told President Bach, "In these turbulent times Olympic Sport is decisive in the promotion of peace, understanding, and in conflict resolution, and can convince people to take part in peaceful competition on the sports stage not on the battlefield."
He continued, "with the geopolitical situation as it is, we support the mission of sport and especially Olympic Sport to bring the entire world together in peaceful competition, and we fully support the IOC in all the steps it is taking."
President Bach welcomed his comments and added, "in these times, sport is the 'glue' that binds society together. Athletes must be able to compete and must be able to compete always against the best athletes in the world in fair competition."
The leaders also discussed gender parity and the important role that sport can play in integrating young people into society. For this to happen, they both agreed that government needs to work together with autonomous sports organisations.
On Thursday President Bach validated a special postage stamp to mark the celebration of the Bulgarian NOC at the Central Post Office. Before leaving he also had time to visit the Olympic Educational and Studies Centre.