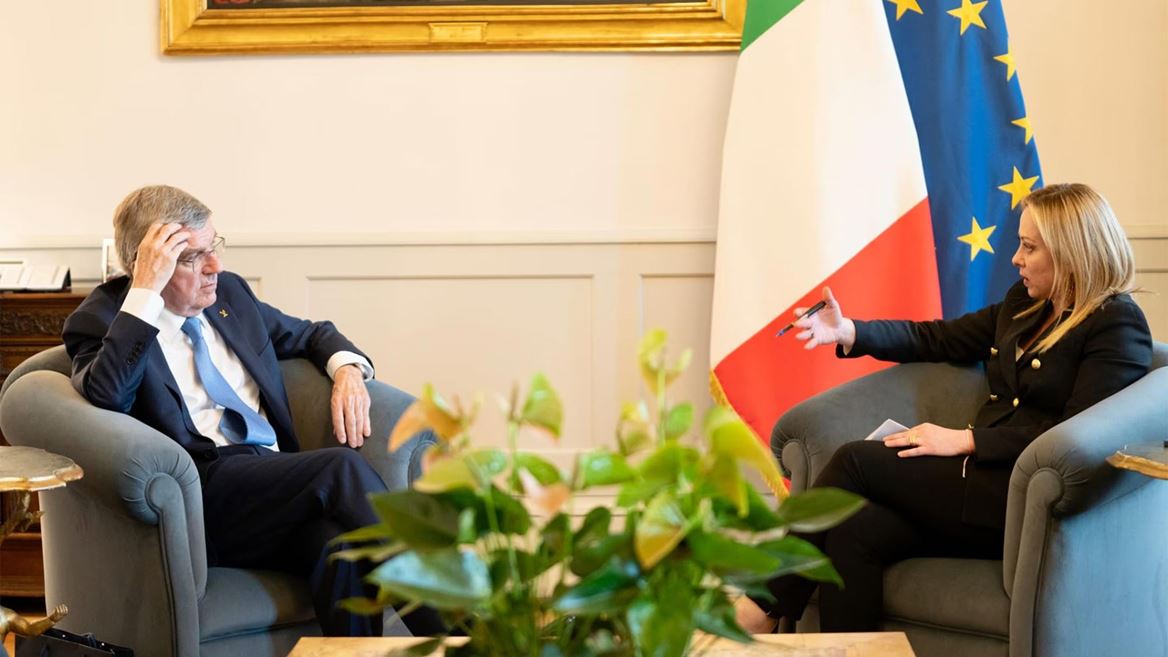 IOC President meets Italian Prime Minister Giorgia Meloni and visits Milano Cortina 2026 Organising Committee
21 Apr 2023 – IOC President Thomas Bach was in Rome on Wednesday for a meeting with the Italian Prime Minister (President of the Council of Ministers), Giorgia Meloni. The meeting took place at the Palazzo Chigi in Rome, where the two leaders discussed the upcoming Olympic Games Milano Cortina 2026 and the global geopolitical situation.
During the meeting, Ms Meloni reaffirmed her full commitment and support for the successful organisation of these Games, and emphasised the leading role her government plays in the steering committee (Cabina de Regia) for the organisation of the Games. She highlighted the importance of these Olympic Winter Games for the whole of Italy, and the great support they enjoy among the Italian people.
With regard to the geopolitical situation, Prime Minister Meloni reaffirmed her full support and appreciation for the unifying role of the Olympic Games, and sport in general, as well as for the autonomy of sport so that it can accomplish this unifying mission.
President Bach thanked her for her engagement for the Games, and for sport in general. He also expressed the IOC's great appreciation for her long-standing support and her vision for the role of sport in Italy and internationally.
Later, the IOC President also updated the Sports Minister, Andrea Abodi, on the Olympic Winter Games Milano Cortina 2026.
Throughout his visit to Italy, President Bach was accompanied by IOC Members Giovanni Malagò, who is also President of the Organising Committee, Sari Essayah, who chairs the Coordination Commission, and Ivo Ferriani, who is also President of the Association of International Olympic Winter Sports Federations (AIOWF).
Before arriving in Rome for his meeting with the Prime Minister, President Bach had been in Milan to see the progress of the Organising Committee and to meet political leaders from the region.
At the Organising Committee's headquarters at the Allianz Tower in Milan, the IOC President met the growing team of Milano Cortina 2026. In an hour-long conversation with them, he took questions on everything from his early influences, as an Olympian, to the sustainability and future of the Olympic Games.
Earlier, he had met the leadership team and discussed the progress of the preparations for the Games.
On Tuesday, President Bach had two meetings with regional political leaders involved in hosting the Games.  The first was with regional leaders Attilio Fontana, President of Lombardy, Arno Kompatscher, President of the Autonomous Province of Bolzano, Maurizio Fugatti, President of the Autonomous Province of Trento, and Cristiano Corazzari, representing Veneto.  Later, President Bach met the Mayor of Milan, Giuseppe Sala, who was joined remotely from Cortina by the Mayor, Gianluca Lorenzi.