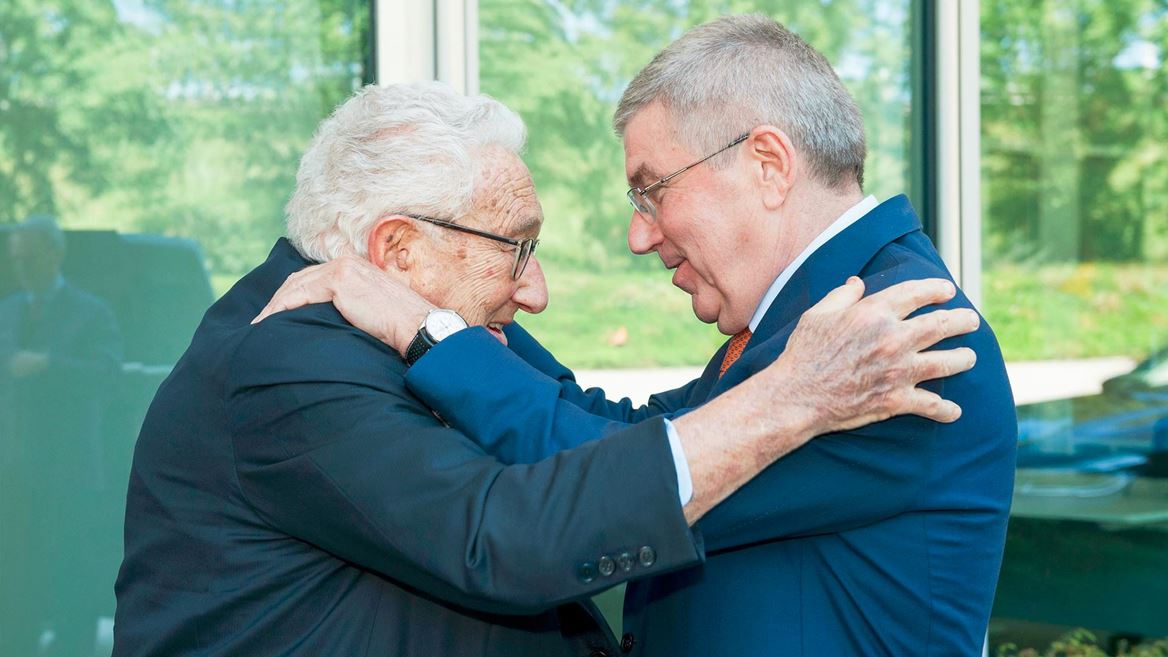 IOC President pays tribute to Honour Member Henry Kissinger as he celebrates his 100th birthday
24 May 2023 – As elder statesman Henry Kissinger celebrates his milestone 100th birthday this week, IOC President Thomas Bach reflects on his relationship with an extraordinary man – and avid sports fan – who has been a friend of the Olympic Movement for 25 years.
When did you and Henry Kissinger first meet? What were the circumstances of that encounter?
We first met in 1998 when we were both members of the "IOC 2000" reform commission, which had been put together following the Salt Lake City scandal. In addition to the IOC Members, some very prominent external personalities were appointed to this Commission. Henry Kissinger was one of these external personalities who was assigned to the working group discussing the wider role of the IOC and the Olympic Games in society, which I chaired at the time. It was in this context that I got to know Henry Kissinger, who reviewed our work and provided helpful feedback and advice.
Henry Kissinger and his family left their native Germany in the 1930s. They eventually took up residence in the United States, where he fully embraced his new home country, enlisting in the US army and working in academia, before going on to enjoy a long and storied career in politics. What was your first impression of this remarkable man and what was it like working with him?
Having read all the volumes of Henry Kissinger's very comprehensive memoirs, I was of course eagerly anticipating meeting this great statesman. While I had the highest respect for his political genius, I was nervous about meeting him in person for the first time. After all, knowing his family history and given that I am German and even come from the same region that he was forced to leave as a child, I could well imagine that our first meeting might be tense. To my great relief, Henry Kissinger was open-minded and approachable from the first moment I met him. He was very personable, and there was no awkwardness or distance whatsoever. He even spoke a few words in German with me and referred to the fact that we are both from the region of Franconia. He continues to keep contacts there – and he still closely follows the local football team from his hometown of Fürth.
I remember discussing the preliminary results of the working group with him. Henry Kissinger's advice was actually very pragmatic and valuable, particularly with regard to how to position the reform proposals so that they would be perceived favourably by the US and international political scene.
Henry Kissinger is by his own admission a huge fan of the Olympic Games, having lived through some 48 editions and even attending some with his children and grandchildren. He has said that he believes in the power of sport as a means of reconciliation among nations. This is also a fundamental part of the ethos of Olympism. With this common vision, how often did you meet with him in the years since you first got to know him?
Even though Henry Kissinger became an IOC Honour Member in 2000, we only had occasional meetings after we got to know each other in the context of the IOC 2000 Commission. He is a great sports enthusiast, so our paths would still sometimes cross when we both attended a sports event and we would have a friendly chat. We reconnected again after I was elected IOC President in 2013. Being confronted with a myriad of political challenges soon after I took office, I approached him and asked whether he would be ready to advise the IOC and me, as he had done through the IOC 2000 Commission. And again, he immediately said yes. Since then, we speak more or less regularly. Even during the pandemic, we kept up our exchanges via video calls. Whenever I travel to New York, I make it a point to see him in person.
Few people have been a first-hand witness to as much history in the making as Henry Kissinger. With so much experience of global events, he must have a lot of wisdom to impart. Has he shared advice with you? And if so, what type of advice has he given you?
The genius of Henry Kissinger is that he can put every issue you raise with him into a global perspective without losing sight of the particular national context. This is why his advice is so valuable to me. Because, as a global organisation, this is exactly the perspective that the IOC needs to take. We have to look at issues in sport from a global perspective, while bearing in mind that not everyone shares this global view, but that every stakeholder has their own specific interest. With his brilliant mind he analyses every situation, taking into account the present factors, projecting them to the future based on his profound understanding of the wider historical context.
Among the wisdom he has imparted to you over the years since you have known him, is there any advice that really stands out?
His overarching approach is always to think it from the end. That means: always take into consideration what long-term effects your decisions will finally have on everyone impacted. Never take a decision today just because of the prospect of a positive headline tomorrow. Always try to put yourself into the shoes of your counterparts and try to anticipate their reaction. By the way, for a fencer like me, this way of thinking is something that I am pretty familiar with.
If you were to share a personal insight about Henry Kissinger, what would it be?
Everybody knows about Henry Kissinger's very sharp and analytical mind. What is perhaps less well known is his warm and charming personality. He impresses you with his genius, while at the same time making you feel completely at ease. He is a very empathetic person with a good sense of humour.