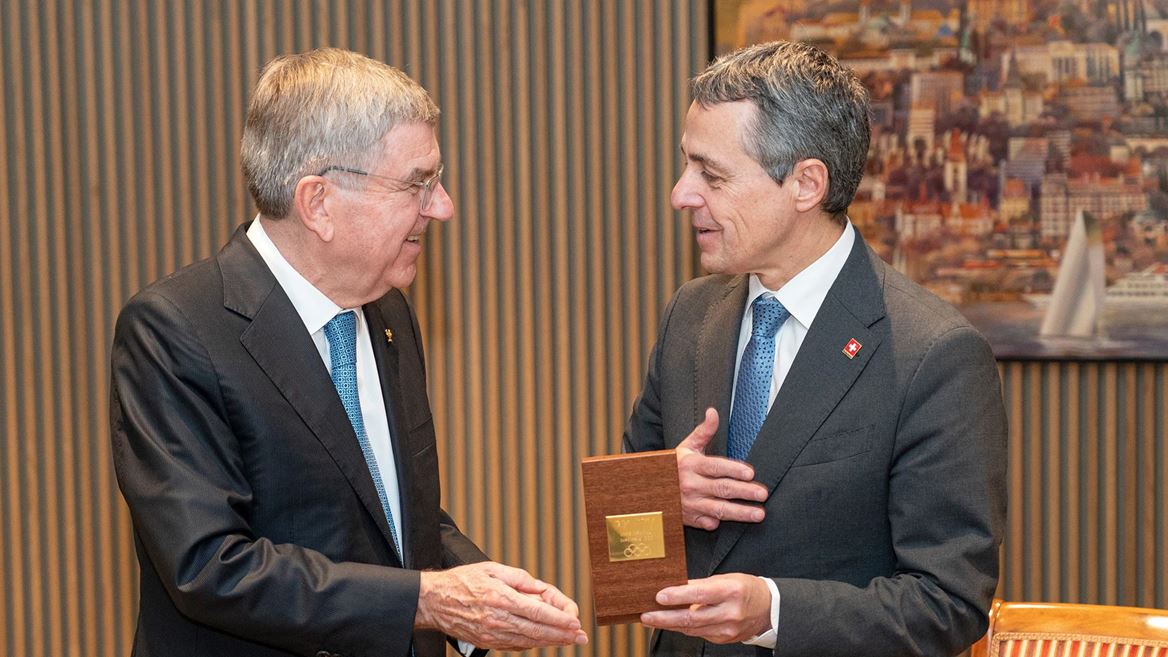 IOC President welcomes President of the Swiss Confederation to Olympic House
11 Nov 2022 – IOC President Thomas Bach welcomed the President of the Swiss Confederation, Ignazio Cassis, to Olympic House in Lausanne on Thursday.
The two leaders discussed the IOC's strong and reciprocal attachment to Lausanne and Switzerland, and the impact of the IOC and other international sports organisations on the Swiss economy. President Cassis emphasised the importance of the IOC for Switzerland as its host country. They also spoke about the current geopolitical situation and the role of sport as a bridge-builder in these troubled times.
Also present at the meeting were IOC Executive Board member Denis Oswald, the President of the Vaud Council of State, Christelle Luisier Brodard, and the Mayor of Lausanne, Grégoire Junod.
In a tweet after the meeting, President Cassis commended the IOC's commitment to sport and peace.
President Bach also gave President Cassis a tour of Olympic House, one of the most sustainable buildings in the world. The President of the Swiss Confederation then signed the IOC's "Golden Book", in which he wrote: "Dear President, Sport is a magnificent vehicle of emotions and unity, while respecting differences and our planet. We especially need it in these turbulent times. Thank you for your welcome."
President Cassis was joined on this occasion by the IOC staff members from Switzerland, who had welcomed him with a round of applause and enjoyed a group photo with him.