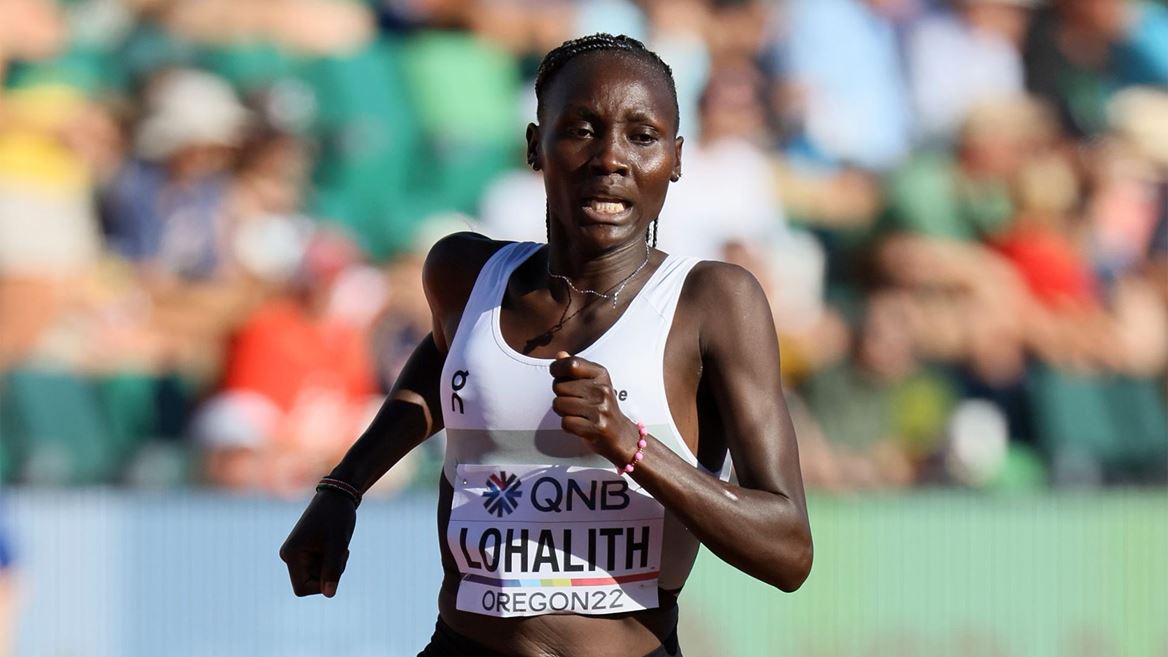 IOC Refugee Olympic Team member Anjelina Nadai Lohalith secures first international competition win
13 Feb 2023 – IOC Refugee Olympic Team member Anjelina Nadai Lohalith, who competed at Rio 2016 and Tokyo 2020, upset the odds by claiming a well-deserved win at the European Champion Clubs Cup Cross Country in Castellon, Spain. This was not only Anjelina's first international win, but it also made her the first member of the Refugee Olympic Team to win an international race in athletics.
She led for much of the race over the 8.7km course, and finished in 27 minutes 55 seconds, five seconds ahead of Spanish international Irene Sanchez-Escriban. It was the first time that Anjelina had competed in a distance longer than 1,500m.
Olivier Niamkey, IOC Associate Director, Athletes and Sport Development Division, said: "Congratulations to Anjelina for this fantastic achievement. Seeing the way that athletes like Anjelina improve every time they step out onto the track or the field of play demonstrates the importance and impact of the refugee scholarship programme. It ensures that refugees are represented at elite-level sports competitions and can be competitive at the very highest levels."
An incredible journey
Anjelina, who is currently based in Kenya, fled South Sudan when she was just six years old to the Kakuma Refugee Camp. While in high school she took part in many running competitions, and in 2015 one of her teachers encouraged her to enter a 10km run organised by the Tegla Loroupe Peace Foundation. She was selected and has been training ever since. Anjelina was then selected to compete in Rio 2016 and Tokyo 2020 as part of the IOC Refugee Olympic Team. She is currently an Olympic Solidarity scholarship-holder hoping to make it onto the Refugee Olympic Team Paris 2024.
You are looking at the first-ever refugee in athletics to win an international race, at the 2023 European Championships Clubs Cross Country. 😍

Congratulations, Anjelina Nadai Lohalith. 👏@EuroAthletics pic.twitter.com/W3uBWQpNyp

— Refugee Olympic Team (@RefugeesOlympic) February 6, 2023
The road to Paris 2024
There are currently 52 Refugee Athlete Scholarship-holders. They are from 12 countries, live in 18 host countries, represent 10 sports and all hope of being selected for the IOC Refugee Olympic Team Paris 2024.
The Refugee Athlete Scholarships are funded by the IOC through its Olympic Solidarity programme and managed together with the Olympic Refuge Foundation (ORF), providing the athletes with financial support for training and competition in the lead-up to the Olympic Games Paris 2024, as they hope to be selected for the IOC Refugee Olympic Team.
Supporting displaced elite athletes and young people around the world
Supporting refugees and displaced populations remains a key priority for the IOC, and is part of Recommendation 11 of Olympic Agenda 2020+5. The global refugee crisis continues to be a pressing and urgent issue, with more than 100 million people worldwide currently displaced from their homes. In light of this, the IOC's mission is more relevant than ever.
The ORF builds on this commitment, functioning in lieu of a traditional National Olympic Committee, managing the Refugee Athlete Scholarship-holders and the IOC Refugee Olympic Team.
In addition to supporting the athletes, the ORF ensures that displaced young people and their host communities can access and thrive through sport 365 days a year. With 13 programmes across 10 countries to date, the ORF uses sport to improve the mental health and wellbeing of young people and help them find somewhere to belong and be included in their new communities. Working closely with the UN Refugee Agency, UNHCR, and stakeholders from the Olympic Movement, international organisations, the private sector and non-governmental organisations, its goal is for one million young people affected by displacement to access safe sport by 2024. Its work was recently honoured with the prestigious Princess of Asturias Award for Sports, which acknowledged the opportunities that the ORF and the IOC Refugee Olympic Team provide to young displaced people around the world to access sport and thrive in all aspects of their lives.