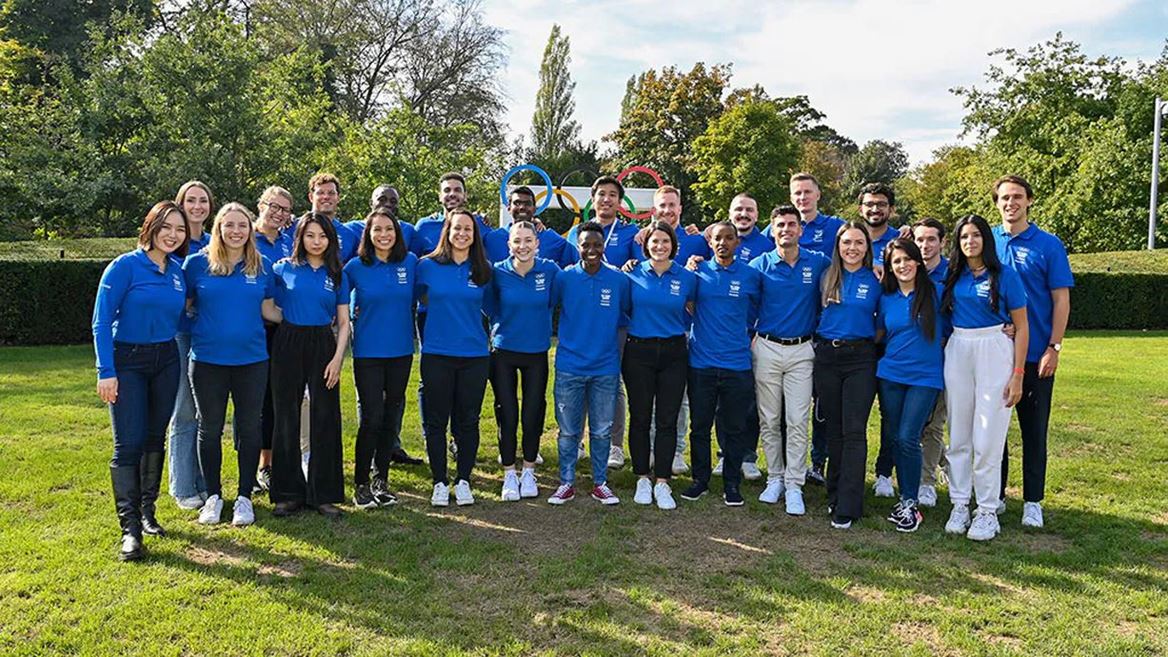 IOC Young Leaders Programme reaches new heights in 2022
19 Dec 2022 – With applications still open for the next intake of IOC Young Leaders, we look at how the programme went from strength to strength during 2022.
From podcasts and project launches to speeches and summits, the IOC Young Leaders were able to showcase the power of sport as a global force for good and inspire others to take action in support of the Olympic values throughout 2022.
The programme – launched in 2016 – provides young people from around the world with the opportunity to develop their leadership skills and become active members of their communities. Through a combination of online learning, mentorship and hands-on experience, participants have been able to develop the skills and knowledge needed to become effective leaders and agents of change.
In 2022, this saw many of the latest generation of Young Leaders take the next step in launching their own social sport-based projects – with seed funding from the IOC – that leverage the power of sport to make a positive difference in their communities.
Advocates for change
In addition to launching their own social projects, the IOC Young Leaders are increasingly becoming advocates for the role that sport can play in society. Their voices are now heard throughout the sports movement, with 18 current and past IOC Young Leaders being members of various IOC commissions, and many others taking part in major youth-centric events during 2022.
This included the One Young World Summit, held in Manchester, Great Britain, in September, where a group of IOC Young Leaders came together with other young people from around the world to promote the Olympic values and the positive impact of sport on society. The summit provided a unique opportunity for these young leaders to share their experiences, learn from one another, and collaborate on initiatives that can make a real difference in the world.
Javier Raya OLY, Dhukhilan Jeevamani, Jemima Montag OLY and Sang Eun Lee were among the IOC Young Leaders in attendance. Layana de Souza, Mayssa Bsaibes and Sophia Papamichalopoulos OLY also contributed to the summit by delivering a workshop on peacebuilding through sport, while Nicolo Di Tullio delivered a keynote address focused on safeguarding and restoring the world's oceans.
In addition, IOC Young Leaders Laura-Maria Tiidla, Kamil Pavlinský and Rishav Bhowmik participated in a panel discussion during Global Sports Week in Paris, France, in May, which focused on tackling unequal access to sport. Through a lively discussion, each Young Leader passed on their key messages to the sports world and its leadership, showing how, through their own efforts at community level, they are driving change to break down barriers and foster inclusion, making the world a better place through sport.
Promoting sport's role in society
To help promote how sport can help us change the world for the better, the IOC Young Leaders also collaborated with Paralympian Amy Purdy on a new podcast series in 2022, entitled "We Have a Goal".
Produced in conjunction with Worldwide Olympic and Paralympic Partner Panasonic, the series saw Paralympic medallist Purdy talk to a variety of IOC Young Leaders about a range of global issues, including gender equality, peacebuilding, inclusion and sustainability.
Throughout the four episodes, the IOC Young Leaders shared inspiring stories from their own journeys and discussed how they are driving change through sport.
Bringing young people together for change
In October, the latest IOC Youth Summit brought together current and previous IOC Young Leaders to work together to find sport-based solutions to some of the most pressing issues facing the world.
Over the course of three days, attendees participated in "Chat with Olympians" discussions with athletes from around the world, such as seven-time Olympic champion Katie Ledecky (USA), Rebecca Wardell (NZL) and Vira Perederii (UKR). The summit also featured "Get Inspired" sessions and group work sessions, providing the Young Leaders with a wide range of opportunities to learn, collaborate and test out and refine their leadership and entrepreneurship skills.
The highlight of the summit was the Meet & Greet session with IOC President Thomas Bach, who gave the Young Leaders the following advice: "Passion for sport and its values: this is what drives us all. You must lead by example. The most important [thing] is to stay true to your values and your principles. When you have to take decisions about your professional life, follow your passion!"
Finding the next generation
In September, the IOC opened applications for the sixth generation of the IOC Young Leaders Programme, which is set to begin in 2023.
Applications are still open now – and until 31 December 2022 – for any young person who fulfils the criteria and wants to leverage the power of sport to make a positive difference in their community. A total of 25 new IOC Young Leaders will eventually be selected, benefitting from a comprehensive four-year programme that provides them with funding, network support, tools and expertise to become successful social entrepreneurs and make a positive impact through sport.
Worldwide Olympic Partner Panasonic's continued support
The IOC Young Leaders Programme has been supported by Worldwide Olympic and Paralympic Partner Panasonic since 2017, and this will continue through to 2024. Panasonic, as the programme's founding partner, is committed to supporting the IOC Young Leaders through different initiatives, for example providing its creative and technological expertise, along with its network of influencers and ambassadors, to inspire the Young Leaders and equip them with the skills and tools they need to enhance their projects.
Find out more about Panasonic's support for the programme.