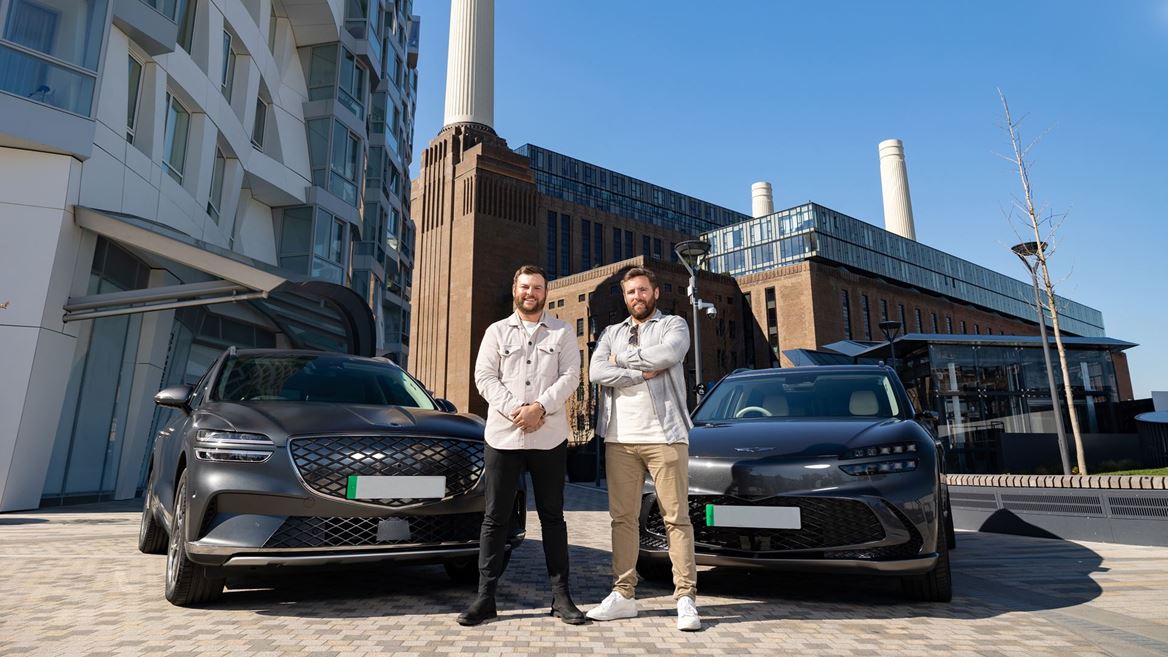 JORDAN SMITH AND HIS CADDIE COLLECT BESPOKE ALL−ELECTRIC CARS FOLLOWING INCREDIBLE GENESIS SCOTTISH OPEN HOLE−IN−ONE

DP World Tour winner Jordan Smith hit a spectacular hole-in-one on the par 3 17th hole during the Genesis Scottish Open last yearSmith's prize for the ace was a Genesis Electrified GV70, as well as an all-electric GV60 for his caddie, Sam MattonThe pair took time out of their busy Tour schedule to collect their cars from the new Genesis Studio at Battersea Power Station
LONDON, UK, Apr. 13, 2023: Jordan Smith, two-time DP World Tour winner, and his caddie, Sam Matton, have been presented with their new all-electric Genesis cars following Smith's incredible hole-in-one at last year's Genesis Scottish Open. As the first golfer to hit an ace on the par 3 17th hole, during the second day of the tournament, Smith won a new Genesis Electrified GV70 for himself, and a new all-electric Genesis GV60 for his caddie.
Both the Electrified GV70, a stylish and sophisticated SUV and GV60, a sleek, athletic cross over model, offer the perfect harmony of electric performance, design and technology and were custom built by Genesis to their new owners' personal specifications. The cars were delivered at the first gap in their hectic worldwide Tour schedule.
Born in Wiltshire, the pair have been friends from a young age, and Matton was even an usher at Smith's wedding. Since scoring a hole in one at the Genesis Scottish Open last year, Jordan went on to claim his second DP World Tour title at the Portugal Masters in October and is currently ranked in the top 100 of the Official World Golf Rankings.
Speaking at the Genesis Studio at Battersea Power Station, Jordan said: "I've been incredibly excited for a break in our  schedule to visit the Genesis Studio and collect my new car. Ever since we saw the ball drop at the 17th we've been discussing the various specs for our models, and it's amazing to have the keys my hand. I look forward to driving up to Scotland in July for the Genesis Scottish Open, maybe I'll win another!"
Sam Matton, who has been caddying for Jordan since the start of 2022 adds: "Firstly, thank you Jordan and thank you Genesis!  It's not normal for the caddie to win a car too, so it was a surreal moment, I knew instantly I'd won one of the Genesis cars directly behind the tee. I've thoroughly enjoyed configurating my own car and will ensure Jordan is extra focused again on the 17th hole this July!"
Genesis has been firmly committed  to providing exceptional care and comfort for players and caddies, evident in the double hole-in-one prizes offered in Genesis-sponsored tournaments. The unique initiative showcases Genesis' deep understanding of the crucial role that both players and caddies play in the game, highlighting the brand's appreciation for the teamwork and collaboration required for success on the course. Additionally, Genesis raises the bar for golf sponsorships by extending care and support to players' and caddies' families, ensuring they feel valued and supported throughout their journey through various programs available during the tournament period.
Lawrence Hamilton, Genesis Managing Director, commented: "We are delighted to be handing over the keys to our latest electric models to Jordan and Sam, following the extraordinary hole in one at last year's Genesis Scottish Open. We look forward to returning to the Renaissance Club later this year and hope that we will be in the position with another ace to award more cars to the world's leading golfers and caddies."
Since the brand's inception in 2015, Genesis has been a strong supporter of golf, having sponsored tournaments both globally and in Korea. This "Audacious Commitment" to the sport stems from the shared ideals of respect, integrity and excellence and has served as the foundation of the brand's global golf platform. The Genesis Scottish Open represents the Korean brand's first title sponsorship of a headline European golf event and it follows similar partnerships around the globe, including the PGA TOUR's Genesis Invitational, the KPGA's Genesis Championship, and the DP World Tour and KPGA's co-sanctioned Korea Championship which will be held for the first time later this month.
About Genesis
Genesis brings premium cars with a luxury experience to Europe. The Korean brand has established itself as a true alternative within the premium segment, receiving multiple award wins in 2022. With a commitment to hospitality and great service, Genesis strives to build sincere relationships with customers and, above all, to respect the greatest luxury – their time. Embodying its unique design language 'Athletic Elegance', the brand continues to strengthen its range of vehicles and services across Europe having launched five premium luxury vehicles in 2021. Genesis introduced three electric vehicles in 2022 and, from 2025, all-new Genesis vehicles will be pure electric as part of the brand's vision for a sustainable future. Genesis is also pursuing a goal to become carbon net zero by 2035.
For more information about Genesis and its definition of premium, please visit www.genesis.com.