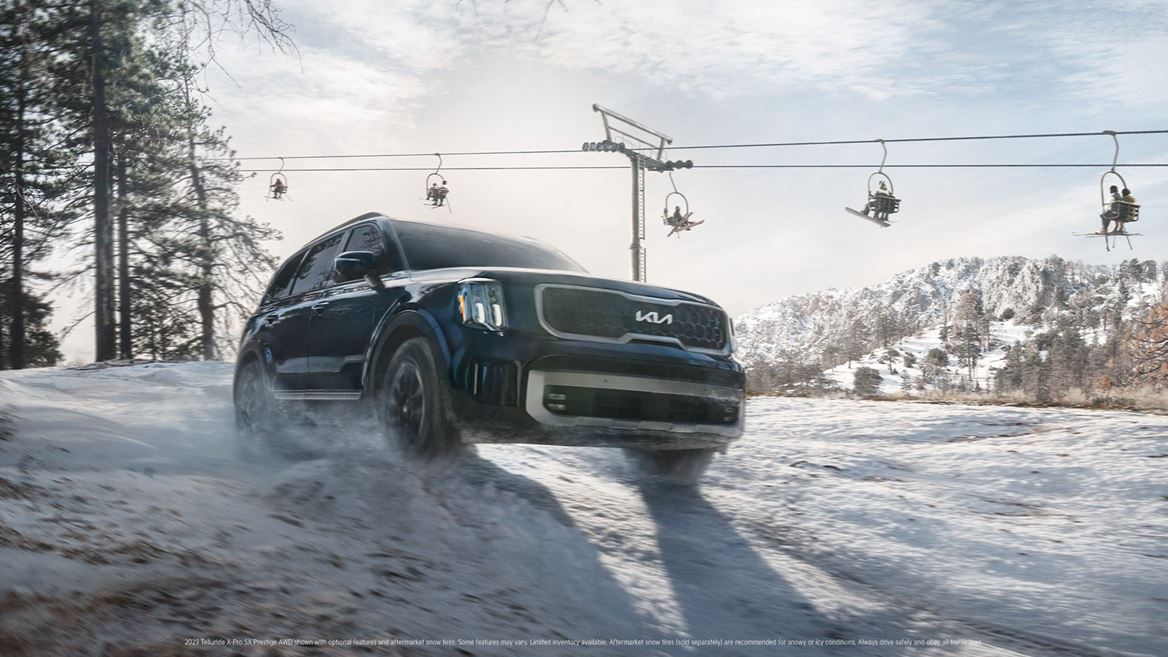 Kia America Returns to the Super Bowl With an Epic Adventure That Proves Not All Heroes Wear Capes
60-Second Spot Follows the Heroic Journey of "Binky Dad" and His Trusty 2023 Kia Telluride X-Pro
Kia launches first-ever Super Bowl commercial that ends on TikTok with three alternate endings

Marketing campaign for the new 2023 Kia Telluride SUV includes broadcast, print, out-of-home, and social media elements
Kia America is back in the big game with a 60-second spot featuring the new 2023 Telluride X-Pro SUV. Since its introduction in 2019, the wildly popular Kia Telluride has taken the automotive industry by storm, becoming the fast-growing brand's most awarded vehicle ever. Now, as the focus of a comprehensive marketing campaign, the new 2023 Kia Telluride's rugged and refined personality is on full display in this action-packed tale of everyday heroism. And for the for the first time ever for a Super Bowl commercial, three alternate endings will be available exclusively on TikTok.
"Binky Dad is a very relatable story, one of a regular guy willing to go to any length to keep his family happy. But even heroes need a helping hand once in a while, and that is where the new 2023 Kia Telluride comes in," said Russell Wager, vice president, marketing, Kia America. "The new 2023 Kia Telluride X-Pro is Binky Dad's trusty sidekick, and this dynamic duo won't rest until the Binky is returned to its rightful owner."
Created by David&Goliath, Kia's creative agency, "Binky Dad" – Kia's 14th Super Bowl spot – is set to the stirring and iconic "Gonna Fly Now" (theme from "Rocky") and opens on a young couple and their baby checking into a mountain resort. As the baby starts to fuss, Mom digs through her bag and, after not finding what she's looking for, turns to the Dad and asks, "You remembered the Binky®[i], right?" He immediately races across the hotel lobby to the valet stand where he grabs the key to his Kia Telluride X-Pro and exclaims, "I forgot the Binky!" A bystander captures the action and posts "OMG he forgot the Binky!" along with "#binkydad." And that is how the adventures of Binky Dad and his trusty 2023 Kia Telluride begin.
FIRST SUPER BOWL COMMERCIAL TO END ON TIKTOK
In a first-of-its-kind initiative for a Super Bowl commercial, Kia chose TikTok to share three alternate endings to "Binky Dad" that will be available exclusively on the entertainment platform.
"Kia is always looking for something new and engaging with our Super Bowl initiatives and we wanted to extend the spot beyond just the :60-seconds of airtime during the game to keep the story of Binky Dad and his Telluride alive and exciting," continued Wager.
Additional campaign assets include, :30, :15 and :06-second cut downs of the :60-second spot, as well as digital and social media extensions.
[i] Playtex and Binky are licensed or owned by JMBH.