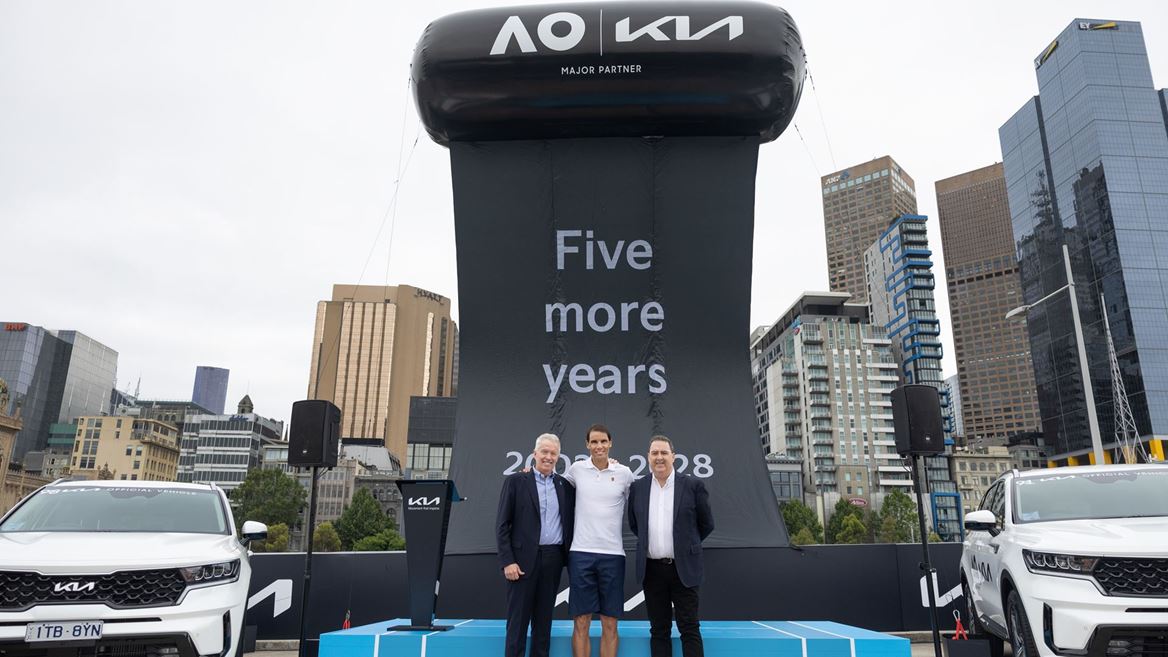 Kia extends Australian Open partnership to 2028
Kia to extend its support of the Australian Open as Major Partner to 2028
130 Kia vehicles to provide safe and efficient transport for players, officials and VIPs at AO23
Kia EV6 GT to be showcased at new Grand Slam Oval Booth
'Make your move' interactive game experience featuring Rafael Nadal to encourage fan participation to generate power for EV6 fleet
'Kia Clubhouse' event for 20 children from Rafa Nadal Foundation to be held for first time at AO
Kia Corporation has extended its support of the Australian Open to 2028, continuing the brand's highly successful partnership with the prestigious tennis Grand Slam event that first began in 2002. At the Australian Open 2023 ("AO23"), Kia will highlight its vision for and commitment to sustainable mobility, while inspiring tennis fans through its 'Movement inspires ideas' brand purpose.
To mark its continued role as the Major Partner of the Australian Open, and highlight its specific involvement in AO23, Kia hosted an official vehicle handover ceremony at Federation Square in Melbourne on January 10. Kia and Tennis Australia executives, as well as two-time Australian Open champion and Kia Global Ambassador Rafael Nadal, attended the event.
During the ceremony, Kia presented tournament officials with a fleet of 130 vehicles featuring the popular Carnival MPV, Sorento SUV, Sportage SUV and fully electric EV6 crossover. The vehicles will provide safe, comfortable, and efficient transport for players, match officials and VIPs around Melbourne for the full duration of the tournament (January 16­-29).
"The Australian Open 2023 marks a special moment in Kia's longstanding relationship with the tournament, as we delightedly announce the renewal of our partnership for another five years until 2028," said Artur Martins, Head of Kia's Global Brand and Customer Experience.
"The event provides the perfect global showcase for Kia's corporate vision of becoming a sustainable mobility solutions provider," he added.
Visitors to AO23 will have the opportunity to interact with Kia and learn more about the brand's commitment to continuing its leadership in sustainable mobility. Kia will showcase its new, high-performance, fully electric EV6 GT at the newly created Grand Slam Oval booth.
At the 5,000-seat Kia Arena, which was inaugurated as the fourth-largest tournament venue at Melbourne Park last year, fans will have the opportunity to follow, quite literally, in their hero's footsteps as part of the 'Make your move' interactive game. As they watch Rafael Nadal in action on a large screen, fans can also attempt to copy the moves of the defending Australian Open champion and generate electricity with their footsteps via a special floormat, which will be later used to help power the Kia EV6 models in the AO23 fleet.
"The unique partnership between Kia and the Australian Open has proven to be one of the most successful in the sporting world and pivotal to the event's ongoing success. We are honored that Kia has chosen to extend its role as the Australian Open Major Partner through 2028," commented Craig Tiley, Australian Open tournament director.
"It is fascinating to see the latest sustainable technical innovations our friends at Kia bring to the AO every year, and we are excited to see what they have in store for fans at this year's event," he added.
In addition to presenting a suite of specially developed digital content brand campaigns during AO23, Kia is also hosting 20 children from the Rafa Nadal Foundation at the Kia Clubhouse event. The visit will enable the children to create unforgettable memories from experiences such as watching AO matches at Rod Laver Arena, participating in a tennis clinic and enjoying a variety of cultural activities in Melbourne.