Advertisement. Scroll to continue reading.
Advertisement. Scroll to continue reading.
Advertisement. Scroll to continue reading.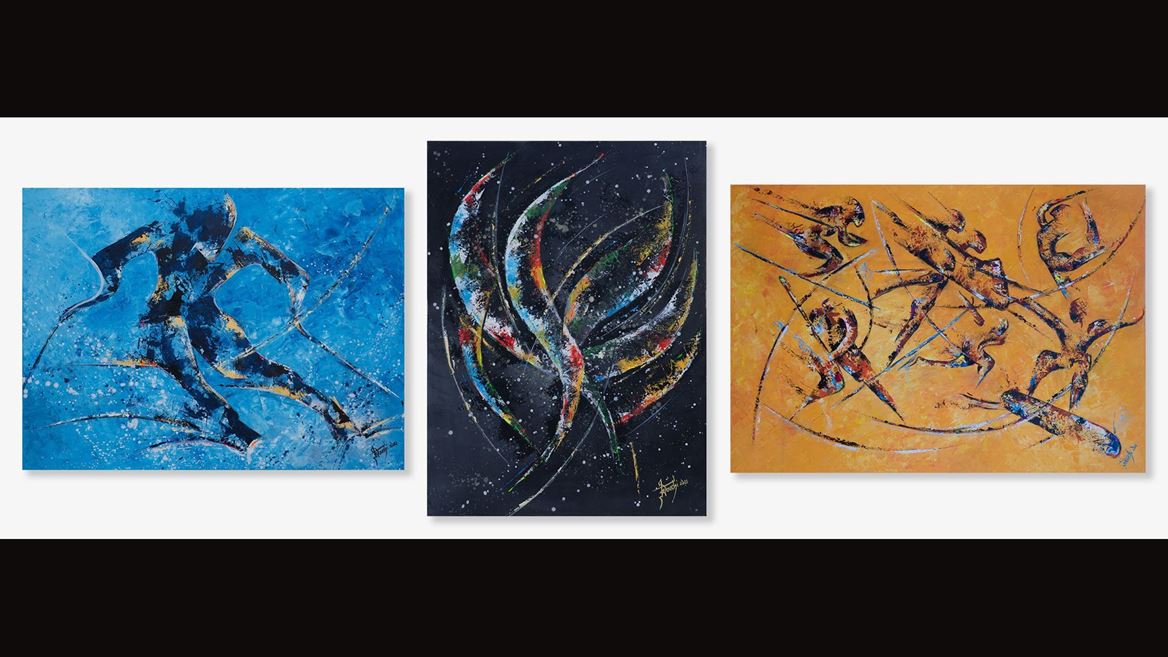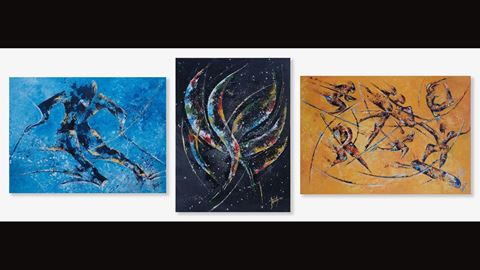 05 févr. 2022 – S'il fallait n'utiliser qu'un mot pour décrire l'olympien, le peintre et le sculpteur Kader Klouchi, ce serait 'énergie'. "Le mouvement est très important car il représente la vie", déclare le spécialiste du saut en longueur, qui a représenté l'Algérie aux Jeux de Barcelone 1992 et a ensuite établi le record national français en 1997 et 1998. "Quelque chose qui bouge est quelque chose de vivant."
Aujourd'hui artiste à part entière, Kader Klouchi peint des tableaux qui semblent en effet vivants, tant la vitalité et l'énergie qu'ils dégagent sont grandes. Kader Klouchi fait partie des sept artistes olympiens en résidence sélectionnés pour créer des œuvres originales pour le programme culturel de l'Agora olympique pendant les Jeux Olympiques d'hiver de Beijing 2022. Il a ainsi travaillé sur une trilogie qui représente la flamme olympique, un skieur en mouvement et l'unité apportée par les Jeux Olympiques.
"Je veux partager mon histoire et mon expérience", confie-t-il en évoquant ses œuvres d'art qui font partie du programme de l'Agora olympique. "Tout le monde a quelque chose à partager et une histoire à raconter. Lorsque le public voit mon travail, je ne veux pas nécessairement qu'il l'apprécie, mais qu'il ressente une émotion, qu'il interagisse avec l'œuvre. Tel est mon objectif."
Et d'ajouter : "L'art et le sport sont intimement liés selon moi, dans la mesure où ces deux activités facilitent la découverte de soi. L'une est d'ordre spirituel, a trait au mental et l'autre au physique. Les deux sont des modes d'expression."
"Pendant longtemps, j'ai pensé que le sport et la peinture étaient pour moi un moyen d'évasion, d'oubli, voire une certaine forme de liberté. Mais maintenant je sais que, loin d'être un moyen d'évasion, ce sont des ressources pour se construire, des occasions de se sentir vivant."
Il mentionne le besoin d'évasion en référence à son enfance, laquelle n'a pas été facile, loin de là. "Né en Algérie, je suis arrivé en France à l'âge de quatre ans. Aujourd'hui encore, il ne se passe pas un jour sans que je pense à mes racines. La souffrance que j'ai ressentie à cause de ce déracinement a perduré pendant de très nombreuses années."
Même s'il a passé ses premières années dans un village sans eau ni électricité, il se sentait libre. Aussi jeune, il n'a pas compris que son père soit parti en France pour échapper à la pauvreté. "Pendant des années, j'ai pensé que nous allions retourner en Algérie. Mais je me sens 100 % Français aujourd'hui."
Ayant grandi dans la ville d'Aussonne, près de Toulouse, en France, Kader Klouchi est passé du basketball au saut en longueur, car il était difficile de continuer à pratiquer un sport d'équipe dans une petite ville qui manquait d'installations et de débouchés.
Alors pourquoi le saut en longueur ? "C'était un besoin que j'avais en moi depuis tout jeune", admet-il en riant. "Je me disais toujours que je pouvais sauter par-dessus un ruisseau ou franchir une certaine distance. Le choix du triple saut s'est donc fait naturellement. Ce n'est qu'un an avant les Jeux Olympiques que je suis passé au saut en longueur. Et là encore, uniquement à cause d'une blessure à la cheville."
Le hasard fait bien les choses, puisque moins d'un an plus tard, il représente l'Algérie sur la plus grande scène de toutes, aux Jeux de Barcelone 1992.
"Je me suis retrouvé là-bas sans entraîneur, sans fédération, presque tout seul", révèle Kader Klouchi. "J'avais déjà demandé la nationalité française à ce moment-là, mais elle ne m'avait pas encore été accordée. La fédération algérienne ne me connaissait pas du tout. Mais on m'a appelé pour aller aux Jeux Olympiques et j'ai décidé de faire de mon mieux, et de sauter aussi loin que possible. "J'ai juste essayé de voler."
Tout comme il pratiquait le saut depuis son enfance, Kader Klouchi dit avoir commencé à dessiner dès qu'il a été en âge de tenir un crayon. "J'ai aussi toujours ressenti le besoin de dessiner, de créer quelque chose."
"Même pendant les années où j'ai participé à des compétitions en tant qu'athlète de haut niveau, j'ai continué à exercer mon art. C'était une façon pour moi de garder un équilibre malgré la pression, une façon de me recentrer sur moi. Je crois que l'art et le sport sont les seuls moments où l'on est fidèle à soi-même."
"L'art et le sport sont tous deux un langage universel. Et cela fonctionne pour moi, parce qu'en mon for intérieur, je me sens vraiment universel. Je me sens à l'aise avec tout le monde. Pour moi, les valeurs olympiques vont d'elles-mêmes, car il me semble évident que nous devons tous vivre ensemble, en paix et partager nos expériences."
Entièrement autodidacte, Kader Klouchi est devenu un artiste à plein temps en 2004. Il est convaincu qu'un travail sans relâche et passionné est la clé, tout comme dans le sport. "Que ce soit dans l'art ou le sport, ce n'est pas seulement une question de potentiel, mais aussi de travail – de travail acharné. Ce qui fait un champion, ce sont les efforts que l'on déploie." 
Ce dur labeur a porté ses fruits, puisque Kader Klouchi est aujourd'hui un artiste accompli. À travers ses œuvres, il explore la beauté et la complexité du corps en mouvement. Ses peintures capturent invariablement des moments d'énergie intense, à l'image de son passé. Ses trois tableaux pour l'Agora olympique représentent un skieur alpin en parfait équilibre, la flamme olympique en mouvement, vacillante et un groupe d'athlètes de plusieurs disciplines réunis dans un mouvement harmonieux.
Lancé lors des Jeux de PyeongChang 2018 par la Fondation Olympique pour la Culture et le Patrimoine, le programme des artistes olympiens en résidence célèbre le lien entre le sport et la culture, en offrant aux athlètes possédant des talents artistiques la possibilité de produire et de présenter de nouvelles œuvres durant et entre chaque édition des Jeux Olympiques. 
Olympian artist Kader Klouchi (FRA-ALG)
Les artistes olympiens en résidence à l'Agora olympique Beijing 2022