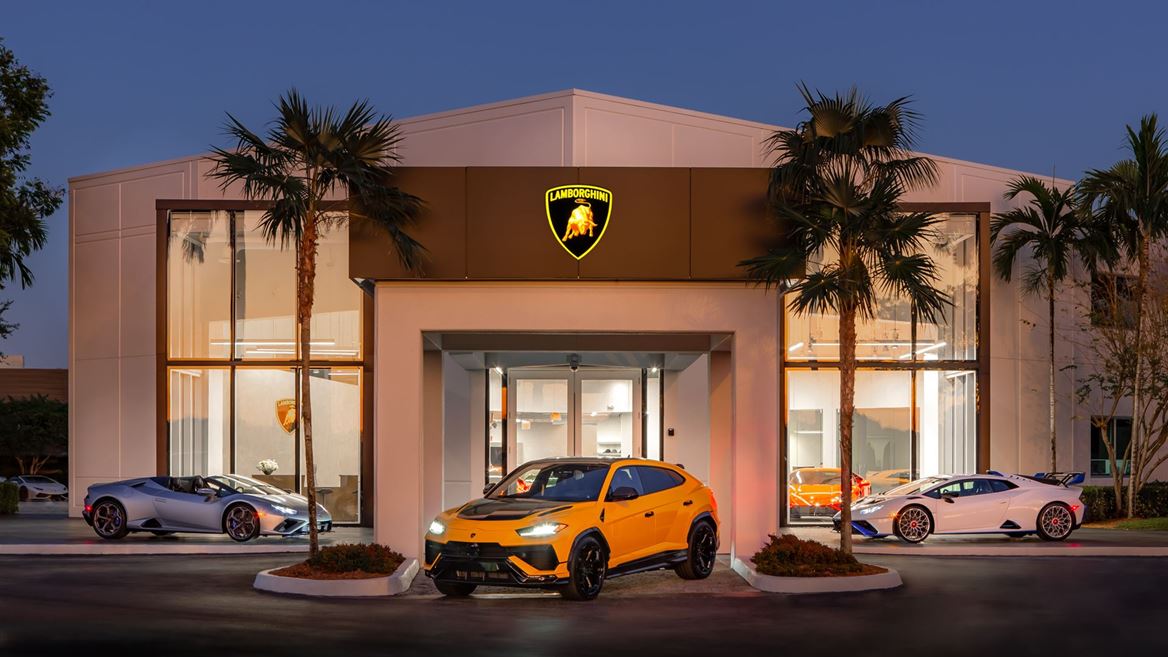 Lamborghini Debuts Newly Designed Showrooms in U.S. Following Record Sales for 2022
Italian marque kicks off 2023 hosting VIP events in leading U.S. market
Sant 'Agata Bolognese, February 2, 2023 – Automobili Lamborghini showcased its new design aesthetic with two redesigned U.S. dealerships in January. Exclusive grand re-opening events took place at Lamborghini Westlake and Lamborghini Broward, with Westlake servicing the north Los Angeles, Malibu and Santa Barbara communities, while Broward supports the southern Florida market. Their presence is unmistakable, breaking the mold of the typical storefront with their pure, modern, and state-of-the-art design consistent with the brand's core values.
The Westlake and Broward showrooms assert the brand's commitment to its customers and new design direction for the future. In addition to the unveil of the new corporate design, the brand has announced another record-setting year in terms of sales. The United States remains the largest single market globally with a total of 2,721 vehicles delivered in 2022, which is an increase of 10% over 2021. The best performing market in the United States is California, which represents 25% of total U.S. sales, followed by Florida at 19%. The new Super SUV Urus Performante[1] and Urus S[2], along with the V10 Huracán STO[3], Huracán Tecnica[4] and all-terrain Huracán Sterrato[5] will help catapult a new sales dimension in 2023.
"As the largest global market for Lamborghini, the U.S. led the way to record sales in 2022, with Florida playing a crucial role in the company's overall success," said Stephan Winkelmann, Chairman and CEO of Automobili Lamborghini, while attending the Broward opening on January 30. "With this newly renovated retail location, we are poised to better support and provide a further elevated experience for our customers in southern Florida. This is especially important as the demand for luxury vehicles continues to increase and our transition into a new era of electrified cars begins this year."
Automobili Lamborghini Americas CEO, Andrea Baldi, attended the Westlake event on January 18 for a ribbon-cutting ceremony to commemorate the occasion. "Following the best year in terms of sales for the company in its history, Lamborghini will continue to grow and evolve in 2023," said Baldi. "California plays a critical role in the overall success of the brand. By employing this new retail design, Lamborghini Westlake raises the bar for the customer experience in an area where appreciation for supercars and luxury vehicles is a strong part of the community culture."
The Urus Performante made an appearance at both receptions. With a top speed of 190 mph, the Super SUV can accelerate from 0-62 mph in 3.3 seconds. Customers have begun taking deliveries at a suggested retail price of $260,676 USD.