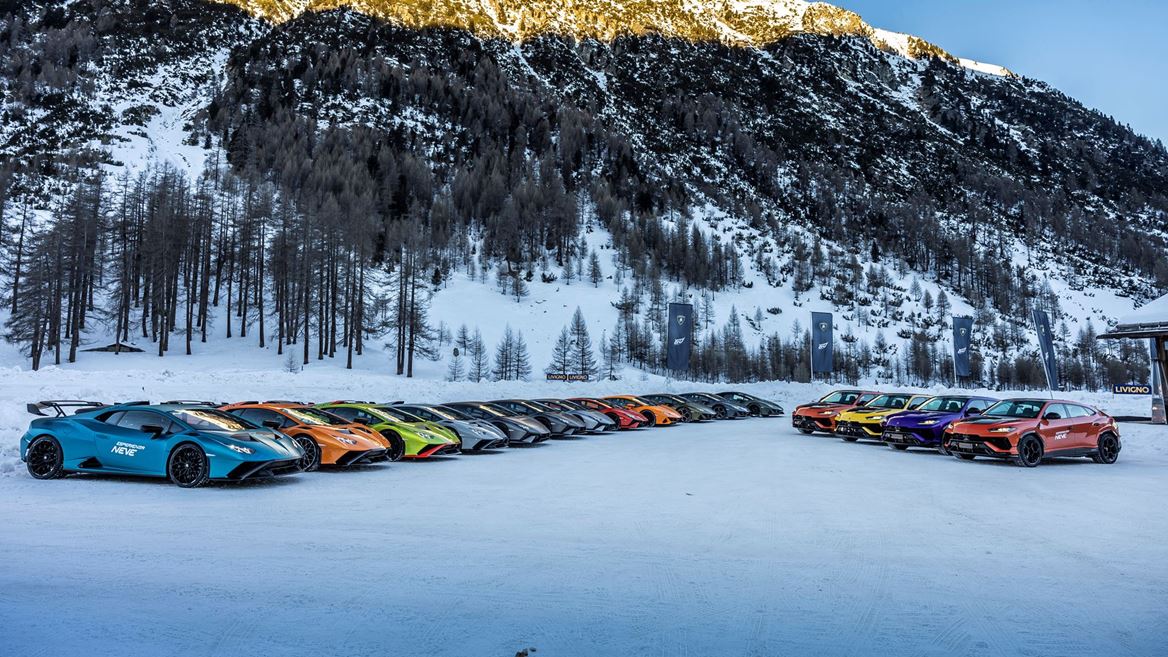 Lamborghini Esperienza Neve 2023
Eighth edition kicks off at the Livigno Ice Ring
Sant'Agata Bolognese/Livigno, February 09, 2023 – Lamborghini returns to the ice in Livigno with Esperienza Neve in the beautiful setting of the Alps, where guests can test drive the entire Lamborghini range on the snowy circuit accompanied by Lamborghini Accademia drivers, including Factory Driver Leonardo Pulcini and Super Trofeo drivers.
The 2023 edition stars the Huracán EVO[1], Huracán STO[2], Huracán Tecnica[3] and Urus Performante[4]. Under varying temperature conditions, with lows of up to -18°C, and in the perfect dynamic environment for a fun-to-drive experience, every rear-wheel-drive and four-wheel-drive car has the chance to express its capabilities in a different way on the ice track: a unique burst of color set against the white of the snow and ice.
This Automobili Lamborghini program, held in Livigno for the eighth year running, involves a series of exercises to practice driving on low-grip surfaces and become familiar with the different models, ensuring that every participant has the chance to maximize their potential and discover the performance of the Lamborghini super sports car on winter tracks. All of this, of course, without compromising on fun or safety.
While the Esperienza Neve event is nothing new for the Huracán EVO, the Huracán Tecnica and new Urus Performante are being tried out for the first time on ice by clients with the dynamic winter set-up: the four-wheel-drive and four-wheel steering of the EVO and Urus perfectly perform each exercise on the challenging ice track, while the rear-wheel drive Huracán STO and Tecnica demonstrate their racetrack control capabilities even on snow.
At the end of the ice driving experience, guests also have the pleasure of enjoying the most exclusive hotels and restaurants in the ski resort.