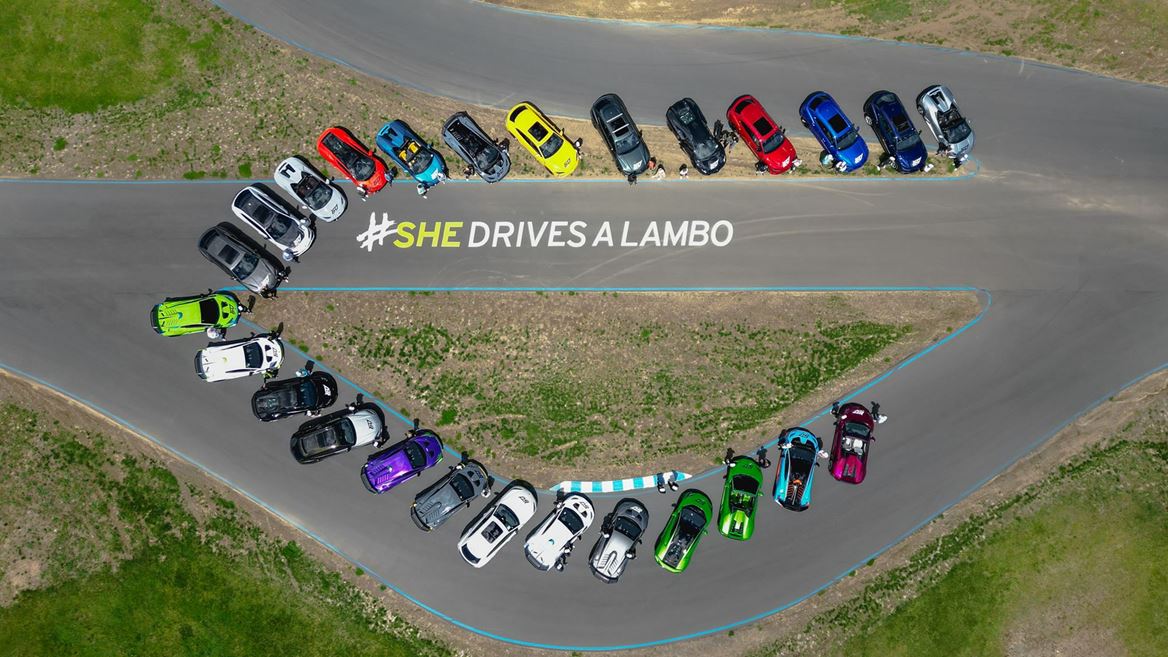 Lamborghini Hosts Weekend Retreat Celebrating #SHEdrivesalambo
Female customers from across the U.S. take the wheel for an empowering getaway
Sant'Agata Bolognese/Washington, CT, May 8, 2023 – This past weekend, Automobili Lamborghini welcomed female clients from across the United States to get behind the wheel of their own Lamborghinis for a dedicated celebration of women, aptly named "SHEdrivesalambo". The Italian marque hosted 30 Lamborghinis and their enthusiastic, female owners for a rally through the winding, scenic Connecticut countryside and Hudson Valley, as well as a personalized track driving experience at Lime Rock Park.
The three-day long gathering took place at the renowned Mayflower Inn & Spa in Washington, CT, an idyllic country hideaway nestled in 58 acres of gardens and woodland. Making an appearance at the event were the track-inspired Huracán STO[1], the fun-to-drive Huracán Tecnica[2] and the record-breaking Urus Performante[3] to name a few of the Lamborghinis present for the road and track drives. Automobili Lamborghini Chief Executive Officer for the Americas, Andrea Baldi, attended the celebration to partake in the festivities.
"It is no surprise that the entrepreneurial, innovative women of today seek Lamborghini," said Baldi. "Success looks different for everyone, and with #SHEdrivesalambo we share core values with the bold, passionate and driven women we are proud to call Lamborghini customers. This is a growing community which we strive to engage and celebrate."
Throughout the weekend, guests were entertained by curated activities all led by female artists. This included a music performance by up and comer Swan Hil, a farm-to-table lunch prepare by Chef Eliza Glaister of Tenmile Distillery, unique nail art, beauty sessions, female cocktail mixologists during the evenings and a specially edited, surprise fashion show with live models walking a catwalk at dinner. The retreat wound down with morning yoga and meditation sessions within the serene environment of the holistic wellness center at the Mayflower Inn & Spa.
[1] Fuel consumption and emission values of Huracán STO; Fuel consumption combined: 13.9 l/100km (WLTP); CO₂-emissions combined: 331 g/km (WLTP)
[2] Fuel consumption and emission values of Huracán Tecnica; Fuel consumption combined: 14,5 l/100km (WLTP); CO₂-emissions combined: 328 g/km (WLTP)
[3] Fuel consumption and emission values of Urus Performante; Fuel consumption combined: 14,1 l/100km (WLTP); CO₂-emissions combined: 320 g/km (WLTP)